Top Stories
Pandemic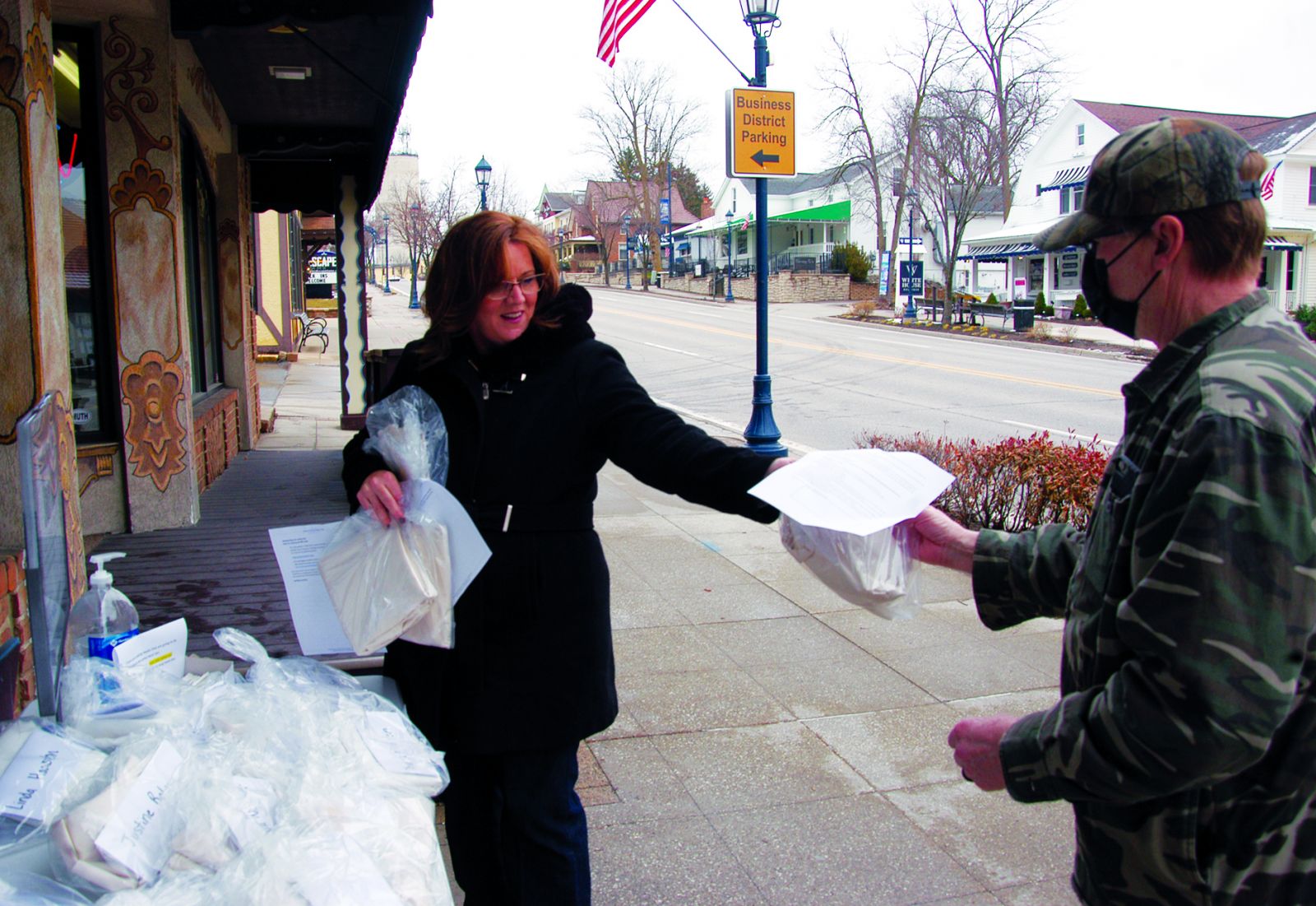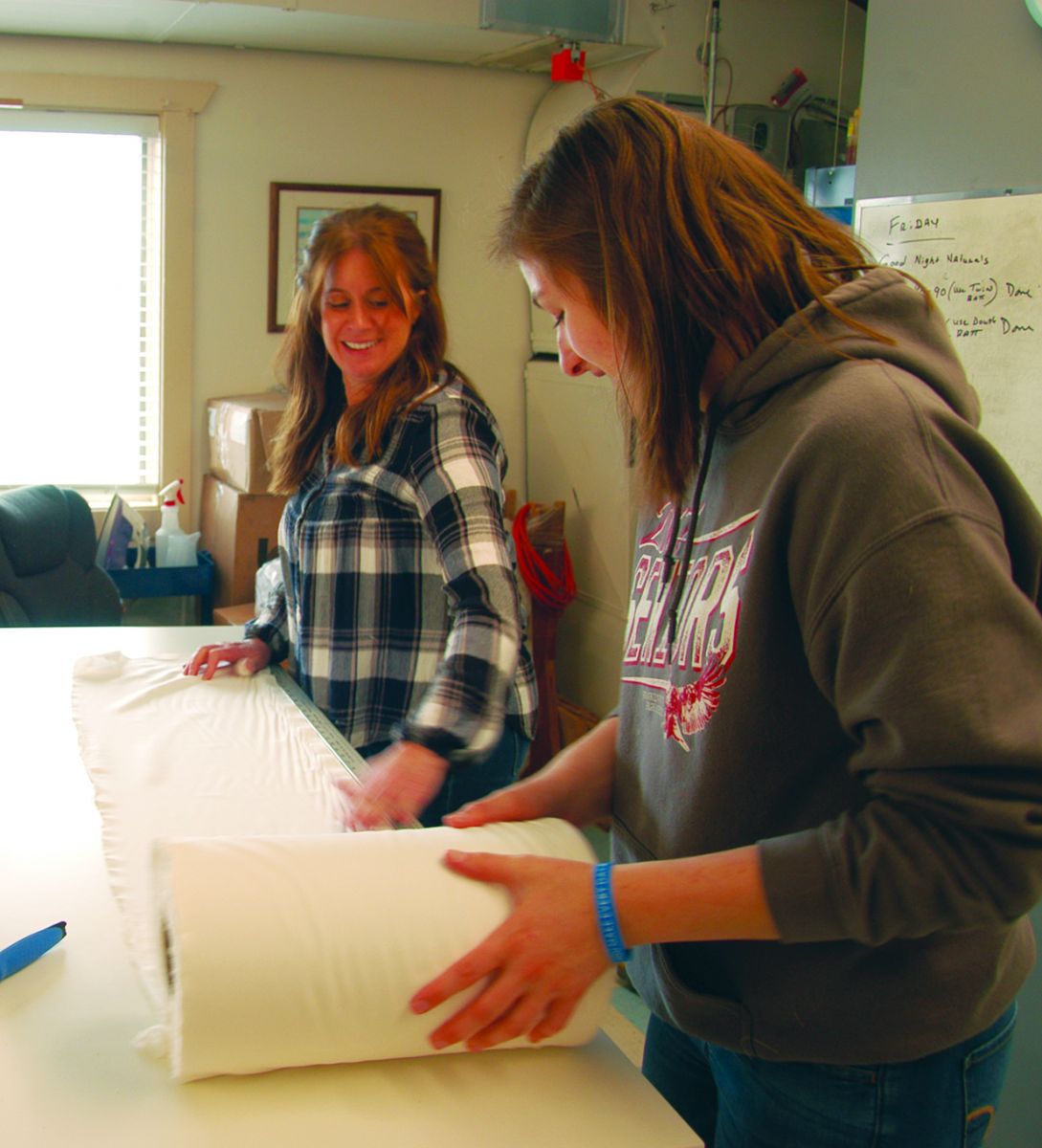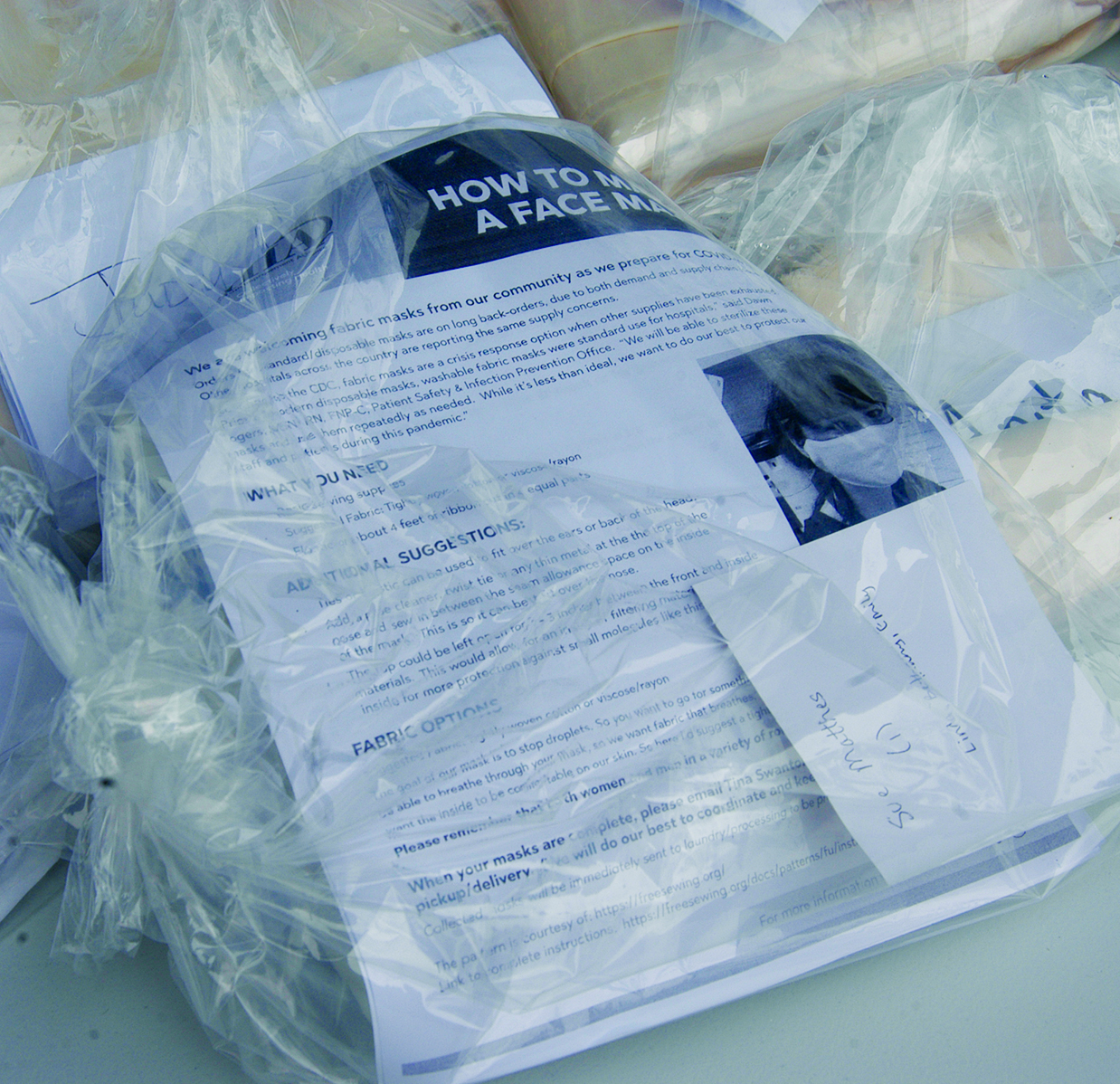 "OPERATION MAKE MASKS AT HOME" ... was a success for the Frankenmuth Woolen Mill. At the top, Mill owner Abby Curtis hands out a kit Monday afternoon. Above and left, Mill employees Annette Schriber and Emma Meyer cut material for a kit, above right is an assembled kit. (News photos)
Frankenmuth Woolen Mill creates "Operation Make Masks at Home"
The Frankenmuth Woolen Mill is doing its part help during the Covid-19 pandemic outbreak.
Woolen Mill owners Abby and Matt Curtis and staff assembled mask-making kits in a campaign entitled "Operation Make Masks at Home to Keep Our Community Safe."
Monday afternoon, a table was set up outside the Mill, 570 South Main Street, with bags of cloth material. Some people called ahead and had their names on the bags; others were blank for walk-up people. Each bag contains enough material to make 30-32 masks.
"We are donating high-quality fabric to those who are making masks at home for local health care professionals," Matt said.
Through Facebook, area residents contacted the Curtis' with their information and bags were left with their names on the Mill's loading dock. A 1pm designation was made Monday to streamline the effort as persons walked up and got their bags.
Monday was the last day as the Mill will close per Michigan Governor Gretchen Whitmer's executive order to "Stay Home, Stay Safe." The order was announced Monday, March 23 and will be in effect at 12:01am Tuesday, March 24.
Curtis said over 200 bags were handed out through Sunday, with another 200 prepared for Monday. The goal is to create 600 bags. A lot of 200 bags will produce 7,200 masks for men, women and children.
Each bag includes Centers of Disease Control (CDC)-approved instructions for making the mask or mask covers. There are bags for beginning sewers and bags for advanced seamstresses.
The bag kits are assembled upstairs by the Woolen Mill employees, cutting the cotton fabric to the proper sizes. Rope elastic, beading cord elastic and other materials come with the kits.
Many of the masks are being routed to Saginaw-area hospitals, such as Covenant HealthCare and Ascension St. Mary's. Persons may also drop off the finished masks to the Woolen Mill and placed in a marked receptacle. Some persons already have an office or medical center where they are being dropped off.
Curtis pointed out that during the height of the 1918 Spanish Flu Pandemic, the staff was also at work. The Mill marked its 125th anniversary last year.
"Thank you to those who are working to keep us healthy," Matt concluded.
1087903