Top Stories
Police Report
Letters to the Editor
Scholarships
Frankenmuth Farmer's Market
Frankenmuth Fire Dept.
Student News
FHS Student news
Birthdays
Fred Schumacher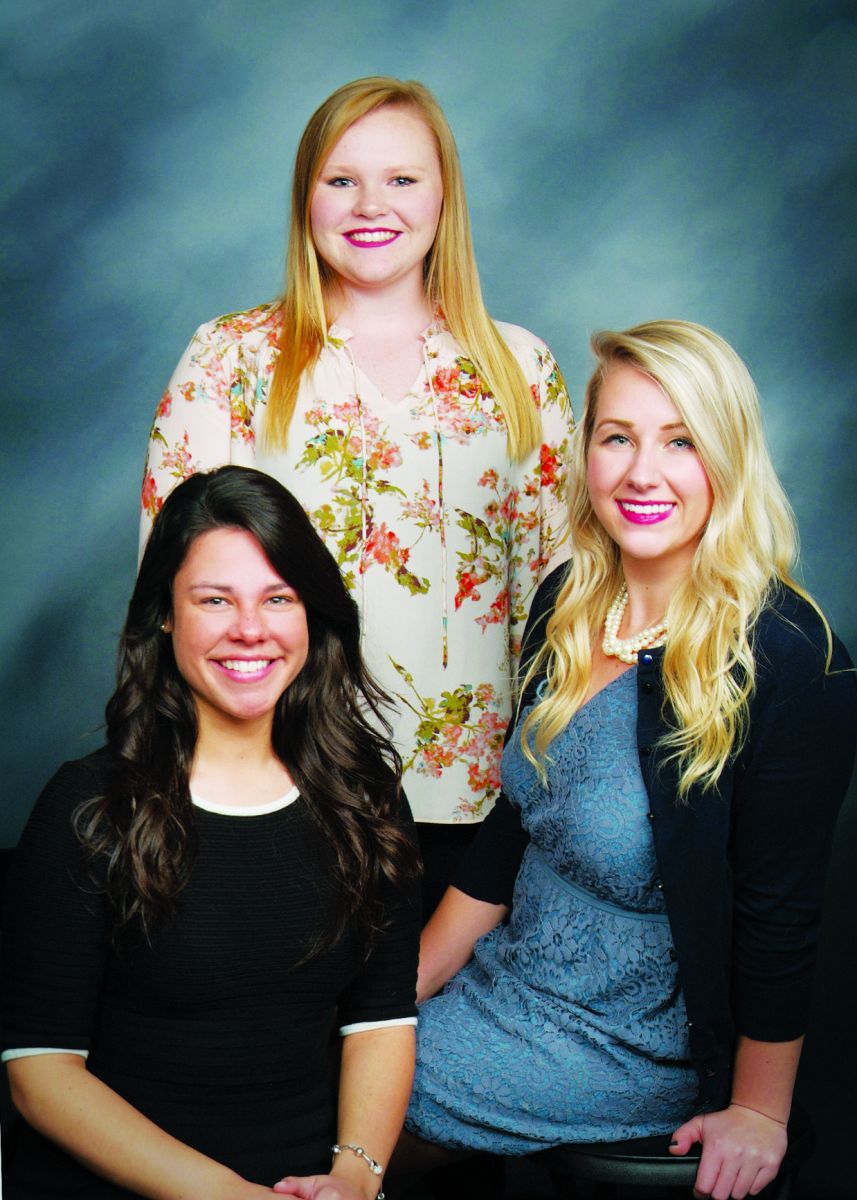 Princess trio chosen for 2017 Bavarian Festival Court
Three young ladies were selected last Saturday to make up the Frankenmuth Bavarian Festival court for 2017-18.
The Bavarian Princess Candidate Tea was held March 18 in the Bavarian Inn Restaurant's Swiss Rooms, with six Frankenmuth-area ladies applying for the court.
The panel of judges selected the following, in alphabetical order:
Audrey Blegen, age 19, the daughter Bart Blegen and Keri Blegen;
Ann Curtis, the daughter of Matt Curtis and;
Jenna Mossner, the daughter of Jim and Janice Mossner.
Each candidate was interviewed by a panel of local judges, including Frankenmuth Chamber of Commerce and Convention & Visitors Bureau CEO and President Jamie Furbush, Frankenmuth City Manager Bridget Smith, Emil Rummel Insurance Agency President and CEO Greg Rummel, Frankenmuth Credit Union Marketing Manager Jenny Bickel, Frankenmuth Civic Events Council (CEC) President Russ Uphold and CEC First Vice-President Jeff Titsworth.
Final judging with outside of Frankenmuth residents will take place ahead of the Princess Coronation, which will take place on Thursday, June 8, inside the main entertainment tent in Edwin Zehnder Park (located immediately north of the Cass River).
Brooke Buckley and Olivia Laux are the CEC's Bavarian Princess program co-chairpersons.
Audrey Blegen is attending Michigan State University, studying as a hospitality major. While at FHS, Blegen was a four-year member of the Student Council, played varsity golf three years, soccer three years, the Snow Club and danced 14 years for Miss Christine's Dance Directions. She assisted the Frankenmuth Lions Club at the Bavarian Festival for four years.
At MSU, she has participated in Females in Athletic Business, future leaders in Sports Entertainment, Professional Convention Management Association and Spartan Day of Service.
oming a princess is an honor most little girls only dream of. It was something O aspired to be when I was young," Blegen said. "I grew up watching he Bavarian Festival Parade each year and each year I was always in awe on the Bavarian Princess court as they floated their way down the streets in their sparkly tower."
Blegen feels becoming a court member will assist her in becoming more confident in her future endeavors.
"The Bavarian Princess program provides an opportunity to not only represent our community and meet new people, but will help me develop the skills I need in the future. Skills such as leadership, public speaking, and interpersonal contact are just part of the day to day in a hospitality career. This program will help me build confidence as a leader and a person, both of which will help me to succeed in the future," Blegen added.
Audrey's hobbies include baking, traveling, camping, skiing, kayaking, painting, drawing, dancing, crafting and spending time with family and friends.
The five words she used to describe herself include bubbly, ambitious, sincere, kindhearted and determined.
Ann Curtis, age 19, attends St. Mary's College at Notre Dame, pursuing a degree in communications with a focus on business. While at FHS, she participated in varsity golf, Blessed Trinity Youth Group, Ann Herzberg Dance Studio (Ballet, student/teacher) and the German-American Partnership Program. She also worked at Abby's of Frankenmuth.
At St. Mary's, she is a sports photographer for the Notre Dame newspaper, The Observer, and works at the Compton Family Ice Arena.
"The duty of the Bavarian Princess is a social role that involves traveling, networking and one-of-a-kind opportunities that I would be honored to partake in while representing my hometown of Frankenmuth," Curtis stated. "I am sociable and approachable, which makes for easy-flowing conversation with nearly any audience I should encounter ass Bavarian Princess, be it with youthful and energetic little ones or senior members of aby community."
Being on the court would aid her in the future, in the business and communications.
tive expression in relationships, friendships and business ventures leads to great knowledge and stability, and I feel being the Bavarian Princess will help me prepare for the future," Curtis said.
Her hobbies include public speaking, golf, ballet and photography.
Ann's five words she used to described herself include compassionate, considerate, energetic, persistent and reliable.
Jenna Mossner, age 22, is attending Saginaw Valley State University pursing a business degree to become a marketing manager. While at FHS, Mossner participated in Student Council, SAAD, Snow Club, cheerleading. St. Lorenz Youth Group, and more
"Growing up in Frankenmuth, I have a very strong bond with the welcoming and kind community and would be honored to represent it through being the 2017 Bavarian Princess," Mossner said. "I am very kind, A godly woman, personable and I am proud of my German heritage which are qualities that I would uphold through this opportunity."
Mossner feels being the Bavarian Princess would be life altering and something she would recall often in her further career pursuits.
"If I were appointed as Bavarian Princess, it is something I would carry with me for the rest of my life and I would love to be a role model now and through the future as the Princess," Mossner said.
Mossner's hobbies include traveling, baking, cooking, playing tennis, working out and more.
Jenna's five words she used to describe herself include honesty, adventurous, friendly, funny and confident.
"On behalf of the Frankenmuth Civic Events Council and Bavarian Festival, we would like to thank all of our candidates this year and encourage those who are interested to apply for the program. Thanks also to the kind generosity of the Bavarian Inn Restaurant for sponsoring the Candidate Team," Buckley said.
727606