Top Stories
Frankenmuth Fire Dept.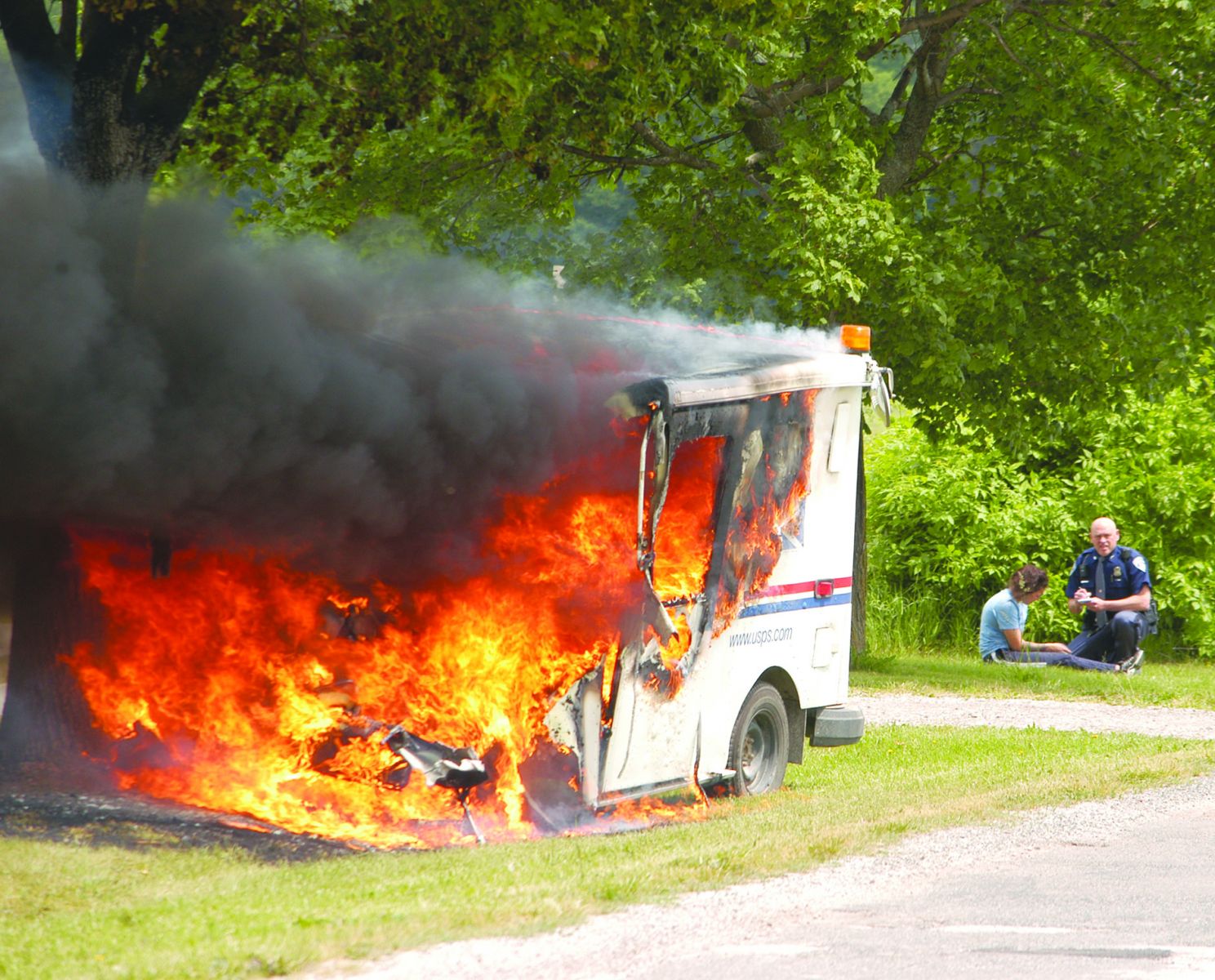 TOTAL LOSS: A United States Postal Service mail truck burst into flames after crashing into a tree on Townline Road, near Gera Road, June 2. Above, Frankenmuth Police Officer Todd Brow tends to the driver, a 29-year-old Saginaw woman. (News photo/Scott Wenzel)
Mail truck blaze investigation continues
A 29-year-old Saginaw woman escaped serious injury in a United States Mail truck crash last week.
The incident took place around 1:45pm on Wednesday, June 2, on Townline Road, just east of M-83 and in front of the Hart One-Room School House on Grandpa Tiny's Farm.
The mail truck was traveling westbound on Townline Road when the driver lost control of the vehicle, left the roadway on northside and crash into a large tree. Following impact, the truck burst into flames.
The driver was assisted out of the vehicle and away from the burning vehicle, to the side of the road, by a passerby. Frankenmuth Police Officers Dan Danielson and Todd Brow arrived at the scene just ahead of the Frankenmuth Fire Department.
According to reports, there were approximately 24-25 deliveries left to be made. A postal inspector also was summoned to the scene. MMR Ambulance Service transported the driver to a Saginaw-area hospital with possible broken bones in one leg.
A Clio-area wrecker service removed the vehicle. While getting the vehicle ready for transport, a gas line was ruptured and the FFD returned to the scene for fuel and fluid containment.
FPD Chief Don Mawer said the crash remains under investigation.
1211452