Top Stories
Holiday Waste Collection
Yard Waste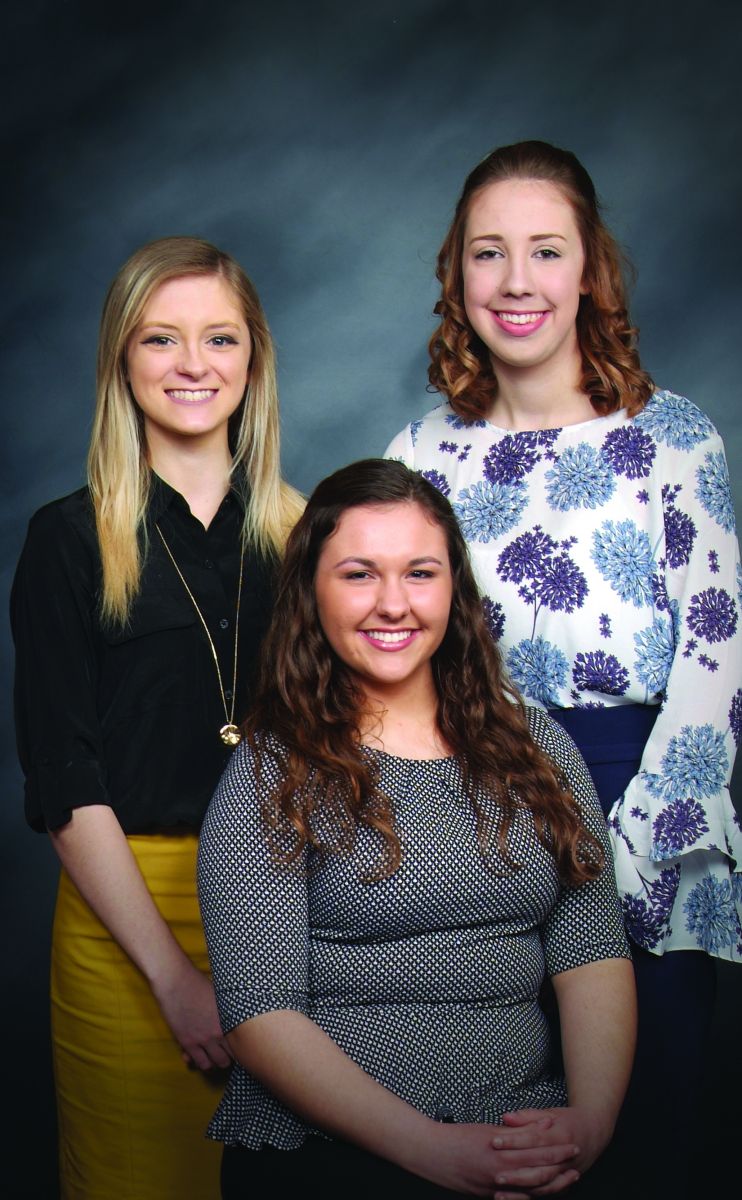 THE 2018 BAVARIAN FESTIVAL COURT . . . will include, from the left, Abigail Engel, Lindsey Pierce and Ashlyn LaBrenz. One will be chosen princess. (Photo courtesyRummel Studio)
Court chosen for 60th Bavarian Festival
A trio of young ladies was selected last weekend to become members of the Bavarian Festival's Princess Court.
Abigail Engel, Ashlyn LaBrenz and Lindsey Pierce were chosen at the Princess Tea held Saturday at the Bavarian Inn Restaurant.
One will become princess and the other two will be court attendants for the 60th annual Bavarian Festival, set for downtown Frankenmuth June 7-10.
Engel is the daughter of James and Nancy Engel, LaBrenz is the daughter of Paul and Karla LaBrenz and Pierce is the daughter of Daniel and Regina Pierce.
The final judging will take place on Saturday, June 2, at the Bavarian Inn Restaurant. A yet-to-be-determined panel of celebrity judges will make the final decision. Since this is the 60th anniversary of the Bavarian Festival, a special Coronation Evening will be held at the Bavarian Inn Lodge on Thursday, June 7.
Abigail Engel is attending Saginaw Valley State University, studying for a communications major and a minor in technical and rhetorical writing. While at Frankenmuth High School, Engel was a four-year cheerleader, sang in the choir, was a member of the Be The Change Club, Saginaw Area Youth Council member and People-to-People Student Ambassador.
At SVSU, Engel is the editor-in-chief of The Odyssey, head cheerleading coach at the Michigan Storm Cheer and Dance in Midland and is the social media coordinator at Pet Angel Adoption and Rescue in Frankenmuth.
"I aspire to be Bavarian Princess because I desire to inspire others. Growing up, the Bavarian Princess was a figure in Frankenmuth of whom I looked up to. She is a strong leader with great respect who represents our town as a whole," Engel said. 𠇊s I grew up, I was inspired by each girl who held the title of Bavarian Princess. I am confident in speaking, creating conversations with just about anyone, and, having worked with kids for years, I know how to make a child's day."
Engel feels having deep roots in the community and being related to the one of the original settlers gives her an appreciation for "Michigan's Little Bavaria."
"In 1845, Johann Michael List came over as one of the original settlers in Frankenmuth, of whom I am a direct descendent. The history, the culture and the heritage of Frankenmuth runs through my veins and I'm proud to have ties to the original settlers. My parents have raised me to be a proud part of the community. I have deep family ties to both Frankenmuth and the Bavarian Festival and I would love to be Bavarian Princess," Engel noted.
Abigail's hobbies include cheerleading, reading, writing, poetry, attending and working at concerts, hiking, camping and traveling.
"My degree opens up a whole spectrum of job opportunities, but I have one goal in mind-to make a difference. To me, being Bavarian Princess is the difference. I would take the title and turn it into making a difference to this town. I desire to give back to the people in our town, to the people that created our town, and the community that made me who I am today," Engel said.
The five words she used to describe herself include strong, self-determined, bold, respectable and exuberant.
Ashlyn LaBrenz is attending Grand Valley State University, majoring in political science with plans to get into law. While at FHS, LaBrenz interned at Gafkay Law and participated in the Hugh O𠆛rian Youth Leadership, debate, forensics, mock trial, robotics and prom committee.
At GVSU, she was part of the O𠆛rian Youth Leadership, Issues Forum, fencing (club sport) and vice-president of the debate club.
"I have been a resident of Frankenmuth since the day I was born; now that I have moved across the state to pursue my education, I have lost many of the things that gave me a sense of belonging to a specific community. Through the Bavarian Princess position, I would be given the opportunity to acquire information about my hometown and community and stay connected to everything I've ever known," LaBrenz said.
In addition, the position would help me develop character traits and skills which will assist me in daily life."
LaBrenz believes in acquiring new skills in personal and professional development. Being Princess would assist in that development.
𠇌ommunication and interpersonal skills have always been important to me. Although I have a substantial amount of experience with public speaking and verbal communication, I still believe it can be improved. I intend on becoming a public defender and eventually running for a position within the state's judicial system," LaBrenz stated.
Ashlyn's hobbies include writing, photography, baking, debate and public speaking, fencing, traveling, swimming, coloring, card games and listening to music.
The five words she used to describe herself include compassionate, outgoing, determined, sincere and enthusiastic.
𠇏rom volunteer work to extracurriculars, engagement in community affairs has long been an important component of my character. With the position, I would expect to continue my service and reach an entirely new demographic. As a child, I looked up to the Bavarian Princess and Court. I would love the opportunity to provide a positive role model and inspire younger generations to concern themselves with community affairs and the wellbeing of others," LaBrenz concluded.
Lindsey Pierce is attending Central Michigan University, studying health science with a goal to become a dietitian. While at FHS, Pierce was part of the German American Partnership Program (GAPP), Sister City Exchange, Pet Angel Adoption, Oehrlein Dancers, Puppen fur Christus, sideline cheer, competitive cheer and varsity tennis.
At CMU, she continues with Pet Angel, Oehrlein Dancers, Puppen for Christus and INAMIAH.
"I would like to be the Bavarian Princess because it would give me an opportunity to represent my hometown and my German heritage in a unique way. I would expect to visit many towns and learn more about their festivals and why they might celebrate them," Pierce said.
Pierce feels she would gain valuable life experience while serving on the court.
"I feel I have great leadership abilities as well as good communication skills, which are two very important qualities to have to represent Frankenmuth and the Bavarian Princess program," Pierce added.
Lindsey's hobbies include knitting, camping and hanging out with friends.
The five words she used to describe herself include leader, ambitious, sociable, team player and personable.
"This (princess) program will help me reach out to my community and other communities as I represent the Bavarian Festival and Frankenmuth. During my reign on the Bavarian Princess Court, I would like to promote Frankenmuth and the Bavarian Festival to the best of my ability," Pierce added.
863894