Top Stories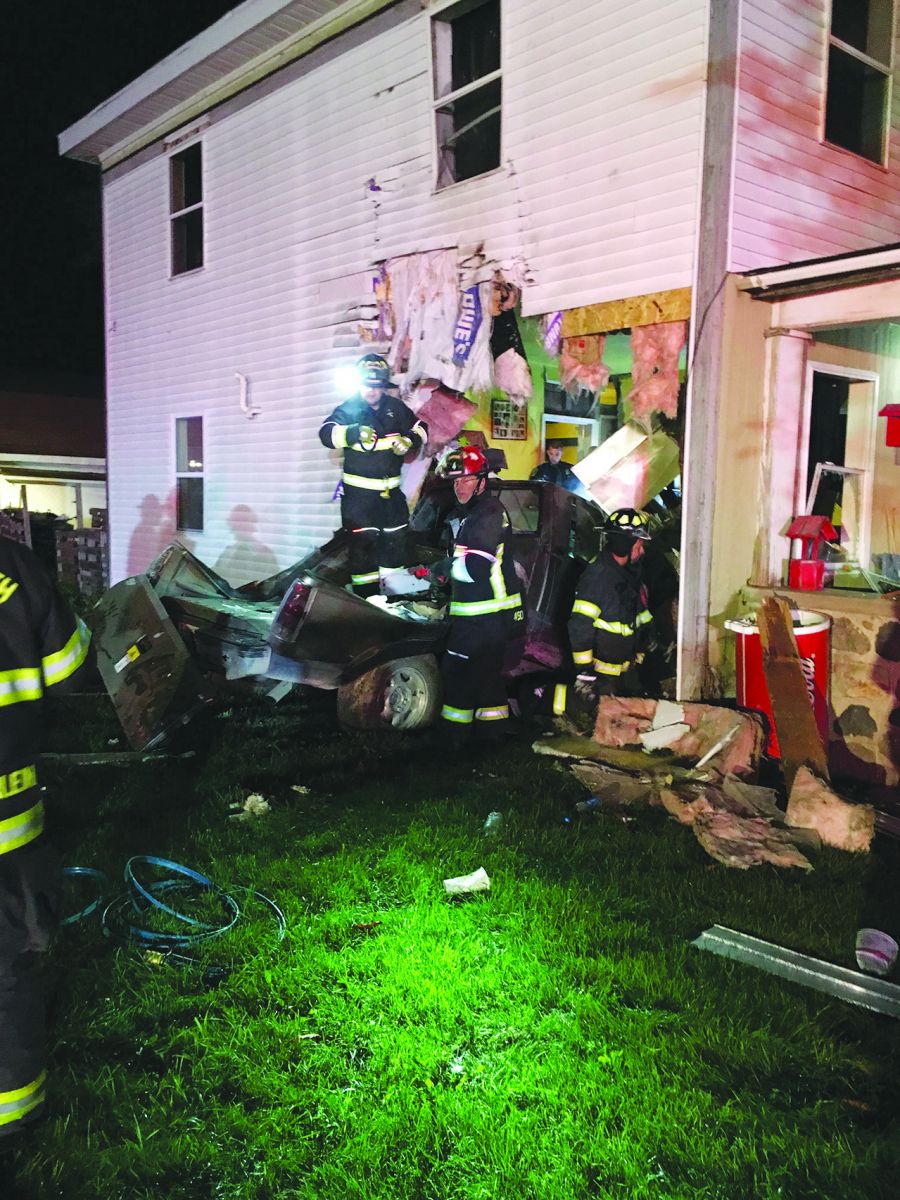 CLOSE CALL! The Frankenmuth Fire Department was called to the Village of Tuscola early Sunday morning September 16, for a pickup truck that crashed into a home occupied by six people. three people were injured. Please see the story below.
Pickup truck crashes into Tuscola Township home
Last week was a week for vehicular accidents for the Frankenmuth Fire Department.
Including the roll-over accident at the Gunzenhausen Platz last Monday morning, the FFD handled a single-car pin-in crash in northwest Frankenmuth Township and a truck crashing into a home in the Village of Tuscola.
The Frankenmuth Police also handled a two-vehicle crash in the city involving a U.S. Postal Service van.
The first accident took place shortly after 1pm on Saturday, September 15, at the intersection of King and Reimer roads.
FFD Safety Officer Jamison Zehnder said an elderly female apparently suffered some type of medical emergency. The 78-year-old Frankenmuth female was westbound on King Road, traveled through the stop sign and intersection and crashed into a ditch and stopped near the edge of a bean field where she was pinned in.
"Her marks indicated she applied the brakes just before the stop sign," FPD Chief Don Mawer said.
Bridgeport Township Police and Bridgeport Fire also were dispatched with the FFD and FPD. The driver, who was alone in the car, was transported to a Saginaw-area hospital by MMR Ambulance Service with serious, but non-life-threatening injuries.
The crash remains under investigation. Engine 1 responded with six personnel; a total of 15 firefighters reported to the station.
Shortly after 2am Sunday, September 16, the local fire department was called to 6434 Fourth Street, in the Village of Tuscola, for a wall collapsed on a subject following a truck crashing into that residence.
The pickup plowed into the living room, with an infant thrown clear of the truck's final resting spot, FFD Chief Phil Kerns said. The truck impacted a two-story, single-family home occupied by six people, including the five-month-old baby.
FFD Captain Matt Vasicek said three of the six occupants were transported by MMR Ambulance to Covenant HealthCare with non-life-threatening injuries. The truck's driver was also transported to St. Mary's Hospital with unknown injuries.
Vasicek noted that damage to the home was extensive and is not able to be occupied. The Michigan State Police – Caro Post is investigating the cause of the accident.
Engine 1, Engine 2 and Squad 4 were taken to the scene, along with 13 personnel. The FFD cleared after 4am.
The Frankenmuth Police also responded to an accident shortly after 11:30am on Friday, September 14, at East Genesee and Haas streets.
Mawer said a 36-year-old Clio female was driving a postal van northbound on Haas Street. She stopped for the stop sign and then pulled out in front a westbound vehicle driven by an 85-year-old Millington man.
The Millington man was transported by MMR Ambulance Service to Genesys Regional Medical Center in Flint with non-life-threatening injuries. Seat belts were worn.
The Clio female was cited for failure to yield the right-of-way. She was not injured.
In other FFD news, firefighters were summoned to Wellspring, 725 West Genesee Street, at 7pm Tuesday, September 11, for a medical assist for MMR Ambulance.
MMR personnel needed extra help bringing a patient into the facility. Squad 4 with four personnel responded and cleared within 20 minutes. A total of seven traveled to the station.
Frankenmuth Fire has answered 111 calls for service so far in 2018.
Fire personnel have been busy with training and community work. Last week, they traveled to Essexville Garber High School for thermal imaging camera training from a national expert, had lunch with residents at Covenant Glen in recognition of the 9/11 anniversary and provided medical first responder coverage for the home football game against Birch Run.
Last night (September 18) the firefighters attended a training at the Horizons Conference Center in Saginaw. They learned about the June 18, 2007 Charleston, South Carolina furniture mart fire that claimed the lives of seven fire personnel and the lessons they learned from the event.
918085