Obituaries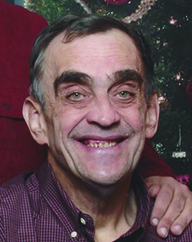 Gerald A. Keinath, 68
Gerald A. Keinath passed away Saturday, July 13, 2019 after a short illness at Medilodge of Midland; age 68 years. Gerald Keinath was born on October 24, 1950 in Saginaw, MI to the late Elmer and Gloria (Schmitzer) Keinath. Gerald liked listening to polka music especially Marv Herzog. He enjoyed attending Guardian Angels with his friends, doing arts and crafts and being by the water. Everywhere he went he made friends.
Gerald leaves two brothers, Robert and Dale, of Saginaw, MI and extended family including his cousin and guardian, Ed (Pat) Roedel, Frankenmuth. Also, his special caregiver Reitus Wilson, Saginaw, who encouraged Gerald and his brothers to live their lives to the fullest.
Gerald was preceded in death by his parents and his brother Ronald Keinath.
Funeral services took place on Wednesday, July 17, 2019 at Cederberg Funeral Home of Frankenmuth and at St. Lorenz Lutheran Church. The Rev. Shawn Fenske officiated with burial between services in St. Lorenz Lutheran Cemetery. In lieu of flowers, please make a contribution to your favorite charity.
Please sign the guest book or share an online condolence with the family at
www.cederbergfh.com.
336021