Obituaries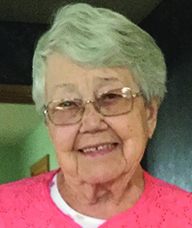 Esther A. Ortner, 94
Esther A. Ortner of Traverse City, Michigan and Aransas Pass, Texas, formerly of Pleasant Ridge, Mt. Clemens, and Frankenmuth died on Tuesday, November 14, 2017 in Corpus Christi, Texas at the age of 94. Esther was born in Frankenmuth on February 22, 1923, the daughter of the late Herbert and Margaret Schluckebier. She was united in marriage to Myron Ortner, also from Frankenmuth, who predeceased her in 1998 after 52 years of marriage.
Esther is survived by her two daughters, Kathryn (Don) Beaufait, Aransas Pass, Texas and Anne (Chuck) Moeser, Traverse City. Also surviving are five grandchildren, eight great-grandchildren; four sisters, Margaret Grueber, Saginaw, Dorothy (Floyd) Schmitzer, Frankenmuth, Marie (Richard) Howell, Canadian Lakes and Barbara (Bernie) O'Neil, Londonderry, New Hampshire, along with many nieces and nephews. In addition to her parents and her husband, Esther was also predeceased by her sister, Ruth (Frank) Rittmueller.
The funeral service was held at St. Lorenz Lutheran Church on Sunday, November 19, 2017 with entombment following in Oakwood Mausoleum, Saginaw.
Those desiring to extend expressions of sympathy may wish to consider contributions to Special Olympics or the charity of donor's choice. Expressions of sympathy may also be shared with the family online at www.cederbergfh.com.
Daniel D. Creger, 73
Daniel D. Creger, age 73, Gaffney, SC, passed away Tuesday, November 14, 2017. He was predeceased by his wife Mary Francis Le𠆛lanc-Creger and his father Carl Creger.
Even though he was challenged by Muscular Dystrophy most of his adult life, he managed it with dignity and a smile.
He retired from Michigan Employment Security Commission where he served as an Employer Tax Collection Officer. Creger was a member of the Knights of Columbus and Sacred Heart Catholic Church.
He leaves behind three sons, Drew (Gina) Creger, Canton, GA, Clark (Kris) Creger, Canton, Michigan and Ian (Alexandra) LeBlanc, Brooklyn, NY; one daughter, Darby (Frank) Russell, Flattrock, Michigan; his mother, Marie Creger, Frankenmuth; three sisters, Rebecca (Samuel) Magee, Arizonia, Carla (Thomas) Sylvester, Michigan and Tamara (David) Kroll, Michigan; six grandchildren, Katelyn Creger, Drew Creger, Jr., Piper Russell, Hayden Russell, Griffin Creger and Mariana Le𠆛lanc.
A memorial service was held on November 17, 2017 at Sacred Heart Catholic Church of Gaffney with the Rev. Michael McCafferty officiating.
In lieu of flowers, memorials may be made to: Sacred Heart Catholic Church's Capital Campaign Fund; 205 Sams St., Gaffney, SC 29340. E-condolences may be sent on line to www.eggersfuneralhome.com
276738