Upcoming Events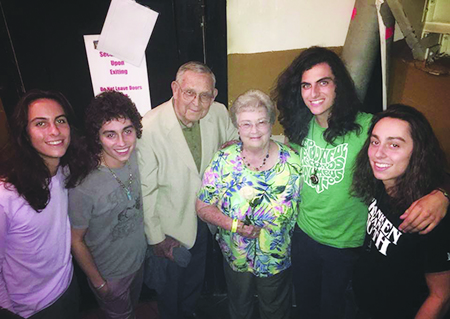 GVF MEETS WITH NAMESAKE: Frankenmuth-based band Greta Van Fleet members meet with their namesake, Gretna Van Fleet, at their Fischer Hall performance back in February. From the left, Sam Kiszka, Josh Kiszka, Dale Van Fleet, Gretna Van Fleet, Danny Wagner and Jake Kiszka pose for the photo. The band dropped the 'n' from her first name to make it easier to pronoounce.
GVF to debut first album Oct. 19
Release party at Michigan on Main; namesake to attend
The Michigan on Main Bar and Grill, located inside the Bavarian Inn Restaurant, is ready to rock out during the launch party for the first full-length album by Greta Van Fleet, one of the hottest bands on the music scene right now.
The band's long-awaited first album "Anthem of the Peaceful Army" will be celebrated on Friday, Oct. 19 at 7pm. While the band themselves will not be attending, Michigan on Main will be playing musical selections from the new album all evening.
Michigan on Main also will be tapping a special beer for the occasion, a "Greta Van Firkin." Taking place at 8pm, they will be welcoming a special guest Firkin Tapper — the band's namesake, Gretna Van Fleet. The event will also be a celebration of Gretna's 88th birthday.
Gretna Van Fleet and band members – Josh, Jake and Sam Kiszka, along with Danny Wagner – all call Frankenmuth their home, which makes the Bavarian Inn the perfect place to commemorate the band's first album.
Any partygoers who purchase a beer or specialty food item will be entered into a raffle to win a Greta Van Fleet shirt.
Greta Van Fleet merchandise will also be available for sale at the event. For more information, visit www.bavarianinn.com or call (989-652-9941).
We're glad you took the time to check out the abbreviated version of our paper. To enjoy the Frankenmuth News in its entirety - click on the "subscribe" tab.
165375