Home
We hope you enjoy this abbreviated version of the
Frankenmuth News
Serving Frankenmuth Since 1906
Vol. 116 No. 02 - In our 116th year!
Wednesday, July 21, 2021
------------------------------------------------------------------------------------------------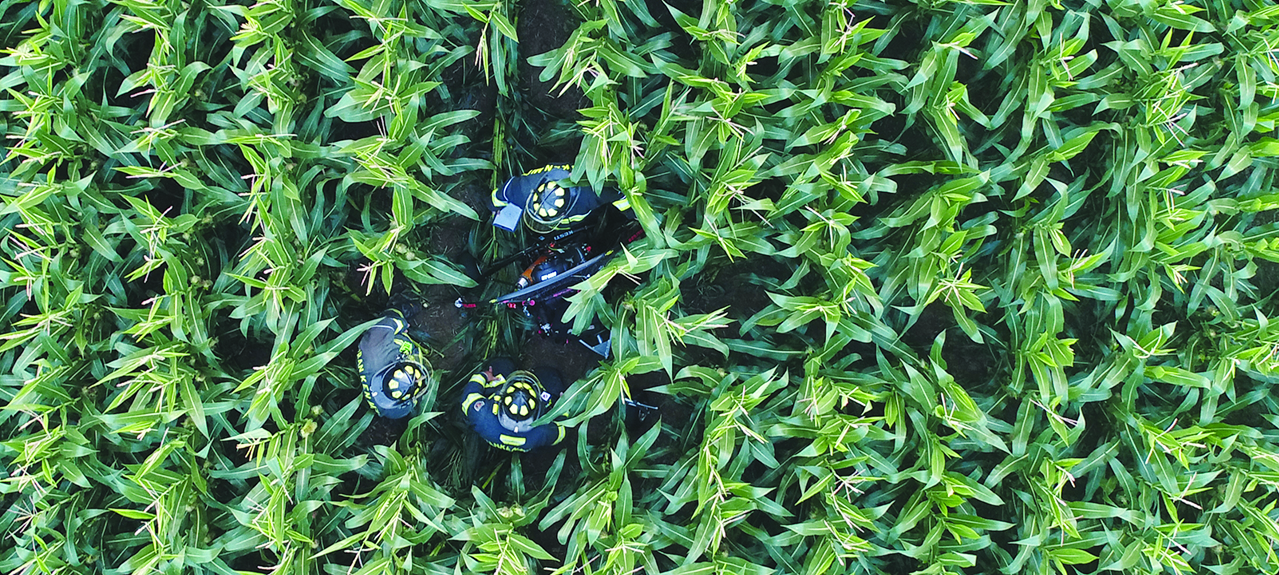 DRONE VIEW: Three Frankenmuth Fire Department firefightes extracted a paraglider from a corn field located in the 7000 block of South Block Road Saturday evening. The pilot fell about 100 feet when his glider malfunctioned and crashed. The pilot was unharmed.
Corn field helps break the fall of a paraglider pilot
The Frankenmuth Police and Fire departments were not sure what to expect when they were called to the scene of a paraglider crash just east of Frankenmuth.
The initial fire page from Saginaw County Central Dispatch 911 reported that at 7224 South Block Road a paraglider fell from about 100 feet in the air and crashed into a field of approximately eight-foot-tall corn and witnesses were unable to locate him.
The accident took place near William "Tiny" Zehnder Field and the corn field was owned by Bobby Krafft.
At 8:16pm Saturday, July 17, the FPD requested assistance from the local fire department to search for the paraglider. The crash was observed by a neighbor.
"After several minutes from arrival, the unhurt pilot of the parachute glider aircraft was located by first responders and advised that he had a belt break on his engine, causing him to lose power," FFD Captain Dan Schneirla said. "The aircraft didn't appear damaged as the parachute allowed for a soft landing in the corn field.
The male pilot was a state of Florida resident, in his mid-60s.
Officials advised that the Federal Aviation Agency (FAA) will contact the pilot if further investigation and an inspection of the aircraft and scene is needed. MMR Ambulance Service traveled to the site, however, the pilot refused medical treatment.
The weather was warm, sunny and only slightly breezy at the time of the mishap.
Birch Run Fire Department also assisted at the crash site, as they just cleared a nearby accident scene. Several law enforcement agencies also quickly responded to help the FPD, including the Michigan State Police, Bridgeport Township Police and Saginaw County Sheriff's Department.
Engine 1, Utility 6, Brush 7 and the public safety drone were utilized, with 14 firefighters reporting to the scene and clearing 90 minutes later. It was the 96th call for service for 2021.
2199502