Home
We hope you enjoy this abbreviated version of the
Frankenmuth News
Serving Frankenmuth Since 1906
Vol. 116 No. 14 - In our 116th year!
Wednesday, October 13, 2021
------------------------------------------------------------------------------------------------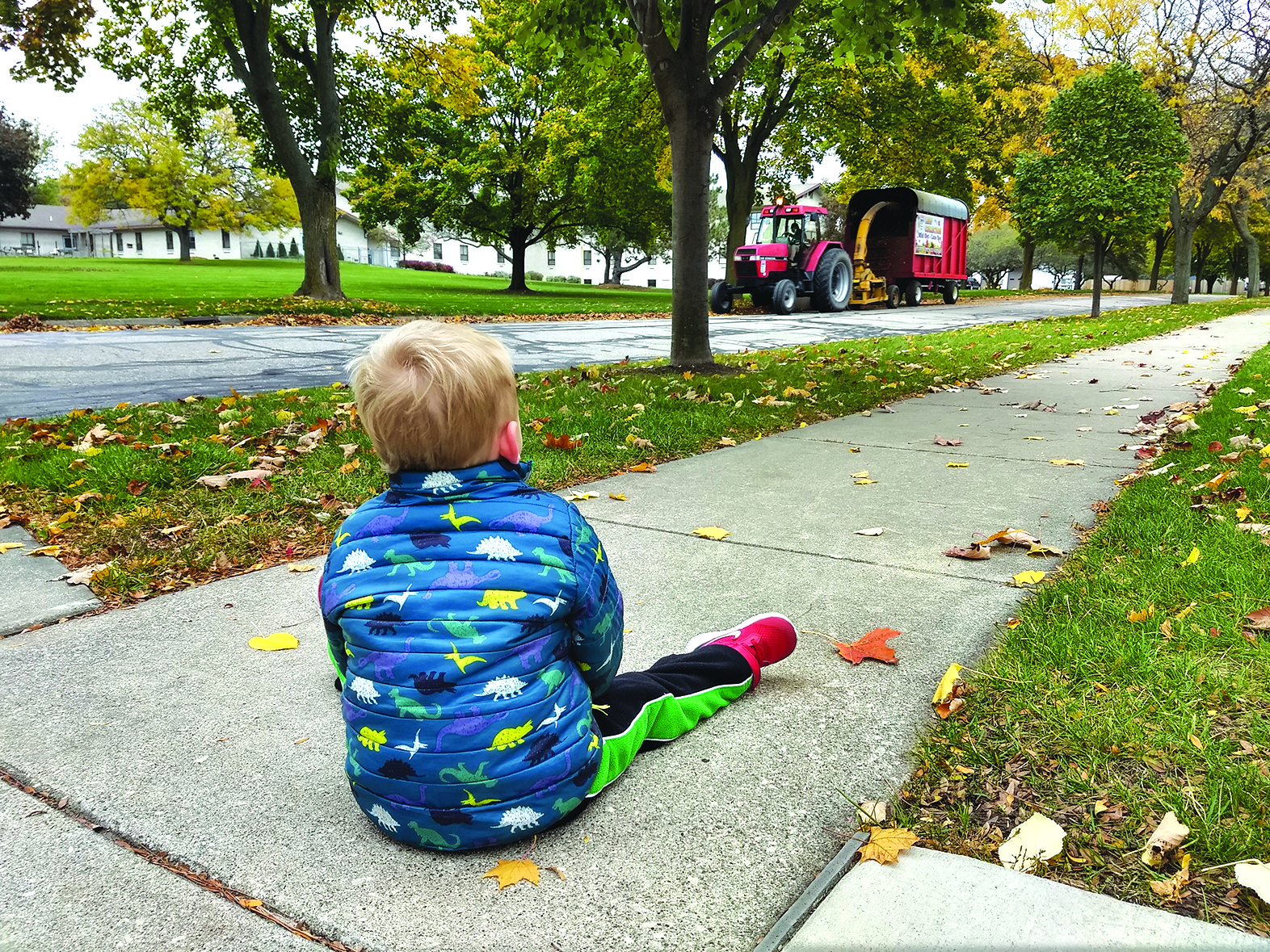 WADE KERNS . . . age 3, watches the city's leaf collection machine do its work along Ardussi Street. He is the son of Phil and Lisa Kerns.
City ready to begin fall leaf collection
Although the recent weather conditions make it feel more like early September, the calendar says mid-October, which means the tree leaves are beginning to turn for autumn.
Frankenmuth Department of Public Works Superintendent Randy Braeutigam advised the City of Frankenmuth will begin its curbside collection of leaves beginning on Monday, October 18.
Recent overnight rainfall, coupled with some blustery conditions, has brought down many leaves already. This weekend will be a critical time to get a jump on this annual fall chore.
Residents and property owners are reminded to follow all of the below listed regulations so equipment breakdowns and collection delays are kept to a minimum. In order to make the leaf collection as efficient as possible, Braeutigam asks that citizens abide by the following regulations:
Limit piles to only leaves. For small leaf piles or for all other yard waste, please use the regular Wednesday yard waste collection. The annual collection will end on Wednesday, November 24.
Please do not include grass clippings, ornamental grasses, garden waste, yard waste, sticks, corn stalks or pumpkins. These items can be placed in yard waste containers or bags for pick up each Wednesday.
Rake the leaves into the street, at least 12 inches from, but parallel to, the curb. This will allow rain and storm water to properly run-off into catch basins.
Leaf piles must not exceed 18 inches in height and must be in a row. Leaf piles should also be kept at least 25 feet from street intersections (corners).
The city uses a large farm tractor which pulls a windrowing-style machine behind it. That is hooked to a large covered hay wagon where the leaves are stored until disposed of.
Braeutigam also said that due to limitations on the collection equipment, the DPW is unable to collect leaves on city streets that do not have curbs and gutters. Residents are asked to either use the Wednesday yard collection program or make drop-off arrangements with him.
For more information on this collection or any other curbside waste collection guidelines, please contact the city office at 989-652-9901.
2360654