Home
We hope you enjoy this abbreviated version of the
Frankenmuth News
Serving Frankenmuth Since 1906
Vol. 115 No. 28 - In our 115th year!
Wednesday, January 20, 2021
------------------------------------------------------------------------------------------------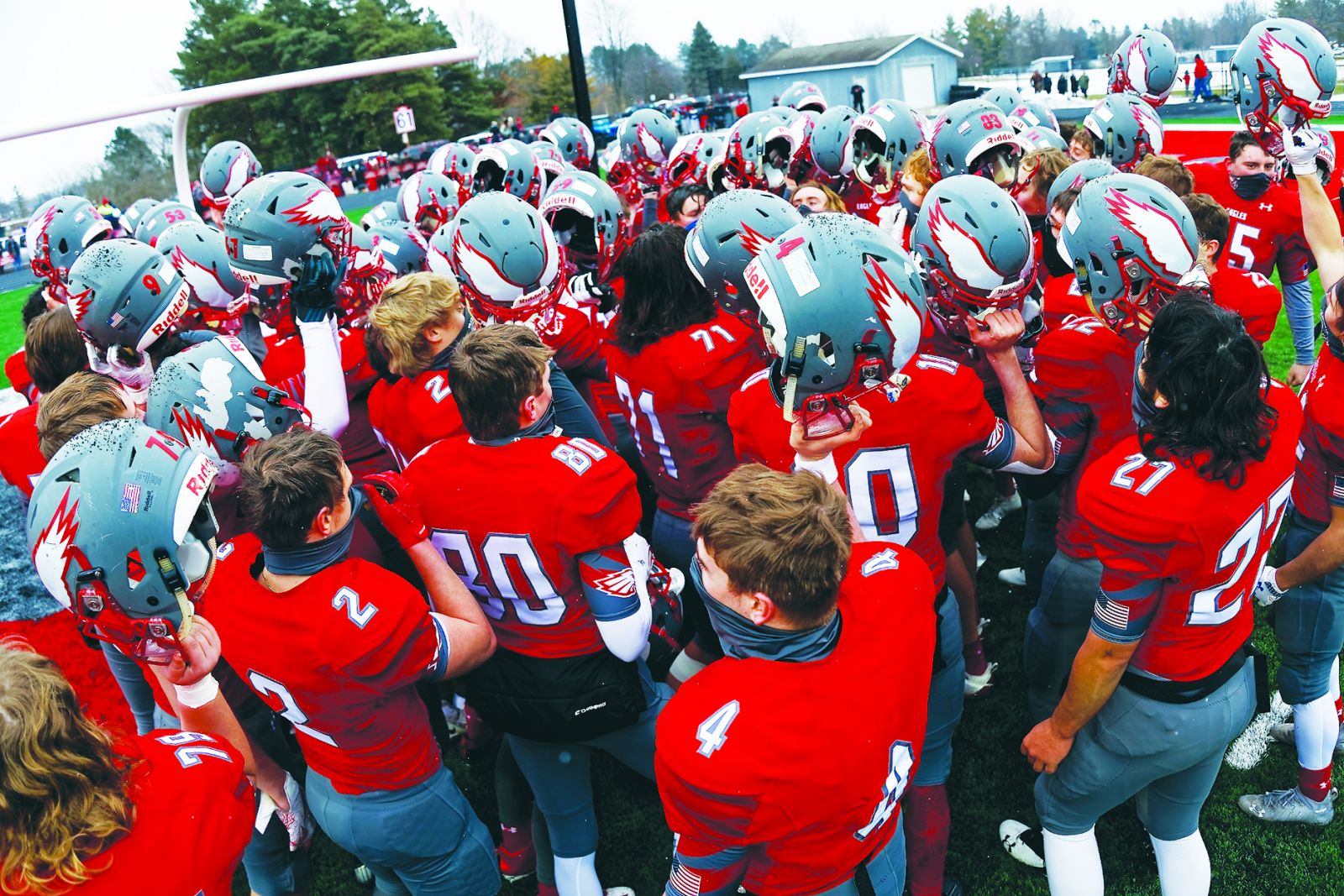 SINGING THE EAGLE FIGHT SONG! The Frankenmuth varsity football team celebrates their 35-14 win over Lansing Catholic Central last Saturday afternoon.
Eagle gridders state bound!
Come 4:30pm Saturday, it is a pretty good bet that many television sets and computer screens will be tuned into view the Frankenmuth varsity football team in action in the state finals, for the first time in program history.
That will be the best outlet for an Eagle fan base that has been known to travel well and support their student-athletes, coaches and support staff in all sports.
With the COVID-19 pandemic in its 10th month, parents, siblings and fans have been unable to get up close and personal at the games. During last Saturday's game, FHS Athletic Director Kevin Schwedler said the stadium was "ringed" with fans outside the fence creating a good atmosphere. Some fans parked their vehicles around the campus late Friday night or early Saturday to get a view of the game, won by 'Muth 35-14 over Lansing Catholic Central.
Each school is allotted 125 tickets, which are given to the players for their parents. The Marine City game saw 238 fans inside the gates; this week it was 208. Schwedler said Frankenmuth used all of its tickets and some LCC fans just did not make the trip to town.
Although Detroit's Ford Field holds 65,000, the same 125 tickets per team will be used. The Eagles will take on Grand Rapids Catholic Central for the Michigan High School Athletic Association's Division 5 state title. There will be two games before the FHS-GRCC contest and one after it.
Here's the latest to watch the finals on the air. All games will be shown on FOX Sports Detroit or FOX Sports Detroit-Plus. The schedule of live games to be announced.
All of the games will be available live on the website www.FOXSportsDetroit.com and on handheld and television streaming services such as Roku or FOX Sports Go!
Live finals audio will be aired at MHSAANetwork.com for home and handheld listening. All games will be archived shortly after their completion on MHSAA.tv. Postgame press conferences following the first three games each day (including Division 5) will be shown live at MHSAA.tv. Video downloads and DVDs are available for order at MHSAA.tv.
The good news, Schwedler shared, it that the full team is going to Ford Field, including the managers and for the first time in the playoffs, the FHS Cheerleaders will whip up team spirit from the sidelines.
In other Eagle notes . . .
FHS Head Coach Phil Martin has been nominated for the 2020 Detroit Lions High School Coach of the Year Award. Visit www.detroitlions.com/coachoftheyear to vote for Coach Martin. Voting will be tabulated until 11:59pm Saturday, January 23.
Eagle Trivia (with apologies to Al hick" Rodammer). 'Muth has allowed only 11 touchdowns this season – 10 by passing and one by rushing. What team scored the solo rushing touchdown and who was the running back? (answer at the end of the article).
Has anyone seen the Eagles' away uniforms? Frankenmuth opened its season with three straight road games as the new artificial turf installation was being finalized. The last away game was a 31-7 victory over Essexville Garber back on October 2 – well over three months ago. The Eagles will be the visiting team in the state final game versus Grand Rapids CC.
The red and gray have had one 12-win season in their history. They have enjoyed five 11-win seasons, including 2020. The others came in 1987, 1995, 1997 and 2016. This season, a 12-win year would result in a state championship!
Testing, Testing . . . Since football was restarted nearly one month ago, the MDHHS and MHSAA have mandated COVID-19 antigen testing for all players and coaches. The testing includes a nose swab and is led by FHS Athletic Trainer Julie Felten, who is probably the unsung hero in the athletics department and especially this year. The players have been tested every other day, Monday, Wednesday and Friday, throughout this playoff run.
Great start on the new field! When the August 2019 millage passed, two of the more readily-visible changes to the FSD campus took place a year later: new artificial turf football and soccer fields. The Eagle football field has been getting a workout. Since Alma christened the field October 9, through the Lansing CC game, Frankenmuth is a perfect 8-0 on their home turf.
Saturday Sendoff! The FSD has secured charter bussing for the trip to Detroit's Ford Field this Saturday. Game time is 4:30pm and the team cannot enter the facility until 3pm. As of press time, the exact bus departure time is unknown, but likely around 1pm. The Frankenmuth Police and Fire departments will lead the way down East Genesee Street and south on South Main Street and out of town. There are also plans in the works to greet the team when it arrives home, with or without the state title. The program deserves that!
Ethan Jacobs . . . is a senior captain on the team. The Jacobs family has been well represented over the past three-plus decades in the lore of Eagle football. He shares his thoughts:
"I think this season is one that this entire town will remember. It's meant a lot to be able to finally finish what we started with all the shutdowns we had to go through. We have all stuck together throughout this process doing whatever it takes to get ready. Our coaches have been awesome this season; they have been in our corner helping us throughout this weird year that we have experienced. Our coaches have made us comfortable in uncomfortable situations this year and it has helped us a lot."
"But the community support that we have gotten has been awesome with people standing outside the fences or in their cars to watch us play . . . it's just been an awesome experience that us players will never forget, he added."
Jacobs plays on defense primarily and has a nose for the football, with nine sacks, three fumble recoveries and two interceptions to go with his 49 tackles.
"Our defense has been really good this year, and I think all of us bring our own skill set to the game and it fits our scheme perfectly. This entire season has been a blast and I wouldn't have wanted to do it with any other group of guys."
"Being able to play at Ford Field is a dream come true; I think all of us dreamed of this moment since we started playing football. It's quite an experience that not every 16 and 17-year-old kid can say they've played there . . . this is a moment we will all remember," Jacobs concluded.
Trivia answer: Birch Run's Kahleel Brown scored the only running TD, on a 22-yard rush, in week five of the season. The score came midway through the fourth quarter as Frankenmuth won, 41-6.
1862855