Home
We hope you enjoy this abbreviated version of the
Frankenmuth News
Serving Frankenmuth Since 1906
Vol. 115 No. 33 - In our 115th year!
Wednesday, February 24, 2021
------------------------------------------------------------------------------------------------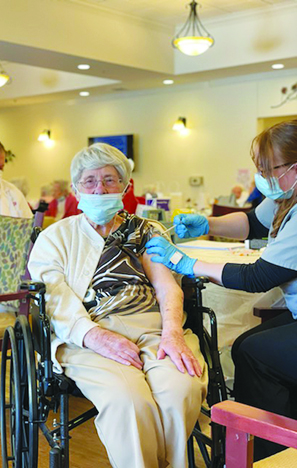 COMBATING COVID: A total of 70 Covenant Glen Assisted Living & Memory Care residents took part in the second round of vaccinations last week at the facility. Above, Arlene Keinath, age 102 of Reese, receives her second shot. The first vaccines were administered January22. The vaccines were covered under the resident's private insurance.
Navigating the COVID-19 registration process
Dear Community of Frankenmuth,
For the past several weeks, I have had the opportunity to volunteer at several COVID 19 vaccine clinics. My recent role involved helping people register for the vaccine. In doing so, I learned we need to reach out to our neighbors, even those we don't know and offer assistance. Navigating how to register for the vaccine and determining the locations of the clinics is not easy.
I spent a good deal of my time locating people who could not register for the vaccine and then helping them complete the process. One individual I spoke with was a 94-year-old Frankenmuth resident who resides by himself. He told me, "I didn't know what to do, so I just gave up." Together, we decided I would register on his behalf. I used my contact information, and when the clinic texted a notification confirming his appointment for the vaccine, I printed a copy and took it to his home.
I want to invite you to reach out to your older neighbors and learn if they've been able to register for the vaccine. If not, please offer your assistance in helping them register or get answers to their questions. If you don't know your neighbor personally, we can all take a lesson from my good friend Andrea, who took the initiative to start knocking on doors and introducing herself.
Currently, only 65 years of age and older individuals and some people who fall into the essential worker category are eligible to register for the vaccine. There are now several vaccine location options available.
The first place you should register for a vaccine is with the Saginaw County Health Department. The Health Department is scheduling vaccine appointments and giving priority to individuals 80 years of age and older. Please register at this link https://saginawpublichealth.org. When it is your turn, you will receive a text message or a phone call that invites you to make an appointment along with instructions.
Meijer Pharmacy is offering large vaccination clinics in a variety of locations. You can register with Meijer in two different ways. 1) Text 75049 and type COVID in the message box, or 2) go to the Meijer website at
https://clinic.meijer.com/registerand sign up. You cannot register by directly phoning the pharmacy.
Rite Aid Pharmacy is distributing vaccines at some locations in our region. You must register for an appointment at https://www.riteaid.com/covid19. You cannot make an appointment by phoning the pharmacy directly.
As more vaccine becomes available, distribution sites will expand. In the meantime, if you are registered and have not received an appointment, please be patient. As more vaccines become available, a representative from one of the clinics, or in some cases, a volunteer such as myself, will contact you. If you need help getting registered for the vaccine, please contact the City (989-652-9901).
Just one more thing! The recent snowfall is beautiful - however, also creating a few problems. If you have a fire hydrant near you, your assistance in removing the snow surrounding the hydrant would be appreciated. And a reminder, thank you for removing your vehicles from the street between the overnight hours of 2-6am so our staff responsible for snow removal can work more efficiently.
Be safe, and please consider advocating on behalf of someone who needs help during this time.
Mary Anne Ackerman
Mayor of Frankenmuth
1925477