Home
We hope you enjoy this abbreviated version of the
Frankenmuth News
Serving Frankenmuth Since 1906
Vol. 116 No. 28 - In our 116th year!
Wednesday, January 19, 2022
------------------------------------------------------------------------------------------------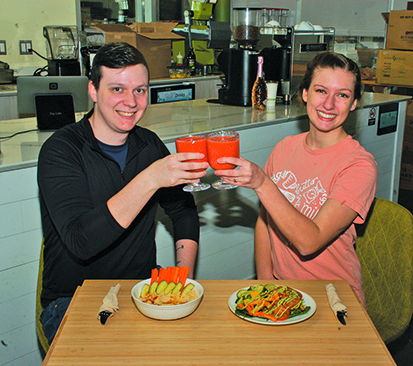 DIG CAFE . . . is set to reopen this Friday, January 21, under the ownership of Kennedy Krieger, right, a 2018 Frankenmuth High School graduate. She is joined by her boyfirend, Alex Dotson of Bay City, who will assist her in this new endeavor. (News photo)
Recent FHS graduate Kennedy Krieger reopens the Dig Cafe
A young entrepreneur is reopening a small eatery in the Uptown North Main complex.
Kennedy Krieger, a Reese native and 2018 Frankenmuth High School graduate, is reopening Dig Cafe at 975 North Main Street. The business was founded by Lynne and Bill Parlberg and it has been closed for nearly two years.
"I found my love for baking by fifth grade. I loved to play with Play Dough to make desserts and then sell them to my mom," Krieger recalled of her early love of cooking and baking. "I have always been interested in cooking and baking. I started messing around in the kitchen. I like the science of it and although it can be stressful, when it comes together it is a big accomplishment."
During her junior year at FHS is when she started looking at college application forms and she looked at several institutions in Michigan, Chicago and New York before settling on the Great Lakes Culinary Institute in Traverse City. Krieger said the two-year program was far enough away from home to stay on campus and take a break from home.
"The chefs there were beyond amazing! They helped us grow as students and gave us the confidence and ability to go out into the culinary world and share what I love to do," Krieger stated.
Krieger earned her baking and entrepreneurship certificate which is a two-year associate in arts, graduating in May 2020.
She came back home, worked at the Bavarian Inn Restaurant as a server and quit in October to concentrate on her new venture.
"I found this space by accident. I 'liked" a page on Facebook and this popped up on the timeline noting it was closed and for sale," Krieger said.
Kennedy said her grandfather, Terry Duperon, is her investor in the business and they worked out a business deal. They closed on the deal on December 23, purchasing the business from the Parlbergs while leasing the 500-square feet of space from the Frankenmuth Credit Union.
The interior is very similar, there is seating for 12-15 people (plus a small bar area), and Krieger is hoping to tap into local businesses for to-go lunch orders at Uptown North Main as well as Frankenmuth. She also is looking to cater to a broader spectrum of the community.
"We want to cater to locals for lunch and be able to satisfy them," Krieger noted.
Krieger will have two employees to start, with boyfriend Alex Dotson of Bay City and Johnny Billegas of Vassar.
The first day of business, grand opening, is set for Friday, January 21, when they will be open 8am until 4pm. Normal business hours will be Mondays, Tuesdays and Fridays, 8am until 4pm, and Saturdays and Sundays, 9am until 3pm.
The menu will closely mirror the former offerings, with some new twists by Krieger. She will serve smoothies and juices (all blended on site), breakfasts including burritos, waffle sandwiches and bowls, lunch clubs, sandwiches and burgers, salads and soups. All are made with a nod to being healthy. They also serve veggie hummus and Krieger has created a rather comprehensive kids' menu.
"My goal is to serve a healthy style of comfort foods. I am also excited to say that we are purchasing food from local farms and vendors as much as we can to make our fresh juices, smoothies, hot breakfast items, soups, salads and sandwiches."
"I am so excited and cannot wait to share my dream with everyone," Krieger concluded.
2528048