Home
We hope you enjoy this abbreviated version of the
Frankenmuth News
Serving Frankenmuth Since 1906
Vol. 115 No. 21 - In our 115th year!
Wednesday, December 2, 2020
------------------------------------------------------------------------------------------------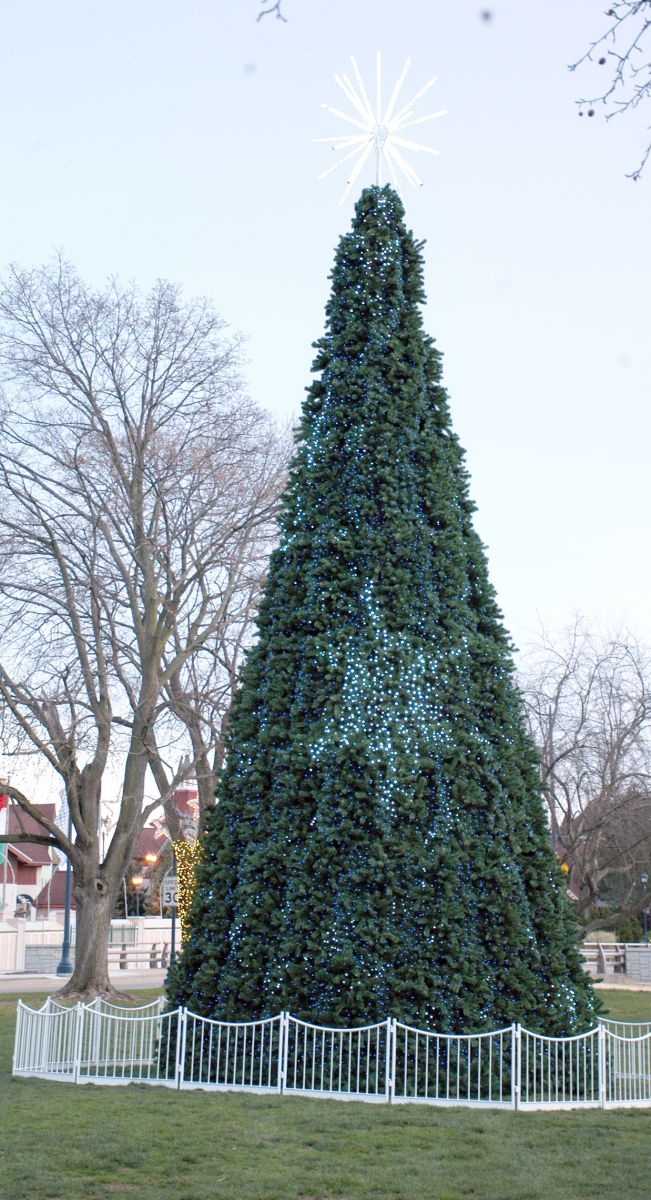 THE FRANKENMUTH COMMUNITY TANNENBAUM is a brand-new, 40-foot artificial tree located in the midst of Zehnder Park. Each light on the tree is a pixel that "dances" to the Christmas carols which accompany the vibrant lighting schemes. (News photo)
Community Foundation gives $30,000 to "Frankenmuth's Christmas Experience"
The Frankenmuth Community Foundation has announced its pledge of $30,000 to the rankenmuth Christmas Experience" project. With most gatherings, festivals and events cancelled this year, the Frankenmuth Chamber of Commerce & CVB joined forces with the City of Frankenmuth to develop a unique approach to this Christmas season, one that will be enjoyed not only in 2020, but for many years to come. The focus of the project is to spread joy throughout the community. A pandemic isn't going to dull the lights in Frankenmuth this year.
"The new Christmas Experience' was a dream that started a couple of years ago" explained Jamie Furbush, President and CEO of the Frankenmuth Chamber of Commerce and Convention & Visitors Bureau. "It was pushed into reality because of restrictions during the pandemic that really limited us from doing what we had always done in the past."
Frankenmuth's Main Street is lined with shimmering wrapped trees as far as the eye can see and many new Christmas displays. The most impressive addition of all is the 40' Christmas tree located in Zehnder Park. Every light on the tree is a pixel that "dances" to some of our favorite Christmas carols. "There are so many great things happening independently of each other, we thought it would be great if we all worked together to be better coordinated and purposeful, and then we could market them collectively" noted Furbush.
Frankenmuth is a destination all year round but notably during the Christmas season. "This year especially, our community needed something positive and exciting to lift our spirits during the most wonderful time of the year and this collaboration has really brought it all together," stated Furbush. "We are excited to see how it all grows and evolves over the next couple of years."
"The Community Foundation Board loved the enthusiasm and foresight that went into developing this program and loved the collaboration with the City" stated Jonathan Webb, Executive Director of the Frankenmuth Community Foundation. "This was the type of project that fits our mission perfectly 'To Honor the Past and Invest in the Future'. We are excited to contribute to the additional Christmas displays for our community this year and for years to come."
If you would like to support Frankenmuth's Christmas Experience or any of the more than 80 funds held at the Foundation, you may contribute at their website, www.FrankenmuthFoundation.org. Or look for the Frankenmuth Community Foundation's Annual Appeal letter that was mailed to Frankenmuth residents last week.
1781412