Home
We hope you enjoy this abbreviated version of the
Frankenmuth News
Serving Frankenmuth Since 1906
Vol. 114 No. 19 - In our 114th year!
Wednesday, November 13, 2019
* * * * * * * * * * *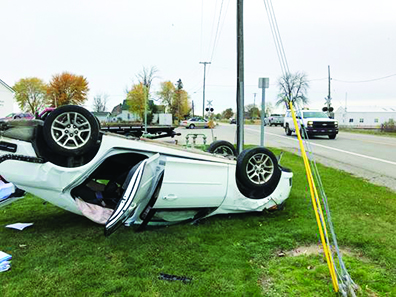 ROLL-OVER CRASH IN GERA
The Frankenmuth Police Department was called to a three-vehicle accident around 8:40am, Wednesday, November 6. The crash, which included a vehicle rolled over on its roof, took place just south of the railroad tracks (between Bradley and Kind Roads) at the Star of the West Milling Company's Gera Plant.
Upon arrival, officers observed a black Ford Focus with heavy front end damage. Fortunately, all vehicle occupants had exited their cars and were able to speak with officers regarding the situation. A 56-year-old man who was in the overturned vehicle was transported by MMR Ambulance Service to Cevenant HealthCare in Saginaw with non-life threatening injuries. The driver of teh focus, a 30-year-old Saginaw man, failed to stop for the two vehicles in front of him and rear-ended the white sedan, causing a chain reaction, FPD Officer David Danielson said.
The Saginaw man was ticketed for failing to stop in an assured clear distance and released. The road was closed for a while, setting up a minor detour into the Star of the West parking lot. Michigan State Police troopers and Reinert & Bender Auto Repair and Towing assisted at the scene.
FFD Sergeant Tony McLaughlin repported that the number of car-deer accidents has been on the rise over the past week. McLaughlin said Curtis Road, west of the city, is on of the primary areas for crashes, however, the FPD has been taking reports from all parts of the township.
1278247