Eagles Sports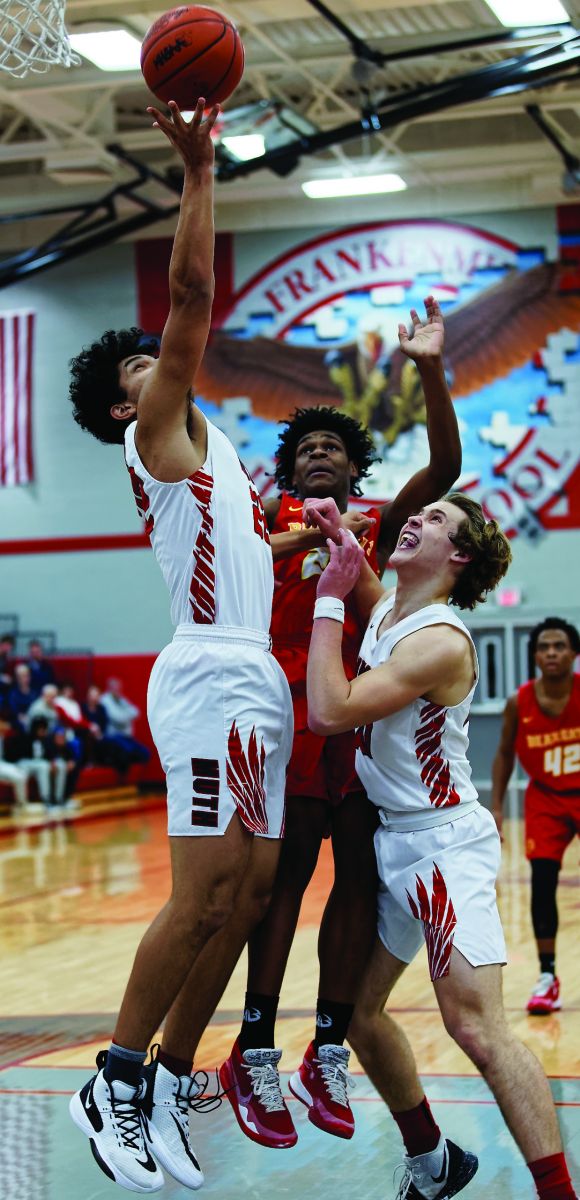 FINGERTIP CONTROL: Frankenmuth varsity boys' basketball player Nate Jackson, left, and teammate Ben Reinert converge near the basket during last Friday evening's home game against Bridgeport. The Eagles ended the Bearcats' 53-game regular-season winning streak with a 43-38 win. (Photo courtesy/Chip Degrace)
Eagle cagers end Bearcats' 53-game winning streak
The Frankenmuth varsity boys' basketball team showed its strength against one of the Tri-Valley Conference's toughest cage programs last Friday night.
The host Eagles welcomed neighboring TVC East Division rival Bridgeport and sent the Bearcats home with their first loss of the season, 43-38, to tighten up the league race.
The Bridgeport defeat was the program's first regular-season loss since December 5, 2017 – a 53-game winning streak. FHS Coach Andy Donovan was proud of his team's grit in this back and forth contest.
"Hat's off to Bridgeport. Having a streak like that is an incredible accomplishment and we knew we were going to earn it; they weren't going to give it to us," Donovan said.
'Muth grabbed an 18-11 first-quarter lead but Bridgeport held the Eagles to two points in the second quarter, setting up a 20-20 tie at halftime.
"Points were really hard to come by . . . every possession mattered," Donovan noted.
Frankenmuth held a 30-28 advantage after the third quarter and enjoyed a 13-10 spurt to win by five points.
"I was super proud of our guys. We knew we could play better than we did the first time and we worked extremely hard to improve," Donovan said.
The Eagles traveled to Bridgeport on December 20, 2019, and left with 55-29 loss. It was the third game of the season and second conference tilt on the 2019-20 slate.
Seven Eagles scored at least two points and hauled in at least one rebound. Junior Ryan Brenner led the red and gray with 13 points on 5 for 12 shooting from the field, including a pair of three-point shots. He also had three steals.
Senior Derek Humpert added 10 points, on 4 for 7 shooting, and picked up four steals and two blocked shots. Senior Corey Thompson scored eight points, was 5 for 6 from the free throw line and posted four rebounds, nine steals and five assists.
Junior Ethan Jacobs contributed five points but led the team with 10 rebounds.
𠇎very single guy on our roster was a part of this and that's been the case all year long. We had a great week of practice and preparation, and that put us in a position to have a chance to win," Donovan explained. 𠇊nd to actually get it done, as a coach, you are always thrilled when the team can see the fruits of their labor. It was definitely a big win and hopefully we'll grow from it and keep getting better."
Following are the standings through February 10:
Team: TVC Overall
Bridgeport - 9-1 14-1
Frankenmuth – 7-2 10-2
Freeland – 7-2 10-4
Alma – 6-3 10-4
Garber – 6-4 7-7
Standish – 2-8 4-8
Swan Valley – 1-8 2-13
Birch Run – 0-9 2-10
For the game, Frankenmuth was 10 for 20 from two-point range (50 percent), 4 for 17 from three-point line (24 percent) and 11 for 25 from the free throw line (44 percent). The Eagles totaled 23 rebounds, 11 assists, 19 steals, 11 deflections and three blocked shots while committing 18 turnovers and 12 fouls.
'Muth entertained Essexville-Garber last night (February 11) and will travel to Swan Valley on Friday, February 14, for a 7:30pm game. Next week, the red and gray will host non-league Flint Hamady on Tuesday, February 18, for a 7:30pm tip off and host East school Freeland on Friday, February 21, for a 7:30pm contest.
The MHSAA Division 2 District No. 39 will be held at Bridgeport March 9, 11 and 13. Teams include Birch Run, Bridgeport, Caro, Clio, Frankenmuth and Mount Morris.
For the first time, the MHSAA will use seeding to determine who will play who in each district. The seeds will be determined the last week in February.
------------------------------------------------------------------------------------------------
We're glad you took the time to check out the abbreviated version of our paper. To read more, you can find The Frankenmuth News at local news stands or click on the "subscribe" tab.
199063