Eagles Sports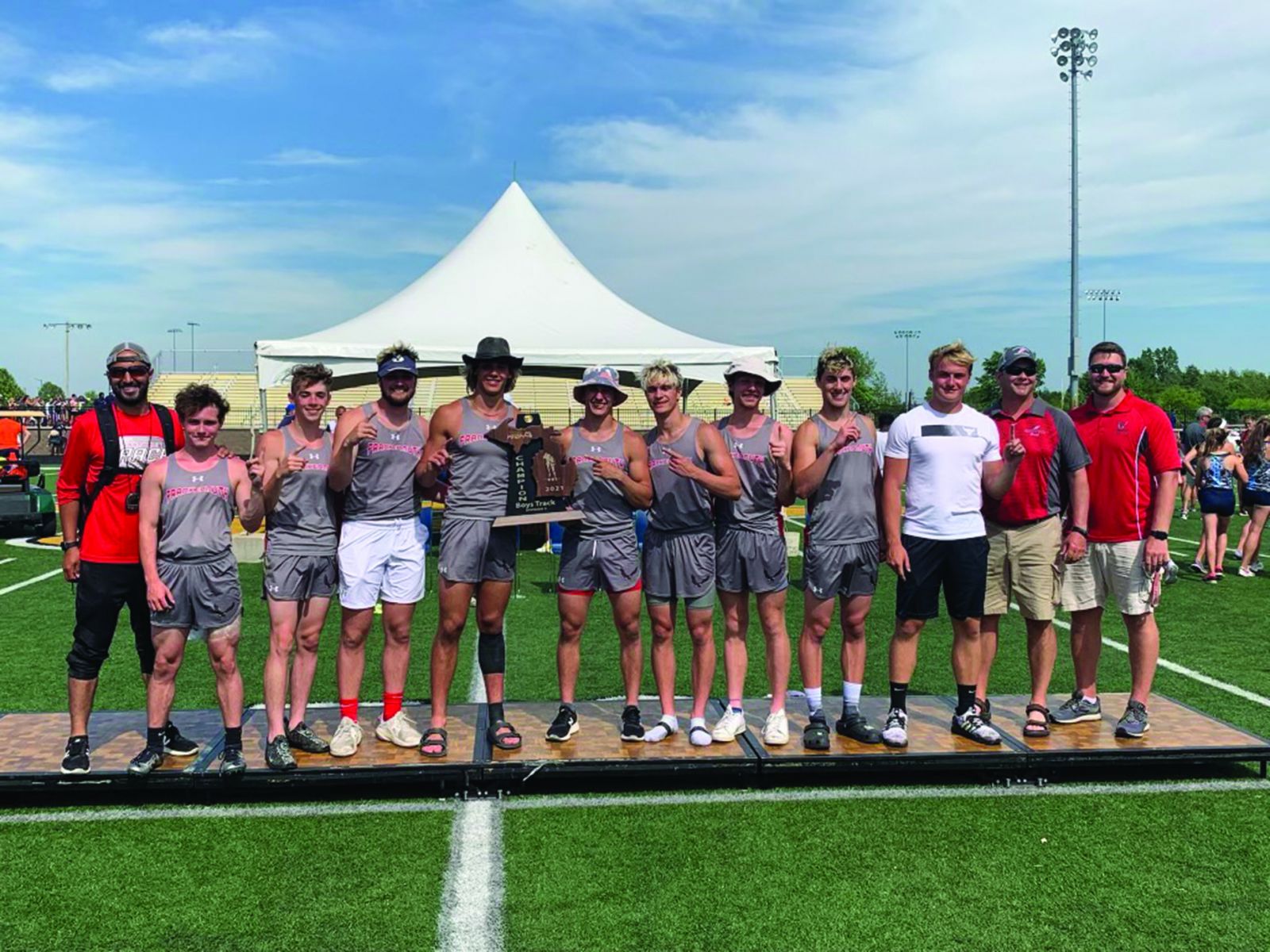 STATE CHAMPIONS! The Frankenmuth varsity boys' track and field team capped off a stellar 2021 season by winning the MHSAA Division 2 State Finals held at Zeeland High School June 5. Pictured are the athletes and coaches with "The big mitten" - the first-place trophy.
Eagle thinclads finish perfect season with D-2 state title!
Bolstered by the teamwork of the relay teams, the Frankenmuth varsity boys' track and field team brought home another state title last Saturday afternoon.
The Eagles traveled to Zeeland High School to compete in the Michigan High School Athletic Association (MHSAA) Division 2 State Finals and when the final points were tabulated, the 'Muth thinclads collected 45.75 points to edge Flint Powers Catholic with 42 points and Fruitport with 40 points. Overall, 58 Division 2 schools scored at least one point at the meet, which was run under hot, sunny and humid conditions.
"What an incredible end to an incredible season," FHS Coach Luke Sheppard said. "We knew that we had a shot to win this title, but it had to be a perfect day. We had to score everywhere that we had boys seeded, we needed to up-seed in a few places, we needed points from our field events and our relays needed to be perfect."
Frankenmuth won one relay, setting a school record in the 400-meter relay with a time of :43.28. The Eagles also took second place by less than a second in the 800m relay and the same in the 1600m relay, by about a half second.
The 400m foursome included Ian Stephens, Sam Barger, Andrew Braman and Daniel Barger. The same quarter ran to a runner-up spot in the 800, clocking a 1:30.58 while Stephens, Malmo, Sam Barger and Ryan Brenner were second place in the 1600m relay with a time of 3:26.16.
Daniel Barger also sped to a fourth-place finish in the 100m dash (:11.20) while he and his brother Sam finished fifth and sixth place, respectively, in the 200m dash (:23:18 and :23.30). Dalton DeBeau was fifth in the discus (159-feet, 4-inches) Brenner was sixth place in the 300m hurdles (:41.57).
"Ryan tripped towards the end of the race and had the presence of mind to stand up and finish. I can't say how impressive it is that Ryan fell during the race and still managed to score points for the team and earn All-State status," Sheppard stated.
Brenner also took seventh place in the high jump at 5-11.
The meet was a bit back and forth, coming down to the last events of the day.
𠇌oming down to the mile relay, we knew we had to outscore Flint Powers by four points, as we were down 3.25 points. We had calculated the numbers, gone over every possibility, but now it was up to the boys to bring it home. Everyone who knows track and field knows that the mile relay is already the most exciting event of the day, but this one was different. This team ran the perfect race, finished second place, and outscored Powers by seven points to allow us to hoist the Division 2 trophy," Sheppard explained.
Last week, the Eagles won the Michigan Interscholastic Track Coaches Association (MITCA) Division 2 Team State Championship in Fowlerville. They won all their Tri-Valley Conference 8 meets, including the overall TVC meet, and several Friday invitationals. In other words, the team did not lose this season.
"The day was not as perfect as we hoped, but our boys did what they always do. They picked up their teammates, brushed them off, and competed. As an outsider looking in, this may seem like a 'normal' thing to do in sports, but at the MHSAA State Meet, filled with the best athletes in the state, it is far from 'normal.' Any time there is a slip, it is almost impossible to count on points being made up at this level, but our boys did it," the coach added.
This is the third state crown for the boys' track and field team in the past 16 years. Luke's father, Jerry Sheppard, won the crown in Division 3 in 2005 and Jerry Drake did the same in D-3 in 2011. Drake still assists with the team, along with Mario Guerriero. FHS was a state runner up in D-3 in 2004 under Jerry Shepperd.
𠇊t the beginning of the year, I knew that we were going to be special. I had laid out team goals at top three at MITCA and top 10 at the MHSAA tournament. The boys, however, had a very different plan. With incredible senior leadership, drive and determination, and GUTS. These boys stepped up in every single meet, outworked their opponent, and set their sights on something that only two teams in boys' history have done – MITCA and MHSAA state champions as well as an undefeated season," Sheppard said.
While the team will graduate some seniors, the underclassmen who were a part of this team also made a difference these past three months.
"We are going to miss our seniors dearly for their leadership, ambition, their work ethic, their grit, but most of all their support of their teammates. Thank your seniors, for everything," Sheppard concluded.
-----------------------------------------------------------------------------------------------
We're glad you took the time to check out the abbreviated version of our paper. To read more, you can find The Frankenmuth News at local news stands or click on the "subscribe" tab.
220703