Eagles Sports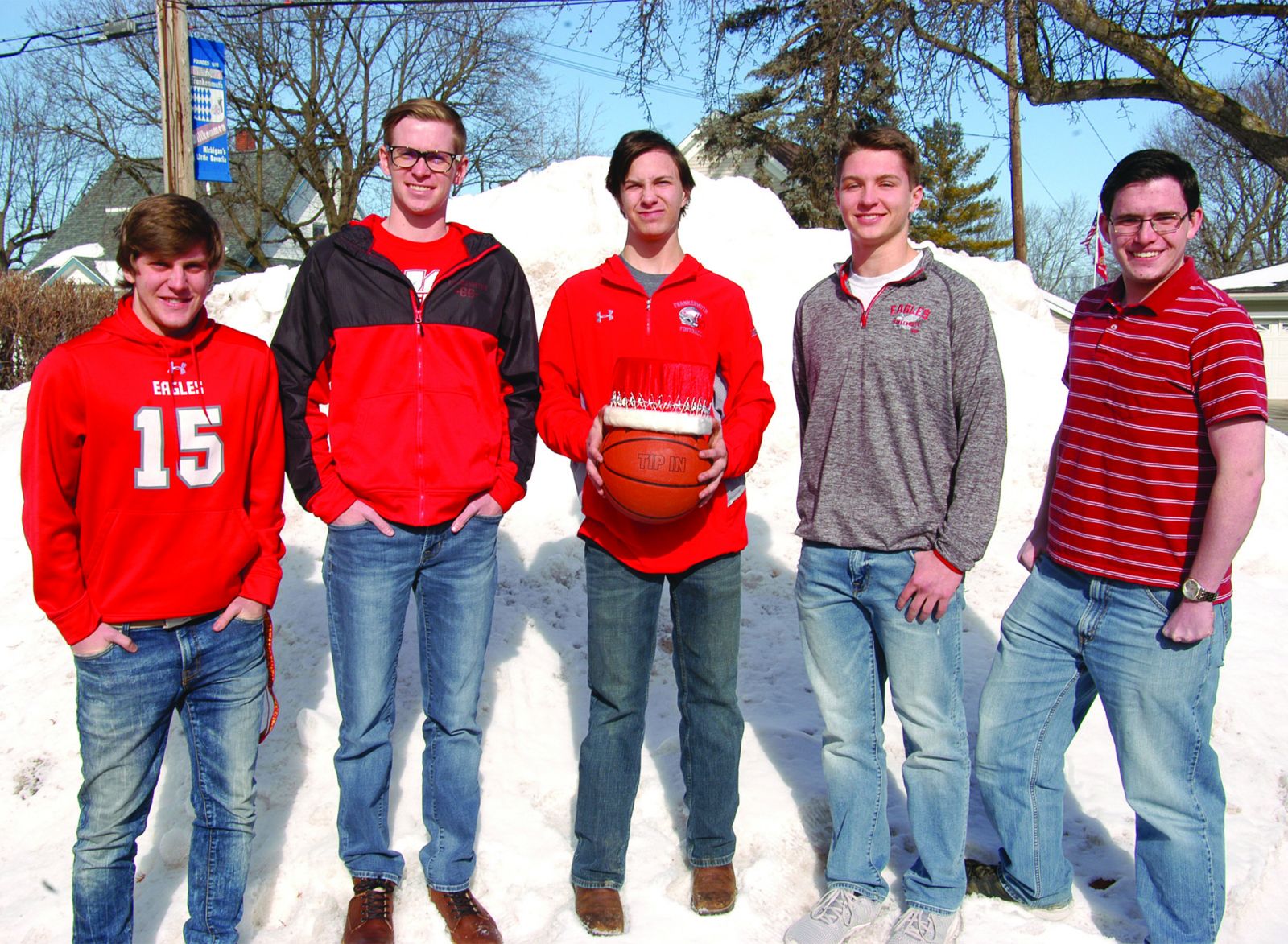 MEET THE FHS COMEHOMING COURT! Frankenmuth High School will mark Comehoming 2019 this Friday, February 22, when the Eagle and Lady Eagle varsity basketball teams welcome Millington to town. Court members are, from the left, Drew Martin, Sam Piper, Austin Haubenstricker, Tyler Somerville and Duncan Graczyk.
FHS celebrating Comehoming on Friday
The Frankenmuth High School student body will celebrate Comehoming 2019 this Friday, February 22. The Lady Eagle varsity basketball team will welcome Tri-Valley Conference East Division school Millington for a 6pm tip off, followed by the Eagle varsity cagers taking on the Cardinals at 7:30pm.
The Comehoming King will be crowned at halftime of the varsity girls' game, with the 2018 Homecoming Queen crowning the winning senior boy.
This year's Comehoming King candidates are:
Duncan Graczyk, the son of Carol Graczyk and Kevin Hines;
Austin Haubenstricker, the son of Haley Haubenstricker and Randy Garrett;
Drew Martin, the son of Adele and Phil Martin;
Sam Piper, the son of Stacey and Mike Piper and;
Tyler Somerville, the son of Renee and David Somerville.
"Super Mario World" is the 2019 Comehoming theme. The class themes are seniors "Mario and Princess Peach," juniors "Luigi and Daisy," sophomores "Yoshi and Birdo," and freshmen "Toad and Toadette."
Spirit Week is well under way. Monday was "Pajama Day," Tuesday was "Stoplight Day," and Wednesday was "Camouflage Day." Thursday is "Theme Day" and Friday "Red and Gray Extreme Fan Day."
A pep assembly will be held Friday afternoon, prior to the games.
The Lady Eagles are 10-6 overall on the season while the Eagles are 9-9 overall this season.
We're glad you took the time to check out the abbreviated version of our paper. To read more, you can find The Frankenmuth News at local news stands or click on the "subscribe" tab.
184110