Eagles Sports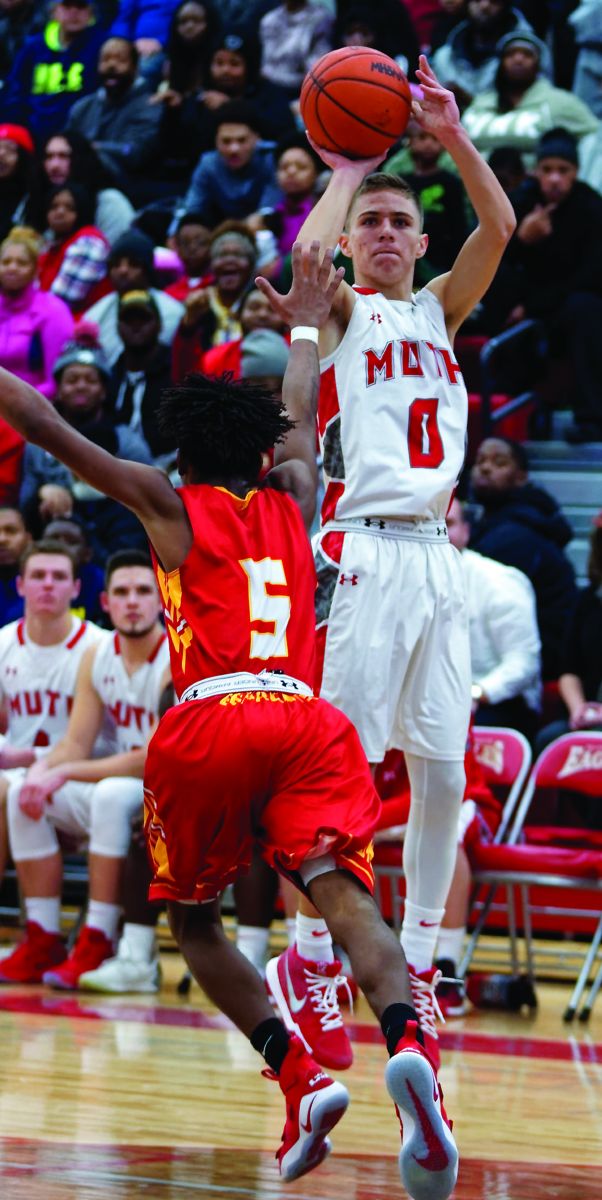 THOMAS BROOKS . . . scored a career-high 17 points in last Wednesday's 82-46 victory at Millington. The Frankenmuth varsity boys' basketball team is 7-1 overall this season. (News photo)
Eagles fly past Cards, 82-46
A quick start and a hot finish lifted the Frankenmuth varsity boys' basketball team to a road victory last week.
The Eagle cagers traveled to Tri-Valley Conference East Division school Millington and left with an 82-46 triumph. FHS is 7-1 overall this season and 4-1 in the TVC East.
'Muth led 15-3 after the first quarter and led 35-22 at halftime.
"We've really been challenging our guys to be great decision makers and be consistent. We don't want who we're playing or what our opponent is doing to be our focus," FHS Coach Andy Donovan said. "We want to set the standard for what we do on both ends of the court. I was proud of our guys in this game because I feel like it started to 𠆌lick' for us."
The offense was clicking in the second half, as the Eagles outscored the Cardinals 25-14 in the third quarter and 22-10 in the final quarter.
"We knew Millington would throw a lot of different looks at us defensively. We ended up seeing seven defenses, including some box and one and triangle and two. Our guys never skipped a beat. We had a great pre-game practice and it carried over. We stayed with our concepts and principles, shared the ball, and obviously knocked down a lot of shots," Donovan pointed out.
Mario Whitley led the Eagles with 26 points with 10 rebounds. He was 9 for 17 from the floor and 4 for 4 at the free throw line, with three steals and three assists. Sam Gray posted 18 points, making 6 of 12 three-point shots with three steals.
Thomas Brooks chipped in with 17 points, swishing 6 of 7 trey shots. Stanley Trombley contributed nine points with four steals.
"Our defense was much better in the second half. We had a great first quarter and I thought in the second quarter we were too content trading baskets. We had to be more aggressive, active and rebound better, and the boys did a great job picking it up at that end," Donovan said.
"We passed and shot the ball extremely well, but even if we wouldn't have shot at the clip we did, I was pleased with how we were playing. We made great decisions, played inside out and guys were ready to make plays," Donovan added.
For the game, FHS was 10 for 23 from two-point range, (43 percent), 18 for 37 from the three-point line (49 percent) and 8 for 13 from the free throw line (62 percent). The Eagles collected 33 rebounds, two blocked shots, 15 steals and 21 assists while committing just eight turnovers and 16 fouls.
Frankenmuth travels to nonconference Reese today (January 17), welcomes TVC East school Millington on Friday, January 19, and heads to Caro on Friday, January 26. All games tip off around 7:30pm, following the 6pm junior varsity contests.
We're glad you took the time to check out the abbreviated version of our paper. To read more, you can find The Frankenmuth News at local news stands or click on the "subscribe" tab.
164734