Eagles Sports
FHS Ladies Golf
FHS Volleyball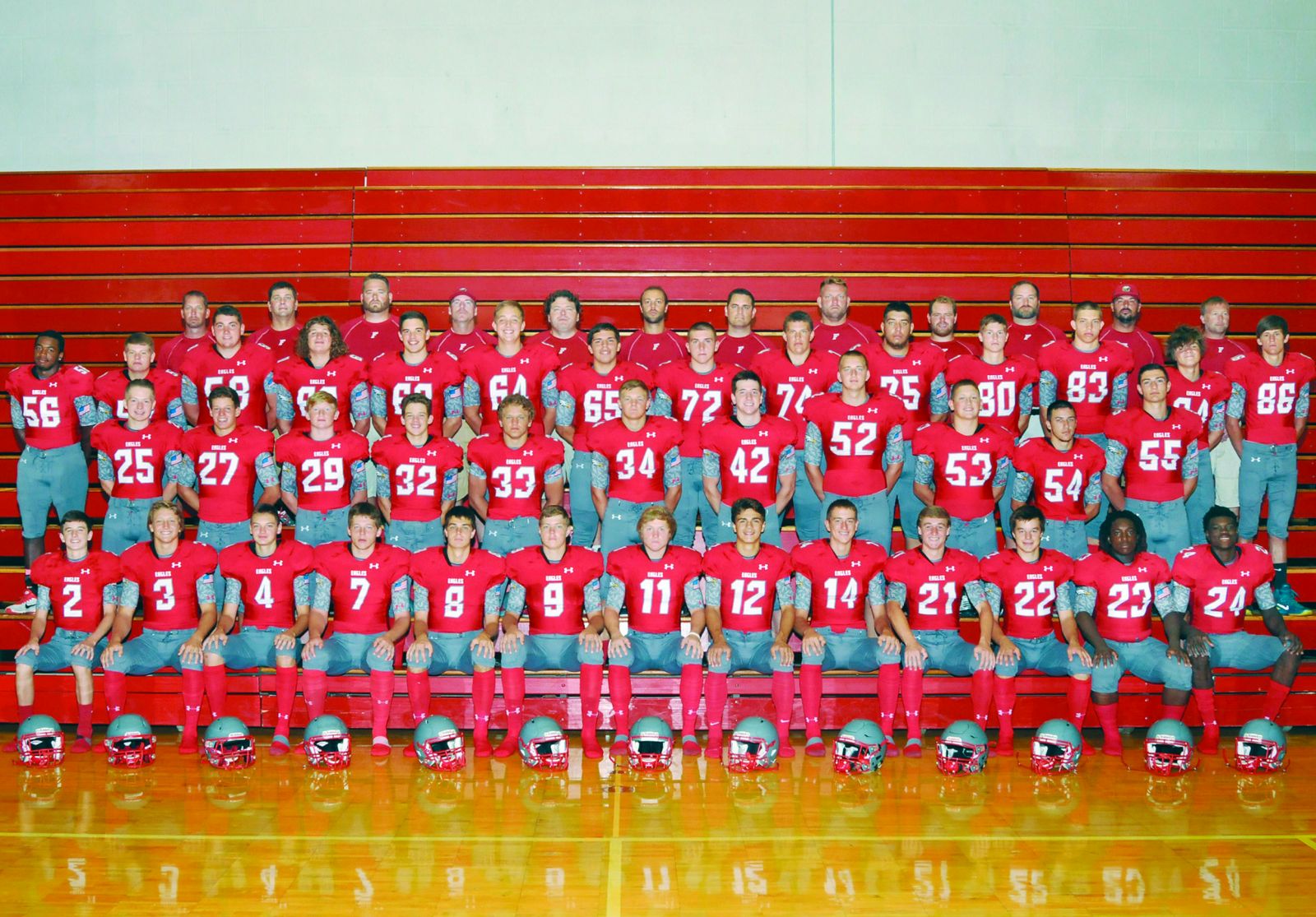 MEET THE 2016 FRANKENMUTH HIGH SCHOOL VARSITY FOOTBALL TEM AND COACHING STAFF
Effort, execution will lead to FHS football success
Effort and execution are what the Frankenmuth varsity football coaches are expecting as they look to win the Tri-Valley Conference East Division crown this fall.
The Eagle gridders have been at it in the weight room and began prepping for the season on August 8, under the hot and humid conditions.
Tradition has helped build success as 'Muth has won or shared the past four TVC East titles. No other team in league history has been part of four consecutive crowns.
This year's motto is 𠇏or My Brothers."
Over the past four seasons under Head Coach Phil Martin, Frankenmuth is 37-7 overall. They were 10-1 in 2012 and 9-2 the past three seasons. The 39-player roster looks to make it five in a row.
"Game experience is one of our strengths. Our starters and even quite a few juniors last year as junior varsity guys have gotten varsity snaps," Martin said. "We hope this will lead to execution."
Last week, FHS got the chance to hit opponents, other than teammates, in a six-game scrimmage. The Eagles took on Flint Powers Catholic, Swartz Creek, Port Huron Northern, Cros-Lex and Goodrich.
"We held our own with some bigger schools. Our guys played – we were a little nicked up but in the end we saw some good things," Martin stated. "Health at this point is an issue. We didn't come out of the summer and scrimmage totally healthy and we will need guys to step up."
Seniors Jared Davis, Grant Bronner, Kris Roche, Dan Stone and Jack Gilmour are the 2016 team captains.
For many seasons, the Eagle gridiron program has operated offensively from various option schemes.
"We will still be an option-based team and a base 5-0 (defense) but every year you get a new roster and kids with different skills. This year is no different, so we focus on plays and some tweaks that fit what they can do," Martin pointed out.
The players are buying in and it has shown by their play in practices.
ort is how the practices have been. The kids have kept the Frankenmuth Tradition and come to practice ready to work," Martin said.
The FHS weight room recently underwent a massive remodel, from new flooring, paint and diamond-plate siding. New equipment is also on the way. The players were still able to get in repetitions over the summer.
"Our guys put in a ton of time this off season in the weight room. We had great attendance all summer, averaging about 60 kids per workout," Martin noted.
Game one will be at nonconference Hemlock on Thursday, August 25, with kick off at 7:30pm. Birch Run will visit on Thursday, September 1, at 7pm to begin the TVC East Division season.
FHS defeated the Huskies the past two years.
"Hemlock is running a spread zone option offense. Their quarterback is returning and he is pretty good, especially with their size up front. Defensively, they will run an aggressive 4-4 defense and to the ball. They will be well coached and play hard," Martin said.
As for the TVC East forerunners, it is likely Millington will be in the mix as usual. However, Martin knows the league is getting tougher.
"I think the TVC East will be very competitive this season. The gap between teams has definitely shrunk. I don't get into contenders or favorites . . . our job is play hard each week and continue to get better each week," Martin said.
The team roster includes 16 seniors: Jared Davis, Daniel Mills, Jack Lee, Grant Bronner, Adam Schneirla, Dillon Bullock, Kris Roche, Michael Crary, Dan Stone, Coreyon Chandler, Collin Anderson, Jack Gilmour, Nathaniel Lambeth, Alexander Horonzy, Joe Germain, and Aaron Haubenstricker.
The juniors include Daniel Szczepanski, Stanley Trombley, Zach Jacobs, Austin Johnston, Luke Scharrer, Hunter Schluckebier, Karrington Riggings, Mario Whitley, Ryan Khan, Cameron Lambeth, Kevin Heinzman, Garrett Rezmer, Ethan Yatsevich, Evan Geyer, Kyle Robinson, Dominik Landin, Josh Moore, Brady Storm, Ben Schuler, Tyler McDonald, Jason Smith, Sean Reider and Adam Ragan.
ort and execution every snap are our goals. If we do that, everything else will take care of itself," Martin concluded.
We're glad you took the time to check out the abbreviated version of our paper. To enjoy the Frankenmuth News in its entirety - click on the "subscribe" tab.
131425