Eagles Sports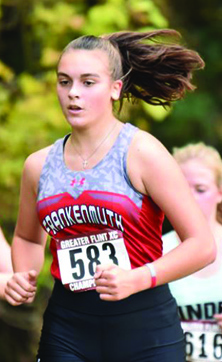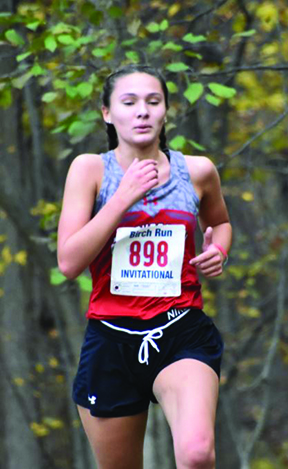 RUNNING FOR A TITLE: Caitlyn Jammer, above and left, and Jaclyn Schoenow compete at the Birch Run TVC 8 Jamboree held in Birch Run. (Photos by Cyndi Major and Lori Snyder)
Lady Eagle harriers TVC-8 champs; boys take 3rd place
By Head Coach Mike Snyder
The FHS boys' and girls' cross country teams competed in the third of three TVC-8 (old TVC-East) Jamboree meets on Tuesday, Oct. 13 hosted by Birch Run at Taymouth Township Park. The combination of the placements at all three Jamboree meets determines the TVC-8 conference champions and All-Conference teams. The girls team won the first two Jamboree's and placed second (by one point) winning the overall TVC-8 Conference Championship. The boys team placed fourth in the first Jamboree and needed to beat Birch Run in the next two Jamborees in order to secure the third place position in the TVC-8 Conference, which they did. We are pleased with how both teams competed as they were deep enough to do what they needed to do even without all of our top-five athletes running today in both the boys and the girl's races. Congratulations go to the following athletes for earning All-Conference honors: First Team All-Conference for the boys, Collin Fall; Second Team All-Conference for the boys, Grant Conger; First Team All-Conference for the girls, Mary Richmond, Sophie Nedoff, Gabbie Michael and Delaney Knoll; Second Team All-Conference for the girls, Avery Knoll and Hailey Lenhard.
BOYS RESULTS:
The boys had to beat Birch Run in order to secure the third place position in the TVC-8 Conference and that's just what they did, by two points. The boys did a great job as they needed to step up without one of our regular top-five runners, Lucas Major, who is resting an injury looking to be back for Pre-Regionals. Leading the boy's team was Collin Fall placing third with a time of 17:00 followed by Grant Conger's eighth place time of 17:43 which is his second best time of the season. Jacob Caton placed 18th overall with a time of 19:01 followed by Aidan Maki's 19:23 good for 27th place which was Aidan's second fastest time this season. Caleb Grimshaw stepped up and was seeded 42nd but placed 32nd which helped the boy's team secure 3rd place overall. Caleb's time was 19:33. Lincoln Walicek set a personal record time of 21:05.24 placing 41st overall shaving off 19 seconds from his previous best. Ethan Fehrman ran a strong race missing his personal best by only .8 seconds as he clocked 21:32.8 placing 44th followed by Ethan Frank's 50th place time of 21:57. Milo Neirink placed 53rd with a time of 23:02. Calvin Paten was our lone Junior Varsity competitor today and he set a season best mark of 35:42.36 shaving off over two minutes from his previous season best time.
GIRLS RESULTS:
The varsity girls had their work cut out for them if they wanted to beat a strong Freeland team as one of our top runners, Gabbie Michael, was sitting out not feeling well. Our girls ran strong, but Freeland just put it all together and beat us by one point. When we are 100% healthy, our girls will be able to contend for some of the top spots at the MHSAA State Finals for Division 2, so we are working on helping that happen. They have been strong and deep enough to compete at a high level even without all of our top five scoring girls competing at the same time – we are looking/hoping to do that starting at the Pre-Regional meet which is next Saturday. To be successful in cross country at the Division 2 level this year, everything needs to fall into place, and everyone needs to be healthy.
Mary Richmond has been running incredibly as a freshman and has been showing what she is made of in the last several meets. Today, Mary won the overall race with a time of 18:26 which is her second fastest time this season (behind her 18:13.3). She has more to give and when Gabbie gets back to feeling better, they are a strong 1-2 punch. Sophie Nedoff also ran a strong race as she placed fifth with a time of 19:39. We know Sophie is a strong runner and we can see her competing hard with the Freeland girls in future races. Delaney Knoll ran her second fastest time this season as she placed sixth with a time of 19:47 just 26 seconds off her personal best. Delaney is in a position where she can break into the 18-minute range and do very well at the State Finals.
Avery Knoll stepped up and did what she could to support the team as she set a new personal record today with a 20:32.58 clocking good for seventh place overall. It was good to see Avery break that mark as she continues to come on strong at this point of the season. She is a key runner as we move into the larger meets. Hailey Lenhard has been coming back from injuries and set a season best mark today with her ninth place time of 21:02.1 just 19 seconds from her personal best which she set last season. Hailey is also a key runner that we need to continue to improve. Maddie Zehnder placed 15th with a time of 21:54 which is one of her best times this season and continues to look strong for the team. Cate Scott clocked a 20th place time of 22:10 followed by Kaitlyn Miller's 22nd place time of 22:18 just 12 seconds off her personal best. Josie Guinther placed 25th with her second fastest time of the season of 22:44 followed by Jacklyn Schoenow's 26th place time of 22:48.
For the junior varsity race, Charlotte Hill placed fourth overall with a very nice race clocking a personal record time of 23:57.81 shaving off 11 seconds from her previous best time. Charlotte continues to improve as the season progresses. Sarah Keinath placed sixth with a time of 24:32 which was Sarah's second fastest time this season. It is great to see seniors continue to improve as it is tougher to do as a junior or senior. Dylan Abke shaved almost two minutes off her previous season best and 20 seconds off her personal all-time best with her ninth place time of 25:28.56. Dylan ran an impressive race today and we hope she can continue that with our next race at Ithaca. Olivia Caton also ran a very good race today as she set a personal best time of 25:45.73. I think today's race was a good confidence builder for Olivia and we hope it carries over to her next race.
Caitlyn Jammer placed 14th with a time of 25:50 which was her second fastest time this season. Caitlyn has been running tough each and every race as her shins have been giving her problems all season long. Caitlyn has pushed through which is great to see as a senior knowing that each race is a victory for her as it is not always about the time on the clock. Emily Zimmerman has the same mental toughness as she has worked hard for where she is at right now. Emily set a season best time of 27:43.1 placing 18th which is her second fastest time this season. Emily never complains, shows up and works hard in practices, encourages everyone, and shows that senior leadership that Coach Fitch and I love to see in our seniors.
Emma Heyse placed 19th with a time of 28:41 just nine seconds off her personal best and looked strong. Ruthie Chinery is a first year senior runner and ran a great race setting a personal record of 28:46.26 jumping passed the 30 minute barrier with style. Ruthie shaved 1:18 off her previous best to break that 30 minute barrier. It is great to see Ruthie establish that mark before the end of the season. Shivani Manyam also broke the 30 minute milestone in style as she shaved 1:20 off her previous personal best clocking a 28:49.24 good for 22nd place.
It's great to see personal records and season best times being established at this part of the season as we draw closer to the end. The TVC-Overall meet hosted by Ithaca may be the last meet many of the junior varsity athletes will compete in as the Pre-Regionals, Regionals, and MHSAA State Finals only allow the top seven runners from each team compete. Our team will stick together for practices through the MHSAA State Finals as we started as a team and we need to end as a team even though this COVID-19 year has been so restricted in so many ways.
-----------------------------------------------------------------------------------------------
We're glad you took the time to check out the abbreviated version of our paper. To read more, you can find The Frankenmuth News at local news stands or click on the "subscribe" tab.
211454