Eagles Sports
Sports Registrations
Sports Physicals Offered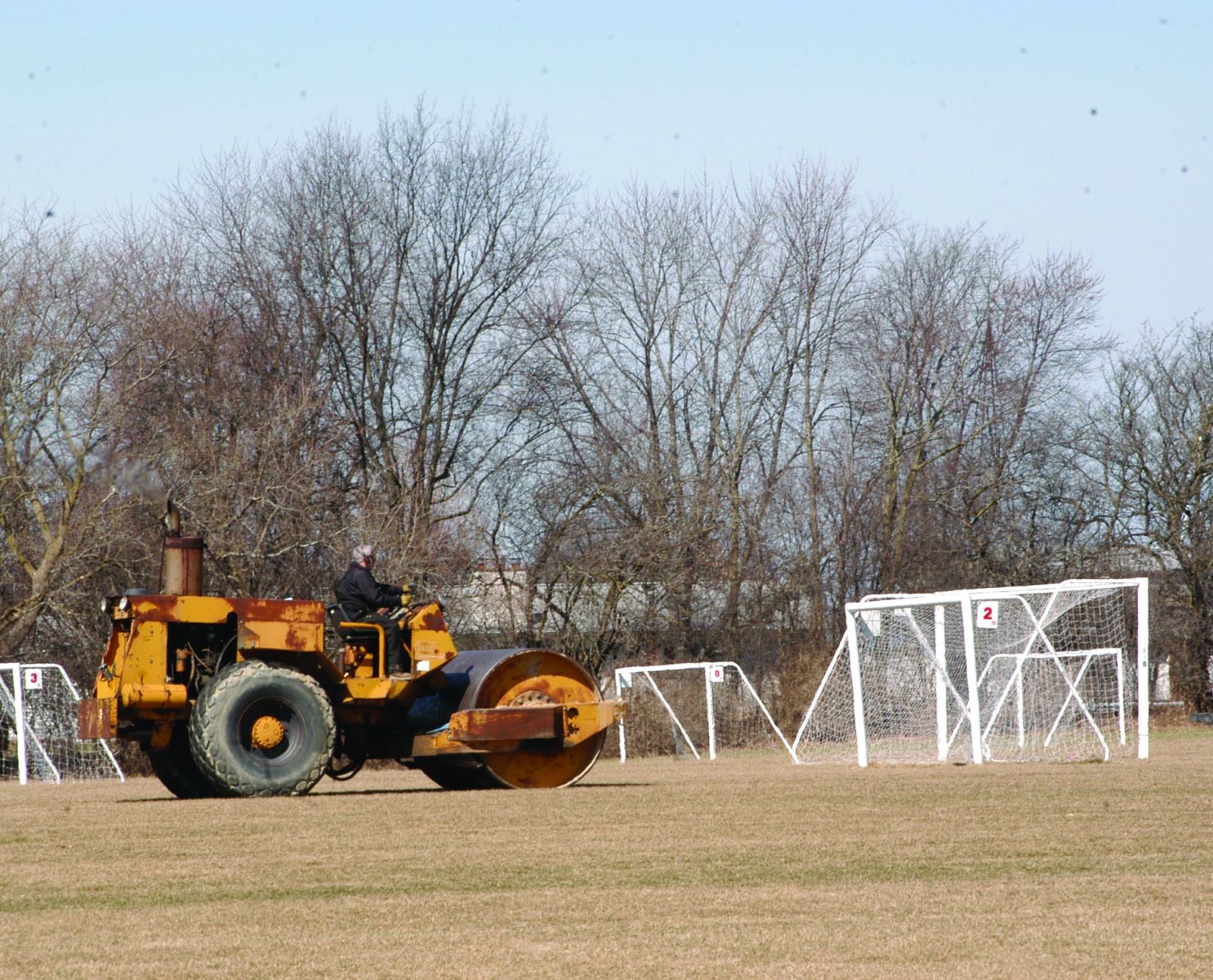 SOCCER STEAMROLLER: During last week's warm stretch of weather, a large construction roller prepared the St. Lorenz Lutheran Church-owned soccer fields along Mayer Road, in preparation for the spring season. (News photo)
Lady Eagle kickers expect to have a successful season
By Carlie Lachman, FHS Senior
The Frankenmuth varsity girls' soccer team is looking forward to a successful season under Coach Paul Stenglein.
Stenglein has 18 years of experience as a soccer coach under his belt and an impressive overall career record of 315-62-32.
Although six of the team's players from last season have graduated, there are 11 returning this year as well as some promising underclassmen.
Key graduates are Rachel Williams, Hannah Geyer and Taygen West, all of whom received various conference, district, region and state honors, making it crucial for this season's team to devote them to filling the shoes of former Frankenmuth soccer stars.
Seniors who are expected to stand out and be extremely valuable to the Lady Eagle squad include Raechel Schmidt, Shelby Scharrer, Kelly Schiefer, Kristin Kueffner and Claire Carter.
"Raechel is a three-year varsity player with phenomenal technical and attacking skills," Stenglein said.
Schmidt has earned All-District, All-Region and third-team All-State honors.
"Shelby is also a three-year varsity player. She is a forward who has a great ability for creating scoring opportunities for her team," Stenglein pointed out.
Scharrer tied for the team lead with 11 goals last season. She also collected All-District, All- Region and third-team All-State honors.
"Kelly, a forward and another three-year player, has excellent defensive skills as well as an aggressive mentality on the field," Stenglein noted.
Schiefer was third in goals scored with 10 and earned first-team All-Conference and All-District accords in 2013.
"Kristin is a defensive, three-year player who has become a role model for her fellow defensive players with her ability to quickly calculate game-changing plays," the coach said.
Kueffner earned a long list of accolades, including first-team All-Conference, All-District, All Region, second-team All-State and was selected to The Saginaw News 𠇍ream Team."
𠇌laire, a goal keeper and the only four-year varsity performer on the team, is quick to make important saves and she also demonstrates skills as a field player," Stenglein said.
Carter collected first-team All-Conference, All-District, All-Region and third-team All-State kudos.
Stenglein listed Lillian Schmidt, Abby Struble and Kendra Thompson 𠇊s up and coming varsity players who show confidence in their abilities and in their team."
FHS opened its season last week at Class A powerhouse Heritage High School, falling 2-1. The Saginaw News has Heritage and FHS ranked 1-2 in their coverage area.
"We expect to have an extremely successful season with this group of girls. I expect our seniors to lead by example and show our younger players the importance of working hard each and every day," Stenglein stated.
Frankenmuth traveled to Caro April 14 and Valley Lutheran April 15. The team's home opener is set for 4:30pm Thursday, April 17 and then they hit the road for 4:30pm contests at Millington Monday, April 21 and at Birch Run Thursday, April 24.
The Eagle Invitational will take place on Saturday, May 3, beginning at 10am.
The MHSAA Division 3 District will be held at Caro, May 27-31. The teams in the district include Birch Run, Caro, Frankenmuth, Millington, Montrose, Mt. Morris and Otisville-LakeVille.
Stenglein said he feels he has a mature team that is ready to work hard and focus in order to make the current season an exciting, challenging and successful one.
90760