Eagles Sports
FHS Ladies Golf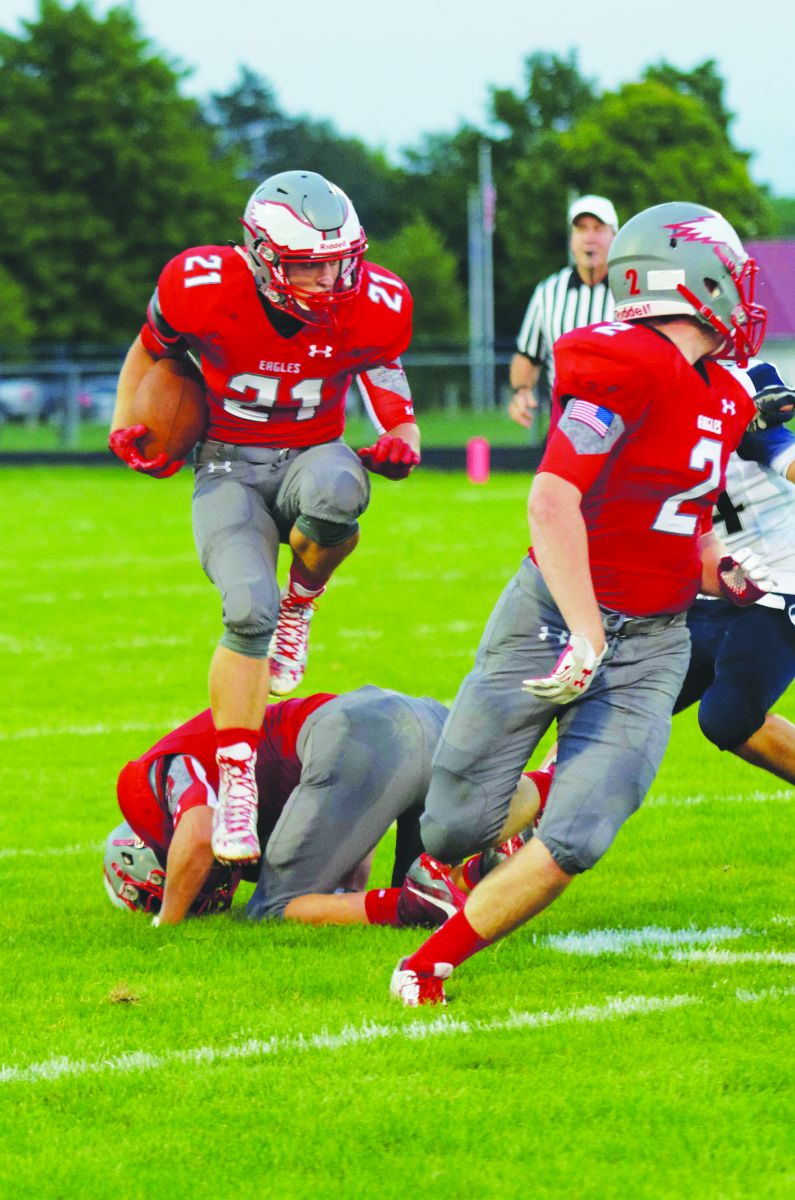 HIGH STEPPING: Frankenmuth varsity running back Jack Veitengruber (21) leaps one of his linemen as he dashes up field against Hemlock last Thursday evening. Receiver Brady Wood (2) looks assist with a block up field. The host Eagles won their season-opening contest, 35-20, over the Huskies. (Photo by Deb Krafft
Eagles hit the ground running, earn a 35-20 win
A perfect evening for football resulted in the Frankenmuth varsity football opening its 2015 campaign with a nonconference victory.
The Eagle gridders welcomed Hemlock and 'Muth held off the pesky Huskies, 35-20.
FHS Head Coach Phil Martin looked on as his team ground out the win, owning the football for 69 offensive plays and over 31 minutes while chewing up 281 yards on the ground.
The Huskies, meanwhile, had the ball nearly 17 minutes and for 38 offensive plays. Despite gaining just 30 rushing yards, Hemlock totaled 187 yards in the air on 11 of 23 passing.
Both teams demonstrated first-game jitters – FHS had nine penalties for 100 yards and Hemlock was flagged for 86 yards on eight penalties.
"We played well as the stats would show but we kept stubbing our toe with penalties and turnovers – something we have to clean up as we move forward," Martin said. "Time of possession was the key to the game for us. I will give the Hemlock players and coaches credit; they kept making plays and putting the pressure on all night. We really didn't close it out until the final minutes."
In the first quarter, both teams traded possessions with negative yardage. On Hemlock's second possession, 'Muth's Jack Veitengruber picked off a pass from quarterback Gabe Kanouse and raced 39 yards for the score. Veitengruber tacked on the first of his five extra points for a 7-0 lead at the 7:46 mark of the opening quarter.
Hemlock answered with a touchdown exactly one minute following the Eagles' TD. Kanouse tossed a 62-yard pass to Noah Rowe for the score. Kanouse's PAT was blocked, leaving 'Muth in the lead, 7-6.
Frankenmuth would score two more times in the first quarter. Four different players rushed the ball during an 11-play, 58-yard march which ended when quarterback Jack Tagget hit receiver Brady Wood for a 16-yard TD strike. 'Muth led 14-7 with 2:40 left in the quarter.
The Huskies took the ensuing kickoff to their own 42-yard line. One play later, Eagle Jared Mose jarred the ball loose from Rowe and 'Muth's Anthony Schurr recovered it at the 24-yard line.
Five plays and 24-yards later, Josh Szczepanski scored on a one-yard plunge with 2:01 left, giving FHS a 21-6 advantage.
Hemlock came back on its next possession. Kanouse found Brady Rich for a 37-yard aerial strike, capping a six-play, 62-yard drive. Kanouse's two-point pass conversion to C. Herrington was good, cutting the Eagle lead to 21-14 with 9:43 left to play in the first half.
Frankenmuth mounted a 10-play, 40-yard drive which stalled at the FHS 12-yard line. Veitengruber's 29-yard field goal attempt missed wide right and the Huskies took over the ball at the 20-yard line.
Veitengruber redeemed himself on the next play, picking off a Kanouse pass and scampering to the 21-yard line. However, an illegal block after the interception placed the ball on the Eagle 39-yard line.
'Muth went to work and when the drive apparently stalled on fourth down and 11-yards to go, Hemlock was flagged for a 15-year personal foul. Fueled with a fresh set of downs, FHS scored three plays later when Tagget tossed a 15-yard TD pass to Jared Davis with 1:01 left in the half. The score gave the Eagles a 28-14 halftime lead.
Hemlock scored the third quarter's only touchdown on a 77-yard interception of Tagget by Kanouse. The PAT failed, leaving FHS with a 28-20 advantage.
The fourth quarter saw several changes of possession before the Eagles posted an insurance touchdown with 49 seconds left to play in the game. FHS took over possession on downs and two plays later, Veitengruber scored on an 11-yard run to cap the scoring.
Offensively, FHS collected 18 first downs, converted 7 of 15 third-down attempts and 4 of 6 in the red zone and averaged 4.7 yards per play.
Szczepanski led the rushing attack with 124 yards on 25 carries and one TD. Veitengruber had 10 carries for 48 yards and scored while Grant Leach, Tagget, Dwan and Davis combined for 24 carries and 109 yards.
Tagget was 4 for 10 passing for 46 yards, a pair of touchdowns and one interception. Grant Bronner led the receivers with two catches for 15 yards.
Kanouse enjoyed a good night of passing, despite three interceptions. He was 11 for 23 for 187 yards and was sacked twice. He was the leading ground gainer with 28 yards in nine carries while Brady Rich hauled in five passes for 85 yards.
With only 38 offensive plays by Hemlock, Frankenmuth's defensive numbers were limited. Davis paved the way with five tackles, followed by Aaron Haubenstricker and Anthony Schurr with four tackles each. Veitengruber's two interceptions totaled 40 return yards.
The Eagles have one more Thursday evening game, 7pm on September 3, this time a trip to neighboring rival and fellow Tri-Valley Conference East Division school Birch Run. The Panthers are considered to be among the top East teams despite falling to non-league Alma High last week, 22-16.
"Offensively, they are big up front and they can move, which aids two pretty good backs running the football, which is their bread and butter," Martin pointed out. "Their quarterback is a kid that split time last year so he has a lot of experience. They also have a couple of receivers who can play."
In order to keep the Eagle offensive marching down the field, the coaches and players will have to study the Panther defense.
"Their defensive front is quick and pesky, their linebackers read well and flow fast to the ball. Like all big game, we need to play smart and play fast to have a chance," Martin added.
FHS will return home to face league school Otisville-LakeVille at 7pm Friday, September 11, which is also Frankenmuth Auto Fest's Big Block Party.
To enjoy the Frankenmuth News in its entirety - click on the "subscribe" tab
113498