Eagles Sports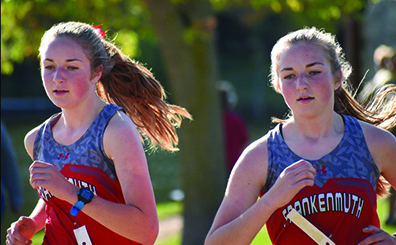 THE MOSSNER TWINS . . . Michelle and Amanda compete in the second TVC East jamboree of the season, hosted by Freeland at Stratford Woods in Midland. The Lady Eagles won the Jamboree
FHS girls' cross country team wins TVC East; boys take third
by Head Coach Mike Snyder
The Frankenmuth boys' and girls' cross-country teams travelled to Stratford Woods in Midland to compete in the third of three TVC-East Jamboree's. The October 8 meet was hosted by Freeland and this meet along with the first and second Jamboree meets have the results added together to determine the TVC-East final league standings. The girls won all three Jamboree's and came home TVC-East league champions as the boys placed third in all three Jamboree's and earned third overall in the TVC-East. Coach Fitch and I are happy with the results of both teams as they lived up to their rankings.
Girls Summary:
The girls placed six in the top 10 today to show our depth and to bring the league championship home. Sophie Nedoff ran an extremely tough race today as she almost did not make it past the first 100m. The start of cross country races are crowded and this venue had a very short lead in before everyone comes together to go up a hill. Sophie was elbowed hard enough to lose her balance and go down. She rolled into a ball to cover up as not to get stepped on by everyone coming behind her. Once she was able to get back under control, she picked herself up and got back into the race. It was a very sad and unfortunate incident and we are very happy she did not get spiked. Her determination overcame the fall and she worked her way back into position and finished second overall with a time of 19:40.
Gabbie Michael was fourth today with a time of 20:05 followed by Delaney Knoll in fifth clocking 20:23. Hailey Lenhard was right behind coming in sixth with a time of 20:25. Avery Knoll was ninth overall with her time of 21:14 followed close behind breaking into the top 10 in 10th place was Samantha Rapson clocking 21:19. Brooke Carnahan came in next for the lady Eagles in 12th place with a time of 21:26 followed by 15th place Jaclyn Schoenow and her time of 21:59. Tara Keller was 19th with a time of 22:27. Maddie Zehnder (29th / 23:08); Josie Guinther (31st / 23:31); Alyssa Abke (39th / 24:14); Sarah Keinath (42nd / 24:22); Hailey Campbell (50th / 24:45); Kallie Lindow (57th / 25:17); Dylan Abke set a new personal record today as she looked strong coming in 63rd with a time of 25:48.48. Caitlyn Jammer (64th / 25:55); Emily Zimmerman (78th / 27:29); Olivia Caton (81st / 28:32); Michelle Mossner (83rd / 28:46), and Amanda Mossner just her second race back set a season best mark of 29:42.13.
Boys Summary:
The boys have been running well and had a goal to finish in the top three today which they accomplished. Wesley Beck led the boys today with his third place finishing time of 17:10 followed by Collin Fall's sixth place finishing time of 17:31. Freshman Grant Conger is continuing to show what he is capable of doing as he finished 17th overall (third on the team) with a time of 18:43. Lucas Major was 25th with a time of 19:33 followed by Nicholas Hyslop's 29th place finishing time of 19:49. Joey Marolf was 30th clocking 19:50 just ahead of another strong freshman, Aidan Maki who placed 31st with a time of 19:51. Jacob Caton placed 36th with a time of 20:48 and Harrison Loucks placed 37th clocking a time of 20:54. Freshman Joseph Courville ran a great race as he set another personal best with a time of 22:04.48 good for 50th place. Milo Neirink (68th / 24:02); Eddie Clark (76th / 25:44); Franky Ayala Perez (89th / 28:47); Calvin Paten (90th / 28:51), and Noah Elias (92nd / 28:58).
The team is moving in the right direction for the end of the season as they head into the last three weeks. Frankenmuth will be hosting the next two meets as 18 teams from the overall TVC come to compete on the hilly course on Tuesday, October 15 starting at 4:30pm. On Saturday, October 19 at 9:30pm, 13 teams from Saginaw County come to compete in the Saginaw County Championships. Division 2 Regionals will be held at Delta on Saturday October 26 starting at 10am followed by the MHSAA State Finals on Saturday, November 2 at Michigan International Speedway (MIS). The top three teams in each regional meet and the top 15 athletes from those meets earn a trip to the MHSAA State Finals.
------------------------------------------------------------------------------------------------
We're glad you took the time to check out the abbreviated version of our paper. To read more, you can find The Frankenmuth News at local news stands or click on the "subscribe" tab.
194028