Eagles Sports
Eagle football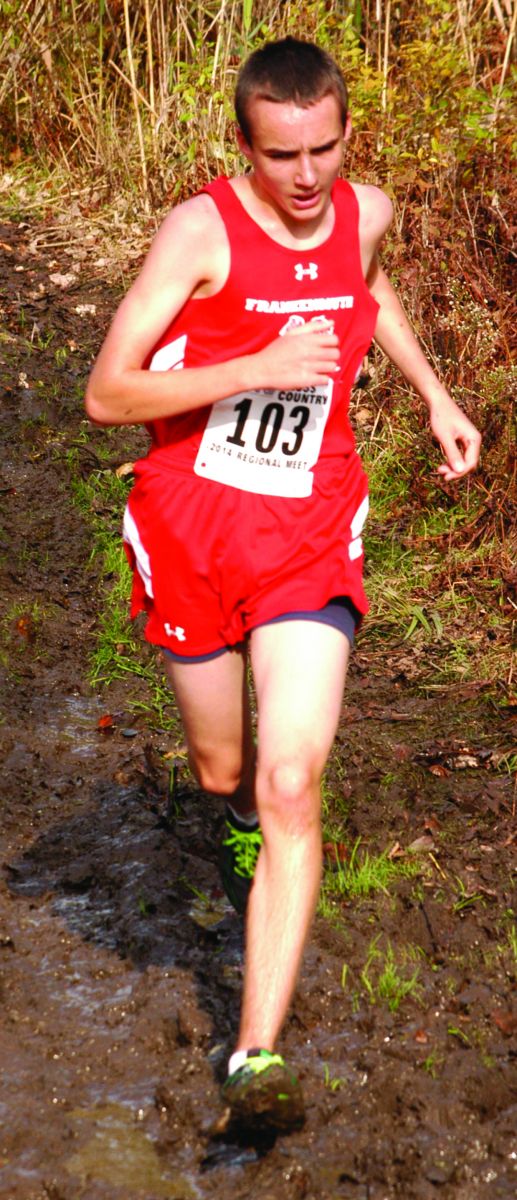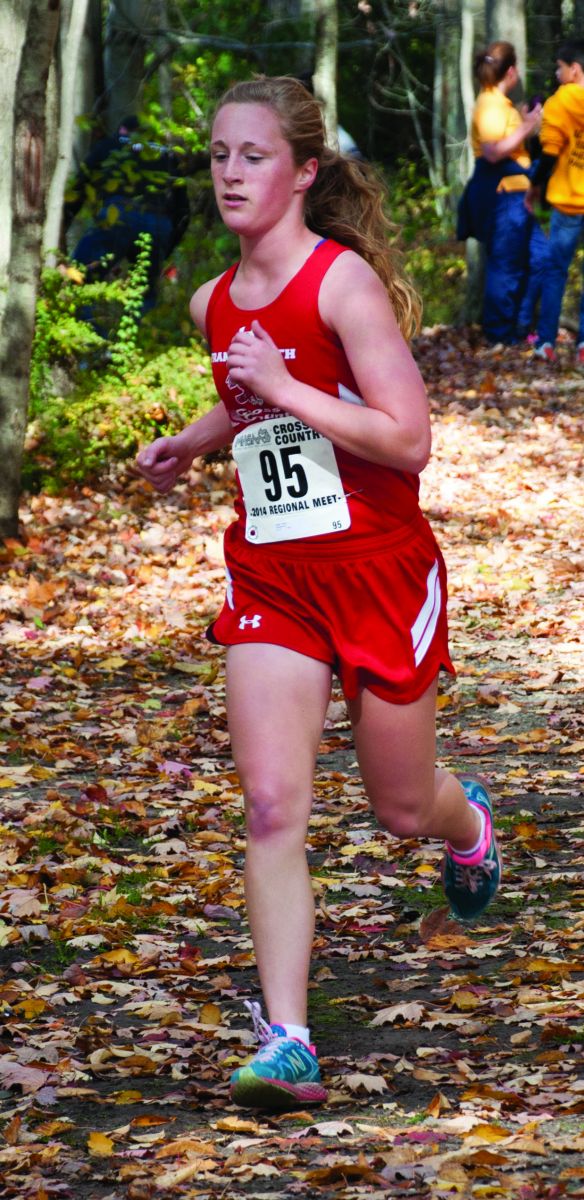 A RUN IN THE PARK: The Frankenmuth varsity cross country teams competed in the MHSAA Division 3 Regional at Wagener Park, near Harbor Beach, last Saturday. Above, ??? and ??? traverse the leaf-covered and muddy terrain. The Eagles finished in seventh place and the Lady Eagles in sixth place. (News photo and photo courtesy/Ingrid Barrett)
Cross Country Teams set personal records at Regionals
by Mike Snyder, Head Coach
The Frankenmuth boys and girls cross country teams traveled to Wagner Park near Harbor Beach to compete in the D3 Regional meet. We had hopes that both teams would make it into the top three teams and qualify for the State Finals at Michigan International Speedway (MIS), but the cards did not fall our way.
However, the team performed very well and should be happy with how they closed out their season. Two of our top five boys were running at less than 100% injury free because they wanted to see if they could still help the team. Our number two runner for the girls was absent because of illness. When you get to the higher competition levels such as Regionals, everything has to go right in order to match-up with the other teams. It was not our day for that, but it was a good day for everyone that did compete.
At the regional meet, the top seven from each team are the only ones that compete. The top five score with runners six and seven used as tie breakers and they can displace other runners in the scoring. For the boys team, junior Grant Reene ran a great race as he shaved off 30 seconds from his previous best to set a personal record (the fastest he has ever ran a 5K race) of 17:44 eclipsing his old mark of 18:13. This put Reene in 16th place just one away from the top 15 which qualify for the State Finals. Reene gave everything he had but at the end, just could not hold off the runner that captured 15th.
Our 2nd and 3rd runners going into this meet were junior Shane Gutkowski and senior Josh Fitch. Both runners are nursing injuries but came out today to try to give the team a chance to make it to States. Gutkowski was able to finish with a 47th place 19:32 clocking and Fitch came in 45th with a 19:30 clocking.
Sophomore Isaak Biddle came through strong today setting a personal record 18:24 (old PR 18:37). Biddle was looking strong as he placed 23rd and was finally feeling better after being sick for many weeks.
Freshman Eric Hayes captured 41st place with a time of 19:20. Hayes is a runner that has a lot more potential just waiting to be released.
Next, junior Alex Leach set a personal record with a time of 20:21 (old PR 20:36) good for 59th place. Leach worked hard this season so it was great to see him finish with a personal best. We look forward to working with him over the summer as he gets ready for his senior year in cross country.
Finally, senior Josh Easterly. He just missed setting a personal record by one second. Easterly has had some breathing challenges, but ran a good race for the last race of his high school career.
As for the girls, even though they placed sixth, they were just out of the top three by 10 points. The team competed without their number two runner, sophomore Carissa Schurr who was home fighting an illness. The girls filled in very well as four personal records and two season best records were set.
Sophomore Autumn Gentner ran a great race as she placed 19th with a personal record setting time of 21:59. Gentner was pushing to break the 22 minute barrier and she did that today.
Junior Elisabeth Barrett ran a very strong race today as she set a season best time of 22:02 just eight seconds off her personal best. Barrett finished right behind Gentner in 20th place.
Freshman Dana Williams shaved over 49 seconds from her previous best as she set a new personal record of 22:39 (old PR 23:28) good for 29th place. This was a great experience for Williams as we can see her continue to grow as a runner and will be doing great things next season.
Junior leader MacKenzie Walter set a season best time today with a clocking of 22:49 (old SB 22:52). Walter is someone you can always count on to try her best and today she did that placing 31st. Walter was followed by freshman Kaitlyn Pierce who also set a personal best mark of 22:58 breaking that 23 minute barrier (old PR 23:20). Shaving 22 seconds off her best time this season is great, especially at the regional meet.
Senior Ashley Geiger broke into the 23 minute range in style as she set a personal record shaving off 19 seconds from her previous best which she set in 2012. It was great to see Geiger set a new personal record and get into the 23 minute range in her last race of her high school cross country career. She has always been a go to person on the team and one of our senior leaders that we count on regularly.
Junior Kylie Ostrofsky filled in nicely for our seventh runner and came in 60th overall with a time of 25:51. Ostrofsky ran a tough race and made one of her goals as to run on the regional team.
Coach Fitch and I thought our girls had a legitimate shot at the top three as they came in fairly bunched together which is a good way to score points. We really did not know the outcome until the results were posted. As it turned out, the girls missed the third place finish by just 10 points with four teams all within that range. We are proud of the boys and the girl's efforts and they should be at peace with their results.
The entire team came out to root the varsity team on as they cheered from the sidelines. That's one of the great things about this sport, the team bonding and support can be very strong as it was displayed today. Running is only part of what cross country is all about. It was awesome looking up on the side of the hill next to the starting line and seeing the Frankenmuth team lined up with signs and cheering their team mates on.
99604