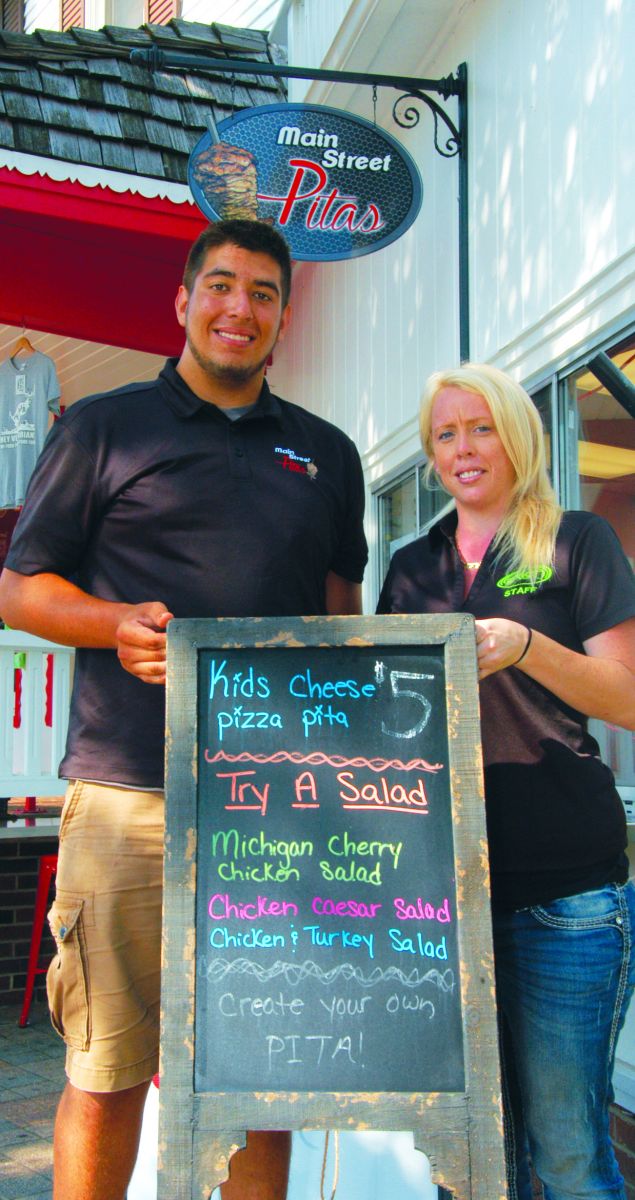 MAIN STREET PITAS . . . recently opened at 646 S. Main Street, directly next to the Exist store. The walk-up eatery specializes in Middle Eastern cuisine. Above, owner Erica Johnson and her son Joe Germain show off a portion of their Menu. (News Photo)
Middle Eastern menu at Main Street Pitas
Frankenmuth has many diverse dining options, whether for lunch or dinner.
Main Street Pita owner Erica Johnson is adding a new taste to this area with her Middle Eastern based menu.
The new eatery, which is located at 646 South Main Street, in the lower area of the Exist Store - better known to long-time locals as the Village Store.
Johnson has been a fan of Middle Eastern cuisine for many years.
"I love the food, but the closest place to get it is in Flint. This is something Frankenmuth does not have," Johnson said.'
Three years ago, Johnson traveled to Israel to learn Middle Eastern cooking. She took in the home kitchen techniques while staying with friends.
At Main Street Pitas diners walk up on the red brick sidewalk and order through a large walk-up service window. Two chairs are below the Exist porch and 15 more were added on the porch, with a long railing-like table, giving patrons a view of Main Street while dining.
While lamb kebabs are the signature meal, other pita offerings include chicken shawarma, turkey shawarma and chicken and vegetables.
Persons can also create their own pita using chicken, turkey or lamb. The choice of sauces are tahini, hummus, cucumber, ranch or garlic and the vegetable topping choices are Israeli salad, lettuce, red onion, pickles and olives.
Patrons can watch their pita being made right in front of them and because the preparation is quick, it is perfect for lunch breaks.
"People see corn and pickles put together and they ask 𠆊re you serious?' Then they try it and take more to go," Johnson said of the Israeli salad.
Everything is made fresh daily. They use spool-like rotisserie ovens, they build the pitas in layers and the pickles are imported from Israel.
Gilmour Construction built the wall between Exist and Main Street Pita and assisted in getting the kitchen up and going.
Main Street Pitas has five employees, including Erica's son, Joe Germain, who assists in the operation.
"We make it all here . . . no canned food," Germain said.
Johnson is working on adding food delivery, for large orders or big businesses.
Main Street Pitas is open 10am until 9pm, Monday through Thursday and Sunday, and Fridays and Saturdays, 10am until 10pm. The phone number is 652-2377. Visit their Facebook page for more information.