Eagles Sports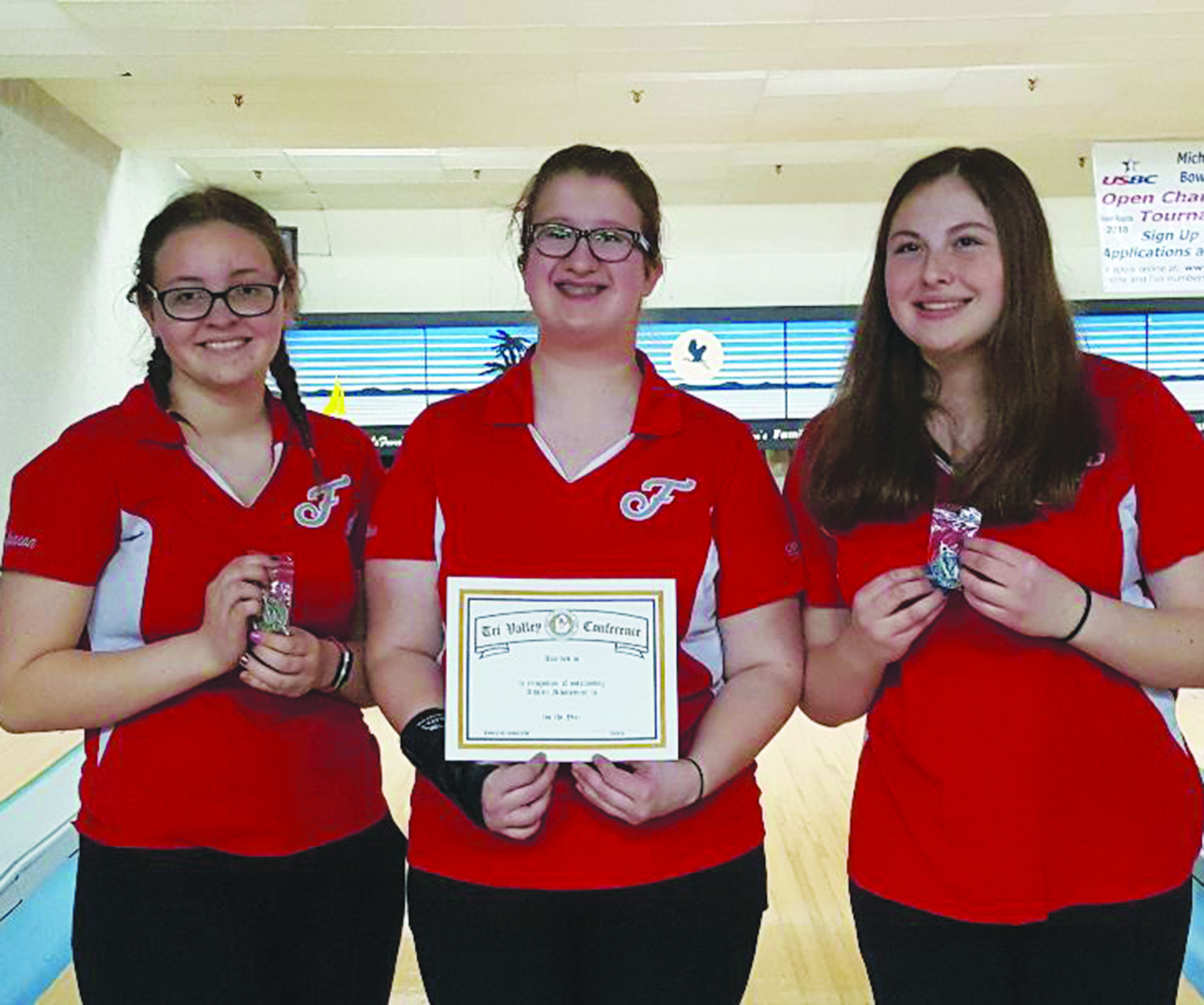 TVC HONORS: From the left, Shannon Coughlin earned first-team All-TVC honors, Olivia Martuch collected honorable mention status and Jayna Leichner landed on the second team.
Lady Eagle rollers 9th at overall TVC event
The Frankenmuth girls' bowling team traveled to Saginaw's LeFevre Family Bowl last Saturday, competing in the 16-school Tri-Valley Conference Championship.
The Lady Eagles finished in ninth place, with a score of 2,010 pins. Birch Run, the TVC East champs and defending MHSAA Division 3 state titlist, scored 2,408 pins, followed by Alma, two pins back at 2,406, and Caro with 2,327 pins.
The girls had scores of 128, 152 and 135 in Baker games and scores of 813 and 782 in Peterson games.
Jayna Leichner shot 193, followed by Shannon Coughlin (189). Kaylee Matzke (184), Olivia Martuch (179) and Marissa Baker (155).
"The team event went well. The girls did a pretty good job playing the lanes," FHS Coach Laurie Harrington said.
Leichner led the red and gray in the singles portion of the tourney, firing scores of 147, 189 and 167 for a 503 total pinfall, good for 34th place. Coughlin was 60th with scores of 162, 122 and 134 for final tally of 418. Martuch took 81st place with a 364, Matzke was 88th with a 353 and Baker was 91st with a 340.
"The singles event was a bit more of a struggle for the girls. The lanes really changed from the team event and some of the girls just couldn't seem to find a line that worked for them," Harrington said.
There were 117 girls competing in the three-game singles series.
Coughlin earned first-team All-TVC honors, Leichner landed on the second team and Martuch garnered honorable mention.
'Muth will travel to Bridgeport's Candlelite Bowling Center this Friday and Saturday. February 23-24, for the MHSAA Division 3 Regional No. 17 competition. The team event will be held on Friday at 11am, with singles on Saturday at 9am.
The MHSAA Division 3 State Finals will be held March 2-3 at Muskegon's Northway Lanes.
We're glad you took the time to check out the abbreviated version of our paper. To read more, you can find The Frankenmuth News at local news stands or click on the "subscribe" tab.
166571