Eagles Sports
Eagle football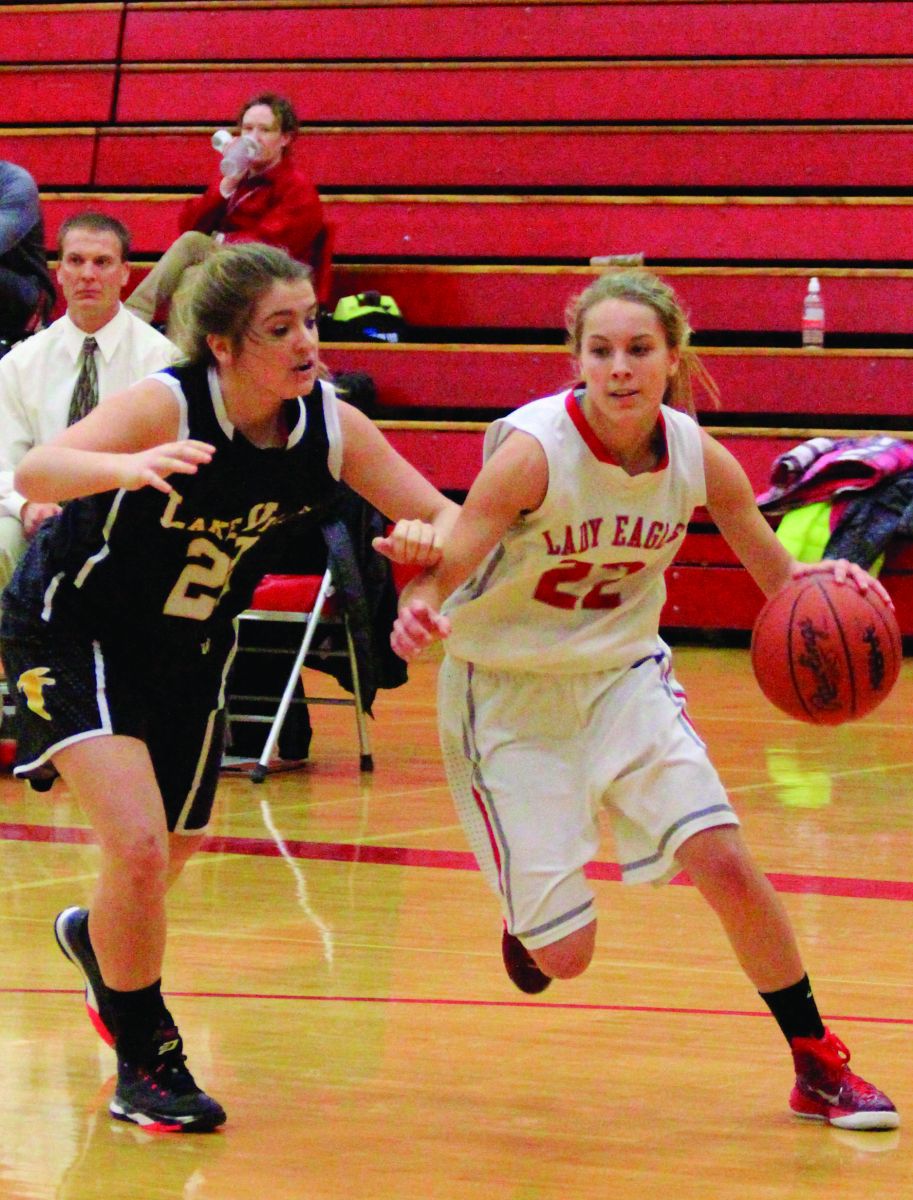 STAY AWAY! Frankenmuth varsity girls' basketball player Kelsie Kujat wards off an Otisville-LakeVille defender during last Thursday evening's home game. The Lady Eagles began the TVC East Division season with a 67-29 victory. (Photo courtesy/Susan Keyes)
Lady Eagles open TVC East season with a 67-29 victory
A 41-15 scoring run in the m iddle of the game was key
The Frankenmuth varsity girls' basketball team opened its season against some mid-Michigan's top programs, fashioning a 2-1 record.
So it might have been expected for the Lady Eagles to have a let down when they opened the Tri-Valley Conference East Division season hosting Otisville-LakeVille December 11.
The Falcons trailed 'Muth, 11-10, with just a few seconds left in the first quarter. That changed from that point on as the Lady Eagles outscored LakeVille, 41-15 in the middle two quarters to collect a 67-29 triumph.
"We started a little slow, which was to be expected. Even though we talked repeatedly about it, I knew it was going to be hard for the girls to match the intensity they've been playing with in our first three games against Reese, Bullock Creek and Nouvel," FHS Coach Tom Keller said.
The turnaround began near the end of the first quarter when Brayene Benner, who ended up being the team's high scorer with 15 points, was fouled and made both free throws. A turnover on the ensuing inbounds pass created an opportunity for Madison Wiskur to sink a three-point shot at the buzzer to give Frankenmuth a 16-10 lead after eight minutes of action.
FHS outscored the Falcons 19-6 in the second quarter and 22-9 in the third quarter to lead 57-25 heading into the final stanza.
Keller credited Benner's play and her work in the paint.
𠇋rayene played one of her most consistent games of her career. She was focused, missing only a single shot the entire night (which included going 5 for 5 from the free throw line)," Keller said. "She has been working very hard to finish stronger and more efficiently around the basket."
Benner also posted six blocked shots, which made it difficult for LakeVille to get good looks. She had four steals as well.
Wiskur, who struggled a bit last week from the outside, heated up, knocking down four trey shots and finishing with 14 points and two blocked shots.
"She is a streaky player and when she gets hot, look out!" Keller exclaimed.
Lindsey Mertz had a good, all-around game with nine points, nine rebounds, three steals, three assists and three deflections. Kelsie Kujat canned 2 of 3 three-point shots and had eight points. All nine players got at least one rebound and eight scored at least two points.
"We went to the offensive boards really hard, grabbing 16 on offense versus 21 defensive caroms for LakeVille," Keller pointed out. "We totaled 20 steals which led to 32 turnovers for the Falcons . . . they had a hard time with our pace and pressure."
For the game, Frankenmuth was 24 of 54 from the floor (44 percent), including 7 of 17 from the floor (41 percent) and 12 of 26 from the free throw line (46 percent). They totaled 31 rebounds, 20 steals, 18 assists, 13 deflections and blocks and committed 15 turnovers and 15 fouls.
The win over LakeVille was the 68th consecutive TVC East win for Frankenmuth, dating back to 2009.
102263