Eagles Sports
Lady Eagle Basketball
FHS Bowling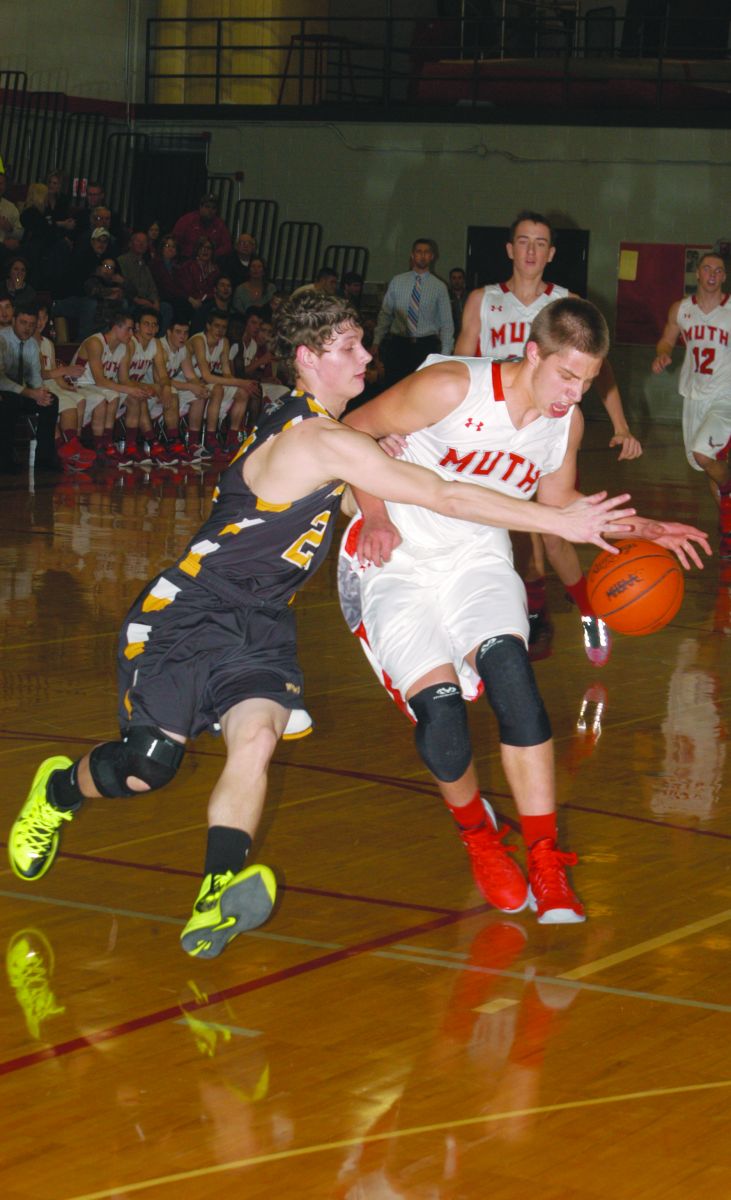 KEEP AWAY: Frankenmuth varsity boys' basketball player Aaron Haubenstricker uses his body to shield the ball away from an Otisville-LakeVille defender during last Friday's home game. The Eagles defeated the winless Falcons, 57-25. Tuesday, Frankenmuth had a TVC crossover match at Freeland and left with a 56-40 win. Brady Wood led the way with 21 points, Colton Zimmer scored six points to go with eight rebounds, five assists and four steals; Mario Whitley had six points and five boards, Sam Bookmyer contributed seven points and six boards and Aaron Krafft chipped in with seven points. (News photo)
Eagle cagers collect pair of wins within 24 hours
The Frankenmuth varsity boys' basketball team played on back-to-back days last weekend and earned two victories.
The Eagles hosted Tri-Valley Conference East Division Otisville-LakeVille on Friday, January 23. Thanks to a 21-7 fourth-quarter scoring spurt, 'Muth defeated the winless Falcons, 57-25. FHS is 6-1 in the TVC East, tied with Millington.
On Saturday, Frankenmuth welcomed nonconference Flint Powers Catholic. Another 20-11 fourth-quarter surge allowed 'Muth to best the Chargers, 56-47.
The Eagles are 8-1 overall. They will travel to North Branch on Friday, January 30, entertain a TVC West school in a crossover contest on Friday. February 6 and begin round two of the TVC schedule with a rematch at home against Bridgeport on Wednesday, February 11.
Against the Falcons, 'Muth led 7-6 after one quarter of play and used a 17-7 scoring spurt to own a 24-13 halftime lead. They held LakeVille to 12 second-half points while netting 33 points of their own in the final 16 minutes of action.
They held the Falcons to single-digit scoring in all four quarters while 10 'Muth cagers scored in the contest.
FHS Coach Andy Donovan said the Falcons attempted to slow down the Eagles' tempo. In the second half, the defense became energized and coupled with made free throws, put the game away.
Grant Bronner led the Eagles with 11 points and five rebounds. Brady Wood contributed 10 points, going 8 for 8 from the free throw line.
"In the second half, we attacked the rim often and were 11 of 13 from the free throw line; finished a plus 19 for the game," Donovan said.
On the negative side, FHS was just 1 of 19 from the three-point line.
Powers Catholic competes in the tough Saginaw Valley League but that did not faze 'Muth in this Saturday matinee game.
Frankenmuth led 14-10 after one quarter of action and took a 28-21 halftime advantage into the locker room. The Chargers outscored FHS 15-8 to close the gap. The fourth quarter saw the Eagles can their free throws to collect the nine-point margin of victory.
Freshman Mario Whitley had a double-double for Frankenmuth with 23 points and 15 rebounds. Senior Aaron Krafft chipped in with six points and nine rebounds, junior Zac Janson posted seven points and Sam Bookmeyer and Grant Reene scored five points each.
Donovan pointed out his team made some very good defensive stops in the second half, they created some second-shot opportunities and like the LakeVille game, made their free throws when it counted the most.
103909