Eagles Sports
FHS Spikers
FHS Cross Country
FHS Netters
1989 Football team to be honored
First Year Success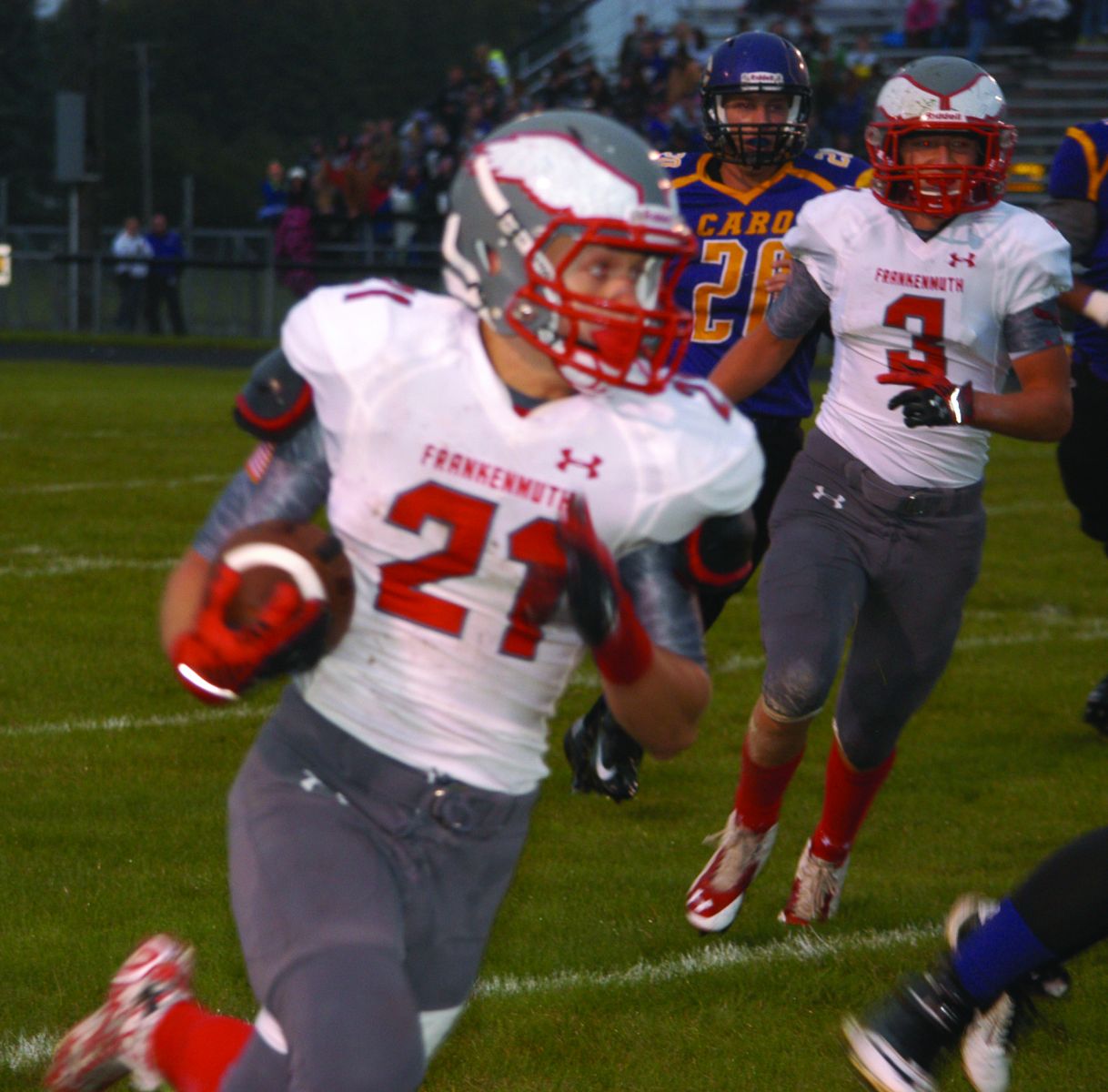 CHUGGIN' UP FIELD: Frankenmuth varsity running back Josh Szczepanski (32) races up the sideline during first half action at Caro last Friday evening, with teammate Jack Veitengruber following him. The Eagles defeated Caro, 49-12. (News photo)
Eagles beat up scoreboard in 49-12 win at Caro
The Frankenmuth varsity football team and kicker Aaron Krafft gave the Caro High School scoreboard quite a workout last Friday night.
The Eagles scored 28 first-quarter points and went on to post a 49-12 victory over the Tigers in Tri-Valley Conference East Division action.
'Muth is now 3-0 overall and 2-0 in the league. Caro falls to 1-2 overall and 1-1 in the East.
FHS welcomes 3-0 Millington this Friday, September 19, at 7pm. Frankenmuth will also recognize its 1989 gridiron team which finished 9-1 overall and perfect in TVC East play.
On a cool and wet evening, the Tigers were the ones who scored first, taking the opening kickoff 85 yards for the score. After the two-point conversion failed, Caro led 6-0 just 14 seconds into the contest.
Frankenmuth got to work on its first drive, which ended with a Santino Llamas six-yard touchdown run. The drive was 11 plays, 60 yards and chewed up 5:25 off the clock.
Krafft's PAT kick was drilled through the uprights and hit the scoreboard, knocking out a few lights from the clock. Krafft, who made all seven PAT kicks, hit the board again later in the quarter.
Caro's first drive ended on three plays and five yards, capped by a blocked punt which was recovered by Travis Walker at Caro's 21-yard line.
Three plays and 21 yards later, Llamas plunged one yard for the score, giving the Eagles a 14-6 lead. Jack Veitengruber's 19-yard run opened the drive.
Caro's next possession lasted one play as Jin Zhang fumbled the ball. Nick Szczepanski forced the fumble and Jared Davis recovered the ball at the Caro 18-yard line.
On the next play, Veitengruber raced 18-yards for a TD and 'Muth led 21-6.
"Our kids played well against a much-improved Caro team. The defense gave us the short field all night and the offensive line played well, allowing us to capitalize on the good field position," FHS Head Coach Phil Martin said.
Caro's next possession was two plays and a loss of 14 yards. After the punt, the Eagles went to work with two minutes left in the first quarter. Four plays and 32 yards later Llamas had his third touchdown of the quarter, a three-yard run, and FHS led 28-7.
"Our defense held them to six first downs for the game. Not letting them get anything going was a big part of the game. Our backs ran hard with Santino and Jack both going over 100 yards," Martin said.
Martin also singled out the special teams unit.
"Special teams got on track after allowing the opening kick to be returned, with a blocked punt and converting seven extra points," Martin stated.
Frankenmuth scored single touchdowns in each of three final quarters. The Eagles led 35-6 at halftime following Veitengruber's 36-yard scoring run. The TD capped a four-play, 50-yard drive with 9:06 left in the second quarter.
The running clock started at the 9:40 mark of the third quarter when Llamas had a one-yard TD run. The score ended a six-play, 42-yard drive.
The Tigers scored their second touchdown of the game in the fourth quarter. Michael Graves' one-yard run ended an 11-play, 66-yard march with 8:38 left to play. Noah Carr's two-point conversion failed, cutting the Eagle lead to 42-12.
Josh Szczepanski took the ensuing kick off 33 yards to set up the next drive. Three plays later, Davis rambled 25 yards for a touchdown, capping a three-play, 30-yard march.
As a team, Frankenmuth collected 306 of it's 316 yards on the ground, registered 16 first downs and converting 5 of 6 third downs – all with owning the ball just 16:40 on 45 plays. They were 5 for 5 in red zone scoring chances.
Caro had just 155 yards of offense – all rushing – on 42 plays and 31:20 of ball possession.
Veitengruber finished with 15 yards on nine carries, Llamas had 100 yards on 21 carries and Davis ended with 45 yards on six carries. Quarterback Jack Tagget was 1 for 1 for 10 yards, completing the lone pass to Josh Szczepanski. Frankenmuth did not punt in the game.
Graves led Caro on the ground with 63 yards on 12 carries.
Bryce Gasper led the Eagles defensively with eight tackles. Llamas and Jared Mose has seven tackles each and Tyler Johnson, Derek Warnemuende and Walker picked up six tackles apiece.
"We have some things to clean up and we will continue to work each week to get better. We now need to shift our attention to Millington coming to town this Friday," Martin said. "They return some quality skill kids and are always big and strong. But like every week, our job is to get them ready and execute the game plan."
97568