Eagles Sports
FHS Cagers
FHS Varsity Baseball
FHS Golf
Eagle Thinclads
Lady Eagle Kickers
FHS Ladies Tennis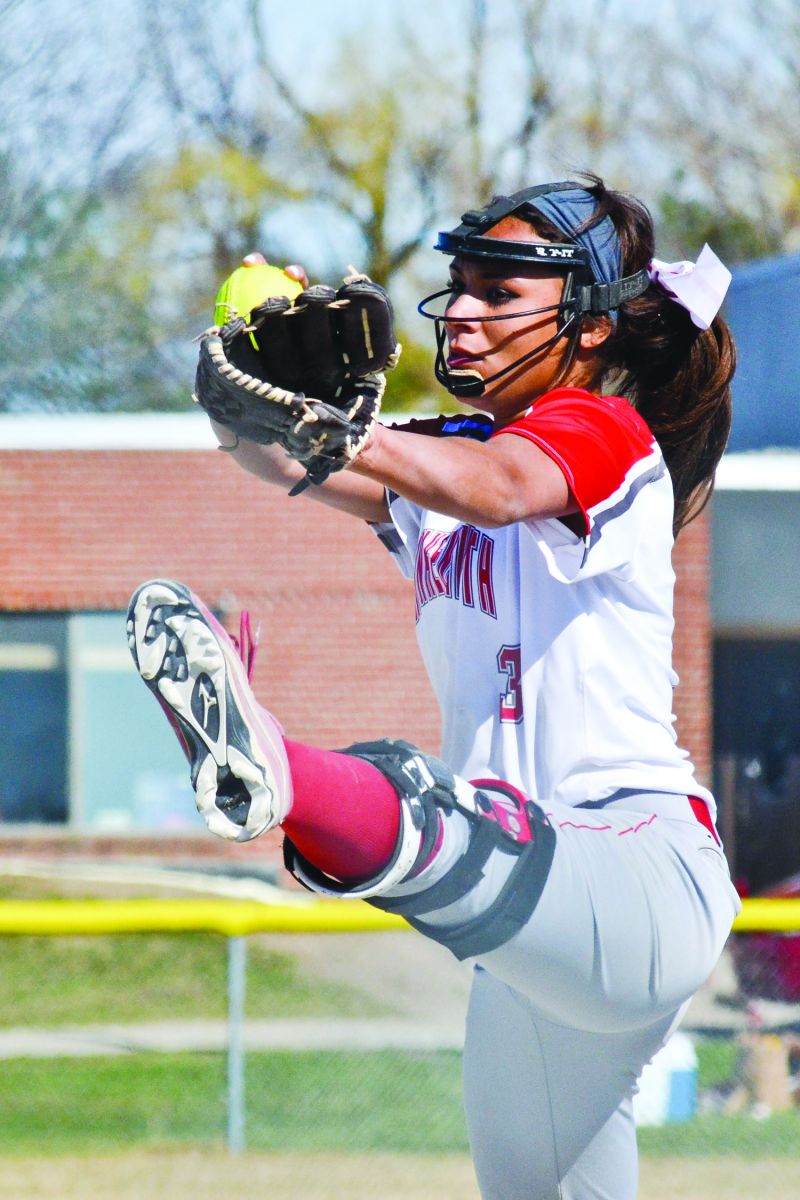 KICKING AND DEALING: Frankenmuth varsity softball pitcher Amariah Wright prepares to fire a strike at an opposing playing during action at the Beaverton Tournament last Saturday. The Lady Eagles are off to a 6-1 start to the season (News photo/Kelly Jammer)
By Brad Walraven, FHS Softball Coach
FHS softball team starts season with 6-1 record
Frankenmuth Lady Eagles took on 7th ranked Shepherd at Shepherd and came home with a sweep, 10-0 and 6-3. Amariah Wright threw a one hit, 1 walk, 10 strikeout shutout to lead the team. Offensively, the girls got 9 hits led by Ivy Holland going 3-3 with 4 RBI's. I thought Ivy was locked in at the plate. She drove in the first two runs with 2 on and two outs and 2 strikes on her.
We scored twice in the second inning, 3 more in the third and 5 in the fifth. Kayla Brooks had 2 hits along with 2 RBI's, Makenzie Sipes went 2-2 and 2 runs scored. Amariah Wright and Hannah Karwat had the other hits.
Game 2:
Kayla Brooks took the mound and pitched a 5 hit, 1 walk, 11 strikeout complete game. Offensively the Eagles had 11 hits. The big hit was in the bottom of the 6th when Makenzie Sipes singled in two insurance runs to make it 6-2 at the time. Then in the 7th, Shepherd scored one to make it 6-3 and had runners on second and third when Shepherd's third hitter hit a ball to deep left but Alyssa Jarlock ran it down for the third out.
Amariah Wright had 3 hits (double 2 RBI), Makenzie Sipes (2 RBI) and Kayla Brooks (2 doubles) each had 2 hits. Andrea Perlberg, Billie Harrington, and Ivy Holland each had one hit.
My Take On the Game: We played with a lot of enthusiasm and intensity for our first game. The girls were ready for the challenge of playing a ranked team. Also our approach to the plate was very good as we grinded out a lot of at bats.
St Louis - Home Opener
Game 1:
Frankenmuth had their home opener last Friday and came away with a 9-0 first game victory. Amariah Wright threw her second shutout allowing 3 hits, no walks while striking out 13. The game was 0-0 until the third inning when Frankenmuth scored 5 times. Kayla Brooks had a 2 run single and Amariah Wright had a 2 run double in the inning. Makenzie Sipes finished the scoring with an RBI single. In the 5th inning, Carmen Izzo hit a 2 run home run. Kaylee Aldrich had an RBI single in the inning also. For the game, Wright (double), Alyssa Jarlock (double, 3 RBI) and Makenzie Sipes had 2 hits each. Rocky Roy, Kaylee Aldrich, Megan Jarlock (3 walks), Kayla Brooks (2 RBI) and Carmen Izzo (home run, 2 RBI) all had one hit.
Game 2:
The bats exploded for 16 hits, 7 walks and 21 runs to win 21-4. Kayla Brooks pitched the 5 Inning complete game with 5 strikeouts. Offensively, Andrea Perlberg (2 doubles, 2 stolen bases, and 3 RBI), and Amariah Wright (double, 2 home runs, 5 RBI) led the attack. Wright hit a 2 run home run in the 4th and another 2 run home run in the 5th. Alyssa Jarlock, Kayla Brooks (4 RBI), and Megan Jarlock each had 2 hits. Madison Jammer and Rocky Roy each had 1 hit.
My Take on the Games: We came out a little flat in the first game but after a little motivational speech we picked it up a bit and had better approaches at the plate. We are playing well and our pitching is allowing us to win games. We were playing shorthanded but our bench showed the depth we have this year and our team did not miss a beat.
Beaverton Tournament:
Game 1:
Breckenridge was Frankenmuth's first opponent of the day, and the Lady Eagles came away with an 8-0 game 1 victory. Amariah Wright threw her 3rd consecutive shutout with a no hitter, and 12 strikeouts. One walk prevented Wright from throwing a perfect game. The Eagles started out fast with 2 outs and nobody on base, Amariah Wright, Alyssa Jarlock and Carmen Izzo each singled with Izzo getting an RBI and Makenzie Sipes followed with a 2 run single making it 3-0. Frankenmuth scored 5 more times in the second inning led by a 2 run single by Alyssa Jarlock.
Andrea Perlberg led the offense with 3 hits and 2 stolen bases. Jarlock (2 RBI, 2 runs), and Makenzie Sipes (3 RBI) each had 2 hits. Wright, Laura Farnsworth, Carmen Izzo and Rocky Roy each had one hit.
Game 2:
Reese was the next opponent and unfortunately gave the Eagles their first loss 3-2. Frankenmuth had the lead twice in the game, 1-0 and 2-1 only to relinquish it. Frankenmuth scored in the first inning when Andrea Perlberg led off with a walk, stole second and came home on a single by Amariah Wright. Reese tied it up with a home run in the top of the 4th to tie the score. In the 4th inning, Wright tripled and came home on a sacrifice fly off the bat of Makenzie Sipes. Reese scored twice in the fifth inning to take a 3-2 lead and that was all the scoring. Kayla Brooks took the tough loss, allowing 7 hits, 4 walks and 8 strikeouts. Sipes had a double and Wright a single and triple for the only 3 hits of the game.
Game 3:
The final game of the long day was against Cheyboygan, and despite 6 errors, the Lady Eagles were able to over come them and win an 8 inning 8-7 win. Kayla Brooks drove in the tying run with 2 outs in the 7th and Laura Farnsworth up from the Junior Varsity knocked in the walk off single to give the Eagles the dramatic win. It was an uphill battle because of the errors as Frankenmuth never had the lead in the game until the 8th inning. Down 6-2 at one point, the girls never gave up. Makenzie Sipes and Laura Farnsworth (double) each had 4 hits to lead the 19 hit attack. Andrea Perlberg (2 stolen bases), Kayla Brooks (2 RBI), Amariah Wright (triple), and Madison Jammer each had 2 hits. Alyssa Jarlock, Carmen Izzo, and Rocky Roy all had one hit. Amariah Wright gave up 9 hits but had 10 strike outs to get her 4th win of the year. The best inning defensively was in the 8th inning. Using the international rule and starting a runner on second base, Wright struck out the first girl she faced, induced a pop up to the lead off batter of the game who already had 3 hits and forced a ground out to end the inning without a run. "We played sloppy but it was a long wait in between games and I think we had some tired girls. We had been playing so well up to this game so I believe it was just the long day at the park and the long wait between games."
Frankenmuth takes on Clio Wednesday (today) at Clio and then the first conference game at home against Millington on Friday. Our overall record is 6-1.
107673