Home
Article Name
We hope you enjoy this abbreviated version of the
Frankenmuth News
Serving Frankenmuth Since 1906
Vol. 111 No. 33 In our 111th year!
Wednesday, February 15, 2016
--------------------------------------------------------------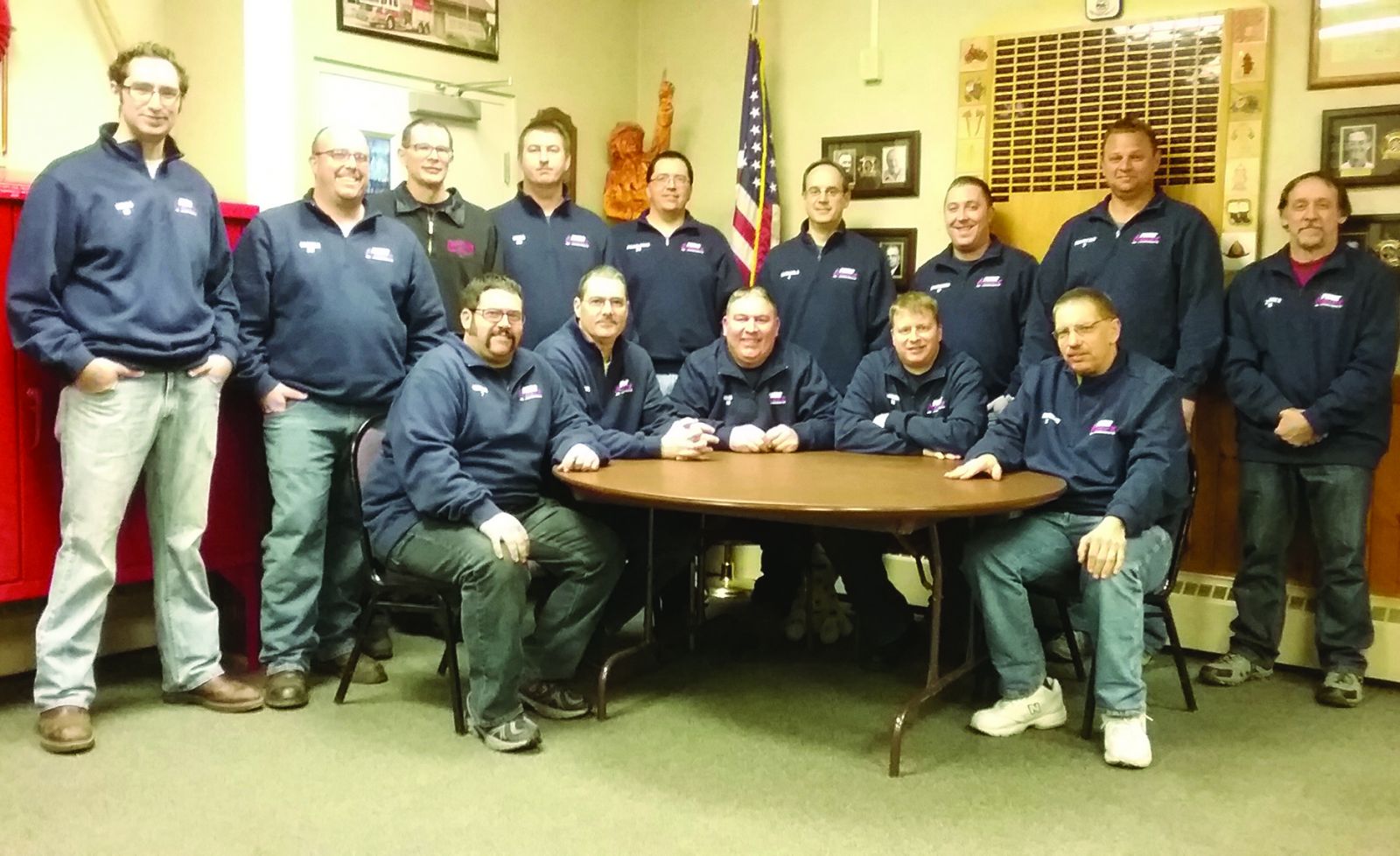 MEET THE FFD OFFICERS: The Frankenmuth Fire Department officers met Tuesday night for a new group photograph. Phil Kerns was recently named the new fire chief and Phil Haubenstricker was named the assistant chief. The officers are, seated, from the left, William Wescoat, Phil Kerns, Keff Kribs, Doug VanWormer and Phil Haubenstricker. Back: Adam Weiss, Matt Vasicek, Dan Sebald, Jeff Weiss, Chris Pickelmann, Dan Schneirla, Eric MacKinnon, Brandon Schmitzer and Jamison Zehnder. Missing are Ethan Crichton and Pastor Gary Bender.
FFD reorganizes, Kerns is chief, Haubenstricker assistant chief
Like most of his predecessors, Phil Kerns slowly moved up the ranks and is now the top firefighter on the Frankenmuth Fire Department.
Kerns was recently chosen as the new FFD fire chief, as the organization approaches its 114th year of serving the community.
Last month, the Frankenmuth City-Township Commission appointed Kerns, who was the former assistant to Chief John Deterding, who retired at the end of December. Deterding had over 30 years of service, including more than a decade as chief.
The Frankenmuth City Council also confirmed his appointment. Kerns also serves as the assistant city manager and city clerk.
No one has been more ardent than Kerns in the past number of years in assisting Deterding in maintaining the modern equipment of the FFD, the morale and work-related education of its members, and the rich and interesting history of its existence, local Frankenmuth author Norman "Joe" Krafft wrote recently.
The Frankenmuth Fire Department was founded in 1904 when Frankenmuth became a village. Kerns is now the eighth fire chief.
Chief Martin "Marshal" Eischer was the first chief (1904-37), followed by his son, Herman "Whitey" Eischer (1937-47) and then Waldemar Veitengruber (1947-1976), serving back in the days when the firefighters were known as the 𠇏ireboys." Veitengruber was chief when the Wakeman fire on West Jefferson Street claimed two lives.
George Reinert was the next chief (1976-86) and he was in charge during the January 1979 train wreck in Gera and the Flood of 1986. Gene Rittmueller served from 1987 until 1997 and dealt with the June 21, 1996 tornado that ripped through Frankenmuth. David Wright followed, serving 1997 until 2006 when Chief Deterding took over. He was chief when the events of September 11, 2001 took place.
Today, the personnel are called 𠇏irefighters" as two females have joined the ranks of the FFD – Stephanie Ittner and Stacy Smith-Corlew.
Kerns also appointed Philip Haubenstricker, who joined the department in 1999, the new assistant to the chief. Overall, there are 30 firefighters on the 2017 roster. They include: Captains Dan Schneirla, Matthew Vasicek and Douglas VanWormer; Lieutenants Adam Weiss and Jeffrey Kribbs; Crew Leaders Eric MacKinnon, Jeff Weiss and Chris Pickelmann; Safety Officer Jamison Zehnder, Assistant Safety Officer Dan Sebald, Assistant Safety Officer William Wescoat, Engineer Brandon Schmitzer, Fire Prevention and Education Officer Ethan Crichton, Chaplain Gary Bender and 15 additional firefighters.
854688