Home
CHECK US OUT ON FACEBOOK!
VOL. 109. No. 16 October 22, 2014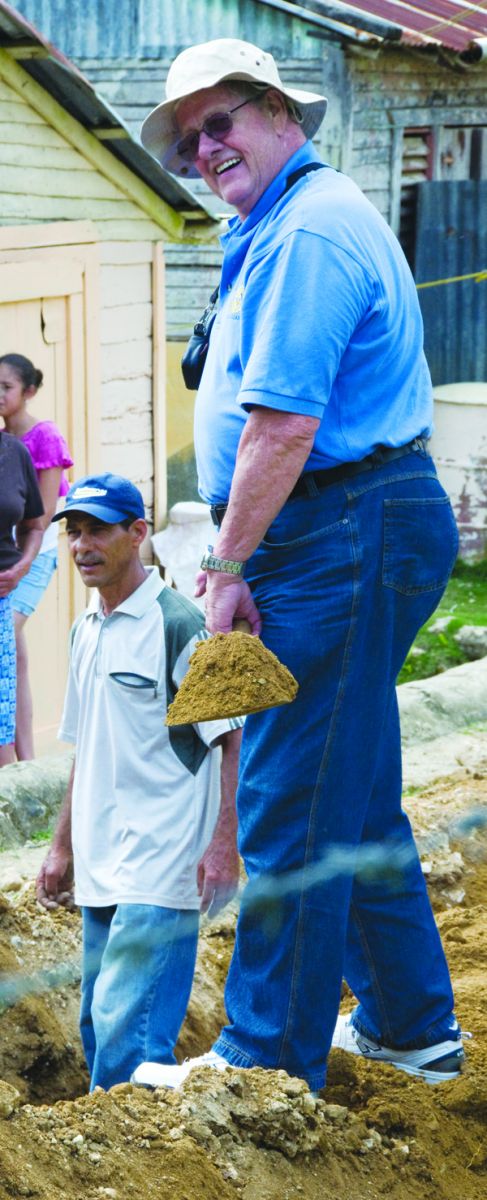 DR. ED GOYINGS . . . is shown above working on a Rotary International water project in the Dominican Republic. (Photo courtesy/Betty Goyings)
Dr. Ed Goyings passes away
There are many words that could have described Dr. Edward D. Goyings.
One word would be gregarious. Another word would be compassionate. He was also very passionate about his profession and volunteerism.
Dr. Ed" passed away at the University of Michigan Hospital on October 16, following a brief bout with cancer. He was 77 years old.
Dr. Goyings practiced general dentistry in Frankenmuth for 45 years and was very dedicated to his profession. With Betty, his wife of 36 years, they traveled extensively as Rotary International volunteers to many third-world countries, practicing dentistry, delivering wheelchairs and working on water projects.
Being a 1967 University of Michigan Dental School graduate and a member of its Jonathan Taft Society, Dr. Goyings had the rare opportunity to perform dental work on a live wolverine.
The surgery was performed in January 1998 on a four-year-old wolverine that was in captivity at Wilderness Trails Animal Park, located on M-83 near Birch Run Road.
The surgery took place at the Bavarian Veterinary Hospital. With Dr. Ruben Mars monitoring the animal's vital signs, Dr. Goyings was assisted by fellow dentist, Dr. Ken Nelson, in performing several root canals over a four-hour period.
"I think the people in Ann Arbor would be very proud that a 'Wolverine' cared for a wolverine," Goyings told the News following the surgery.
Dr. Goyings was born on a large farm on January 7, 1937, in Newaygo County. Ed was the son of Everett and Laura (Terwillegar) Goyings.
Following graduation in 1955 from White Cloud High School, Dr. Goyings embarked on an ambitious path, serving in the U.S. Navy (1957-1961), attending Michigan State University and graduating from U-M.
Dr. Goyings was one of the first members of the Frankenmuth Gemuetlichkeit Club and was very active, singing some solos and because of his large frame, being the bass for the singing of "Musikanten."
Community volunteerism was a hallmark for Dr. Ed and with Betty's photography skills, trips abroad and trips on the Cass River, for the Cass River Greenway Committee clean up projects. His home along the Cass River was a source of pride for him and Betty.
Dr. Goyings was very active in the Frankenmuth Noon Rotary Club, the Saginaw Dental Society, the Frankenmuth International Aid Foundation, Wellspring Lutheran (formerly Lutheran Homes of Michigan), the American Legion Post #150 and more.
Grounded in his faith, Dr. Goyings was an active member of the Frankenmuth United Methodist Church and served as a Stephen Minister.
Dr. Goyings will be remembered for his zest for life and hearty laugh. In conversation, Dr. Ed was always a very attentive listener.
603260