Top Stories
Police Report
New Business
Guest Column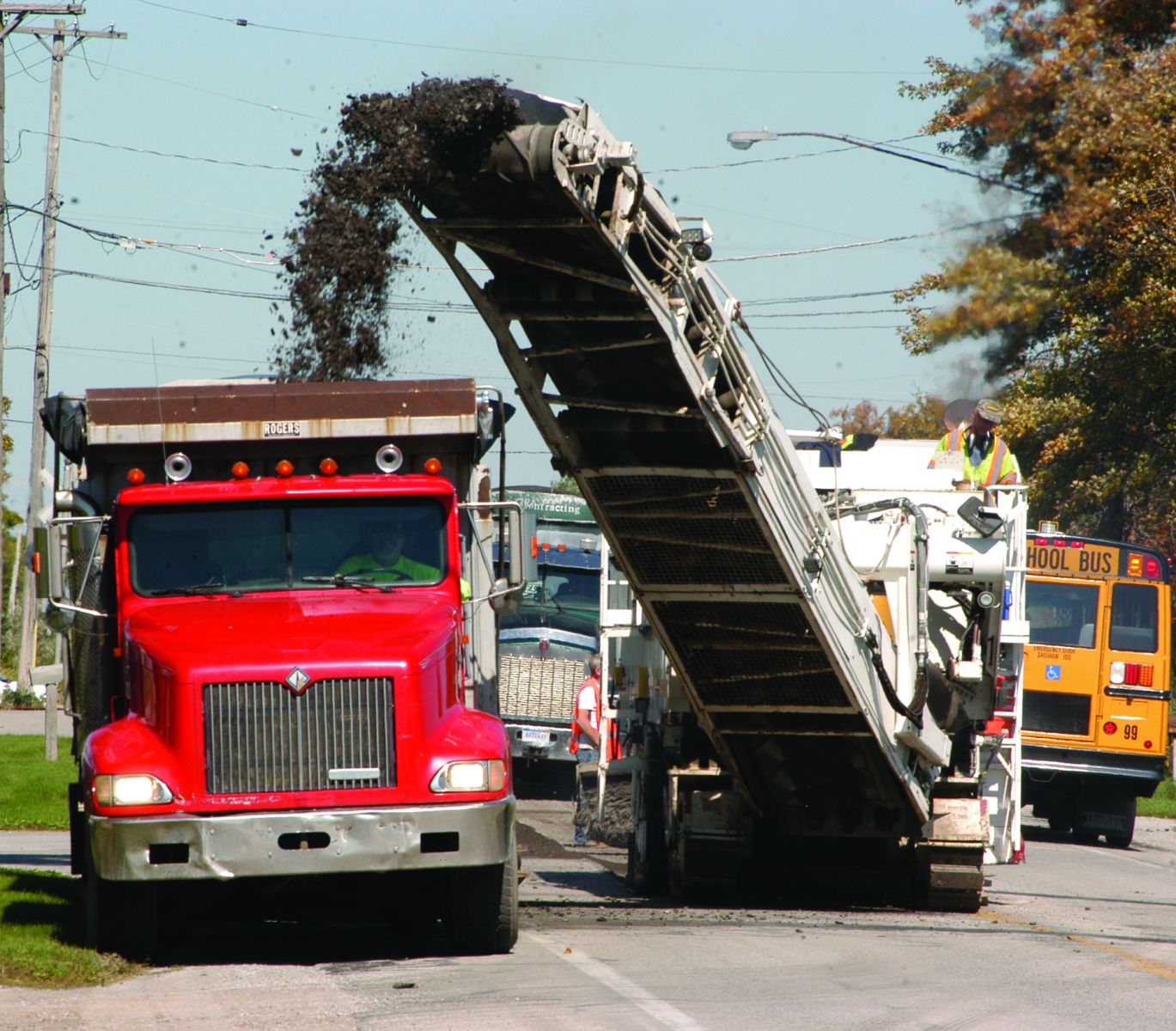 MILL WORK: Pyramid Construction is rebuilding M-83, from M-15 south to Genesee Street in Frankenmuth. Tuesday afternoon, the milling work reached Gera and a fresh coat of asphalt covered the southbound lane from M-46 south to a point just north of King Road. Work should reach the city limits in early October. (News photo)
Fresh asphalt heading toward city
Get ready Frankenmuth-area residents – a fresh ribbon of asphalt will be rolling this way over the next two-three weeks.
With dry and temperate conditions forecasted for the rest of this week, Pyramid Paving of Bay City should be making progress on repaving M-83 – from M-15 to the north to Genesee Street in the City of Frankenmuth. Overall, new asphalt will cover 6.5 miles.
Last month, construction crews repaired joints, built up shoulders and refurbished the concrete curb cuts within the city limits. Also in August, the center lane on M-83 – from Koester Drive north to a point just short of Roedel Road – was extended.
The additional linear feet of center lane will accommodate the Frankenmuth Business Park and its first tenant, Kremin, Inc., which should be fully moved in by late September or early October.
Road work is under way between M-15 and M-46, including rebuilding the bridge on M-83 near Janes Road. Traffic is being maintained by a signal, with the southbound lane currently closed and single lane traffic allowed.
Most of the work calls for a one-course mill and asphalt overlay. The paving is nearly complete between M-15 and M-46.
There will be some congestion at the M-46 and M-83 next week as the construction continues south. The crew plans on doing that at more convenient time.
The work reached Gera Tuesday afternoon and as of press time, the southbound lane is completed, from M-46 to the King Road sign. By early to mid October, the project should be completed.
The project cost is $1.8 million and is coming from the state's Roads and Risk Fund, Jason Garza, a cost and scheduling engineer with Michigan Department of Transportation's Bay City Transportation Service Center, said.
"These dollars are allowed through state legislation, with 100-percent of the cost coming from that fund to help with failing roads," Garza said.
Garza is also aware of the fall harvest season, which is under way, and the sugar beet campaign. There are two Michigan Sugar beet receiving stations flanking M-83, immediately north of M-46.
"We stay in contact with Michigan Sugar and coordinate our work with them," Garza said.
The centerline corrugation will also be installed when the asphalting is done. Better known as rumble strips, the center of the road will be scalloped for safety.
"Research has shown there is a huge upside on safety when the rumble strips are in place," Garza pointed out.
Last fall, Main Street (M-83) from Genesee Street to the Main Street Bridge was repaved. This past summer, paving was completed from the Main Street Bridge south to Jefferson Street and then East Jefferson Street was paved to Weiss Street.
Tri City Groundbreakers, the construction company for the sanitary sewer project, is back at Flint and Main streets, to repair the intersection.
The intersection will be closed to through traffic for one week. Work will be done to replace a large area behind the crosswalk to improve texture and water runoff/flow and will be completed in one day. The repair is in concrete and will require no more than seven days to cure. Visitors to Flint Street should use the south entrance at West Jefferson Street.
In nearby Tuscola County, Hart Road is now smoother, thanks to new asphalt. Repaving took place from M-46 in Richville south to Frankenmuth Road.
The news still is not good for the Dehmel Road Bridge, where it crosses the Dead Creek, between Curtis Road and Townline Road.
Closed due to structural deficiencies back in January, 2014, the span will not be repaired and reopened until at least May or June of 2015.
467803