Top Stories
Police Report
New Business
Frankenmuth Farmer's Market
Student News
Can Tabs
Bernthal's
Hotelier of the Year
Shanty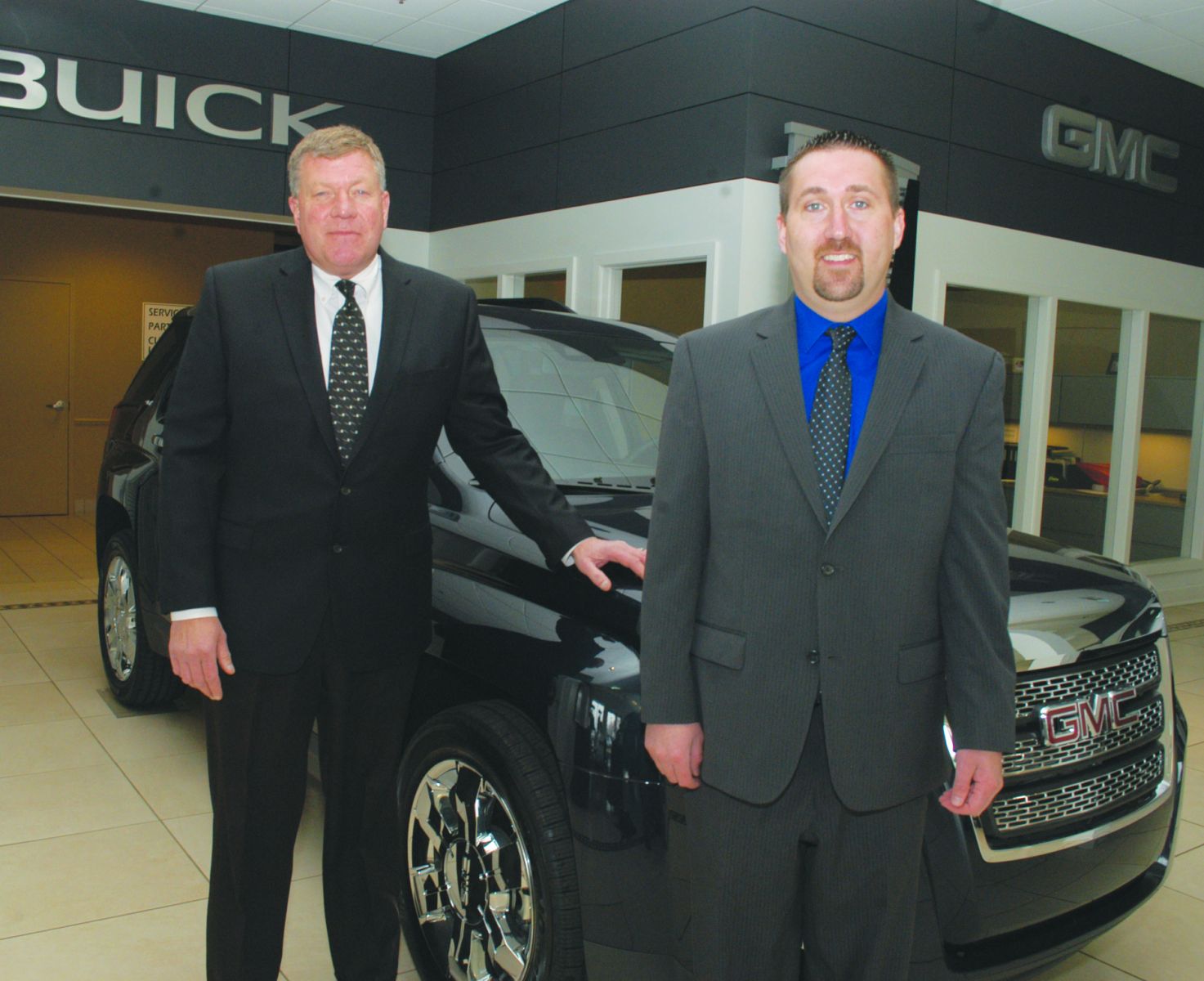 NEW MANAGEMENT AT MIKE YOUNG: Mike Young, owner of Mike Young Buick-GMC, recently announced that Mike Piper, left, will be the dealership's new vice-president – executive manager, and Ken Wolverton, right, will be the new general manager. Piper and Wolverton will begin their duties on April 1 as current general manager, Terry Weiss, prepares to retire later this spring. (News photo)
Leadership change coming at Mike Young Buick-GMC dealership
After more than two decades with the same upper management team in place, change is coming to Mike Young Buick-GMC beginning Wednesday April 1.
While long-time dealer Mike Young, who established the 312 North Main Street dealership in 1976, remains as the dealer principal, current Vice-President and General Manager Terry Weiss will be retiring. He will be staying on in a consulting role until June 1.
Mike Piper and Ken Wolverton will take over as vice-president – executive manager and general manager, respectively. Piper and Wolverton have also been with the dealership for many years, have held a variety of positions with the business and bring a broad base of experience to their roles.
Piper joined the organization in 1998 as a service advisor after moving to Frankenmuth. Piper previously owned and operated a dairy farm with his brother in the Williamston area.
In 2000, Piper transferred to the new car sales department and soon became one of the top performing salespeople at the dealership. In 2007, Mike became a new car sales manager and also became the face and voice of the dealership for its television and radio advertising.
Piper will continue to sell and service his customers, in addition to his management role.
Mike is a graduate of the National Automotive Dealership Association (NADA) Dealer Academy. In his new position, he will be the primary contact for the dealership with General Motors and the Frankenmuth community.
Mike and his wife, Stacey, live in Frankenmuth Township with their two children, Sam and Anna. The family is a member of St. Lorenz Lutheran Church. Piper is a member of the Frankenmuth Noon Rotary Club, The 100 Club of Saginaw County, and the Frankenmuth Conservation Club, recently serving as president of the FCC the past three years.
Wolverton joined Mike Young in 2004 at age 20 as a used car salesperson. In 2008, he added the responsibilities of running the Special Finance Department to his used car sales
Wolverton was promoted to the dealership's Business Office in 2011 and has worked in that department the past four years, assisting customers with the financing of their vehicles as well as offering various protection plans to protect their purchase.
As general manager, Wolverton will be responsible for the daily operations of the dealership, working with all departments and their managers and employees, to ensure a premium customer experience. Ken will work to implement and improve dealership policies and processes to maximize the firm's performance.
Ken and his wife Kristi reside in Bridgeport Township, where he grew up. They have two children, Axel and Jasmine. The family will soon relocate to Frankenmuth Township. They are members of St. Lorenz Lutheran Church and Ken serves on the Frankenmuth Conservation Club's board of directors.
"Together, Mike and Ken will lead the dealership forward as the industry, manufacturers and dealerships respond to the rapid pace of change," Mike Young said. "Their broad background of experience will serve them, the dealership and all of our customers well as they move into the future."
Mike Young Buick-GMC was founded here in 1976. Since that time, the organization has grown to include six dealerships that employ 330 full-time employees.
In 2014, the six dealerships – Mike Young-GMC of Frankenmuth, Young Chevrolet-Cadillac of Owosso, Young Buick-GMC of Owosso, Young Automotive (Kia) of Lansing, Kia of Jackson and Cook Chevrolet-Buick of Vassar – sold 9,731 new and pre-owned vehicles.
517023