Top Stories
Frankenmuth Farmer's Market
Adopt-A-Highway
Wheel of Fortune
80's Fest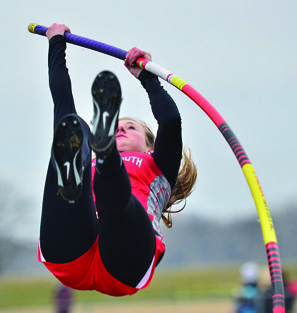 Lambeth is the second-ranked pole vaulter in State of Michigan
Stephanie Lambeth has been literally soaring to new heights over the past 12 months.
The Frankenmuth High School senior and Lady Eagle varsity track and field standout recently signed a letter of intent with NCAA Division I University of South Florida to pole vault.
Lambeth and her parents, coaches and members of the boys' and girls' track and field teams witnessed the signing in the school's gym last Friday afternoon, April 10.
"Signing day brings closure to the recruiting process that has been filled with excitement and opportunities one could only hope for," Lambeth said.
Following this season, Lambeth, who is also an accomplished gymnast, will pole vault this fall for the Bulls and Coach Don Marsh in Tampa, Florida. She received a full-ride scholarship and will study pre-med this fall at USF.
With the outdoor season just warming up and indoor season just concluding, Stephanie is currently ranked No. 2 in the State of Michigan with a vault of 13-feet, 1-inch and she is No. 11 in the United States.
Signing early in the outdoor season will free up her time to focus more on the Lady Eagle track season. In 2014, the 'Muth ladies had one of the best seasons in MHSAA Division 3 history, winning the MHSAA D-3 crown, the MITCA D-3 Team State title and dominating every event the team competed in. Lambeth was a big part of that success.
"Stephanie is one of the most dedicated athletes you will find. Her commitment to learning her event is second to none," FHS girls' varsity Coach Mike Snyder said. "She has improved to a national level, which is very impressive and she is very coachable as Coach (Jerry) Drake would tell you."
Quietly moving up the ranks, Lambeth ended her junior year at FHS as the MITCA state champion in Division 3 pole vault and No. 3 at the MHSAA Division 3 state finals. She has set multiple records over the last couple years, including the Lady Eagle outdoor record of 11-6. Her desire to improve and vault higher led her to join Landin Athletics last fall to work on pole vault. The decision was tough as she already competes all year round as a competitive gymnast.
Under the direction of Coach Jerry Sessions, Lambeth picked up where she left off with a new personal record of 11-9 at the Grand Valley State University Indoor MITS in early December. By this time, she had already been contacted by multiple Division II schools and made a couple Division I visits for those schools showing strong interest in her pole vaulting skills.
The GVSU indoor leap qualified her for the MIT states at Eastern and the U.S. Nationals in New York City. However, her excitement was just building. Shortly after the Christmas break, Stephanie jumped 12-6 at Akron University and followed that effort by jumping 13 feet at the new facility at Aquinas College in Grand Rapids. She just missed at 13-4.
The phone calls and college visit invitations took off for Lambeth in early January, which was a life-changing event for her.
Snyder was also receiving dozens of inquiries about Lambeth and past teammates, who are now competing in college, were contacting her to give her insight and encourage her decision.
Snyder said Stephanie received many opportunities and the process became a bit overwhelming. Lambeth seriously considered eight Division I schools and several Division II before verbally committing to USF.
USF is known for its vaulting program and year round jumping, due to the warm weather.
"The coaching staff and team were extremely welcoming and they felt like family," Lambeth said.
Stephanie finished the indoor season with Coach Sessions at states, finishing second, and wrapped up the New Balance Indoor Nationals in New York City but not before snapping her carbon fiber pole on a height of 12-4-3/4. She took 13th place out of 24 of the top elite vaulters in the country.
While committing to USF was exhilarating, Lambeth also was tasked with telling the other coaches with her decision. The stress of turning down top programs was challenging.
"Most were understanding and wished positive thoughts. I think I became a little more responsible from this experience as my parents made me make the decision and communicate it to everyone involved," Stephanie recalled.
With April here, Lambeth is ready for her final two months as a senior member of the FHS track team.
"I'm looking forward to the upcoming outdoor track season. Our Lady Eagle team is looking to try and repeat our success from last year," Lambeth said. 𠇌oach Drake and Coach Snyder have me set up with poles and are encouraging me to break those school records again. It's bittersweet, finishing my senior year at Frankenmuth, but I get to continue pole vaulting next year at the University of South Florida.
According to the MHSAA web site, the Division 1 record is 13-0, set in 2009 by Rockford's Sarah Birkmeier. The D-3 mark is 12-0 and is currently held by Lakeview's Katie Shaw, who set the record in 2005.
Lambeth will study biology/pre-medicine with a long-term goal of going into medicine.
"I do want to thank some of the schools who invited me to visit in the recruiting process, including Michigan State University, University of Michigan, Bucknell, Eastern Michigan, Central Michigan, Nebraska and Oklahoma. Anyone of these schools would be amazing to attend and visiting their campuses and learning of their programs was very educational for me," Lambeth explained.
Lambeth also thanked Coach Sessions, her Mid-Michigan Gymnastics coaches, Lake Orion Coach Adam Russell and Coach David Emeott of Grand Rapids "who has been mentoring me and my family on the recruiting process," Lambeth added. "I thank the Lord for a supportive family and for the talents He has given me."
522692