Obituaries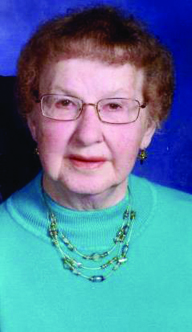 Verna M. Kischnick, 87
Verna M. Kischnick, 87, of Vassar, died Monday evening, February 1, 2016 at St. Mary's of Michigan in Saginaw, surrounded by her family. She was born October 24, 1928 in Frankenmuth, daughter of the late William P. and Florence (Krauter) Mossner. On May 20, 1951 she was united in marriage to Robert J. Kischnick in the St. Michael's Lutheran Church in Richville. He survives her. Verna was a homemaker and mother most of her life and was a member of the St. Michael's Lutheran Church in Richville where she was active with the Ladies Aid. She enjoyed gardening, crocheting, and especially playing euchre. She volunteered her time at the Bethesda Store in Saginaw.
Surviving besides her husband Bob are her four sons, one daughter, and their spouses, the Rev. Bruce Kischnick (Rebecca), New Albany, IN; Larry Kischnick, Vassar; Alan (Judy) Kischnick, Frankenmuth; Kurt Kischnick, Vassar; and Sally (Michael) Sahr, Reese; 10 grandchildren, Andrew Kischnick, Daniel (Kristen) Kischnick, Christa (Nick) Isenburg, Erin (Hans) Schmandt, Leah (Zach) Zuzula, Bradley Kischnick, Adrienne Kischnick, John (Stephanie) Sahr, Alyssa Sahr, Michelle Sahr, and 12 great-grandchildren. Also surviving are her sisters, Violet (Bob) Hadaway, Gilford; and Lenore Mossner and Mae Prueter, both of Reese. In addition to her parents, Verna was predeceased by her brothers, Rudolph Mossner, Clarence Mossner, Adolf Mossner, Waldo Mossner and her sisters, Milda Keinath and Elsie Enser.
Funeral Services took place Saturday, February 6, 2016 from the St. Michael's Lutheran Church in Richville. The Rev. Rob Gadeken officiated. Those planning an expression of sympathy are asked to consider the St. Michael's Lutheran Church.
Lucille W. Schaffer, 95
Lucille W. Schaffer passed away Thursday, February 4, 2016 at the Edgewood Care Facility in Saginaw at the age of 95. Lucille was born January 1, 1921 in Starkville, Colorado. Both her parents Joseph and Julia (Kolasa) Sumera were from the Bohemia Region of Czechoslovakia. As a young girl she moved to Saginaw with her parents and five brothers and sisters, Mildred, Stephanie, Rudy, Walt and Phil, all of whom predeceased her. After graduating from Saginaw High School, she worked as a beautician for several years. She married Raymond C. Schaffer on January 7, 1942 at St. Mary's Catholic Church, Saginaw, and he preceded her in death on June 20, 1978. Lucille enjoyed gardening, traveling with her children and grandchildren, cooking, and making the best Christmas cookies!
Surviving are daughters Barbara Schaffer, Moultonborough, NH; Kathleen deGeus (Stuart), Ann Arbor; Beth (Thomas) Blenkhorn, Frankenmuth; and son Joseph, Saginaw; son-in-law Joel Weiss, New Hampshire, daughters-in-law Kathleen Marie Dale, Florida, and Carol Schaffer, Hemlock; grandchildren Brian, Scott (Maryann), Jeffrey, Steven (Keith), David (Samantha), Christopher, Kimberly, Mason (Becca), Elizabeth, and Morgan; great-grandchildren Molly, Dennis, Samson, and Reuben; sister-in-law Cecile Sumera; many nieces and nephews. She was predeceased by daughter Karen, and sons Dennis and David; grandsons Adam and Joseph. She also leaves special friend Linda Storch.
A private burial will take place on February 10 at Mt. Olivet Cemetery. Those planning an expression of sympathy are asked to consider Saginaw Children's Zoo, 1730 South Washington Avenue, Saginaw, MI 48601, or A Place for Grace, 4790 Gratiot Avenue, Saginaw, MI 48638.
Please sign the guest book or share an online condolence with the family at www.cederbergfh.com.
216166