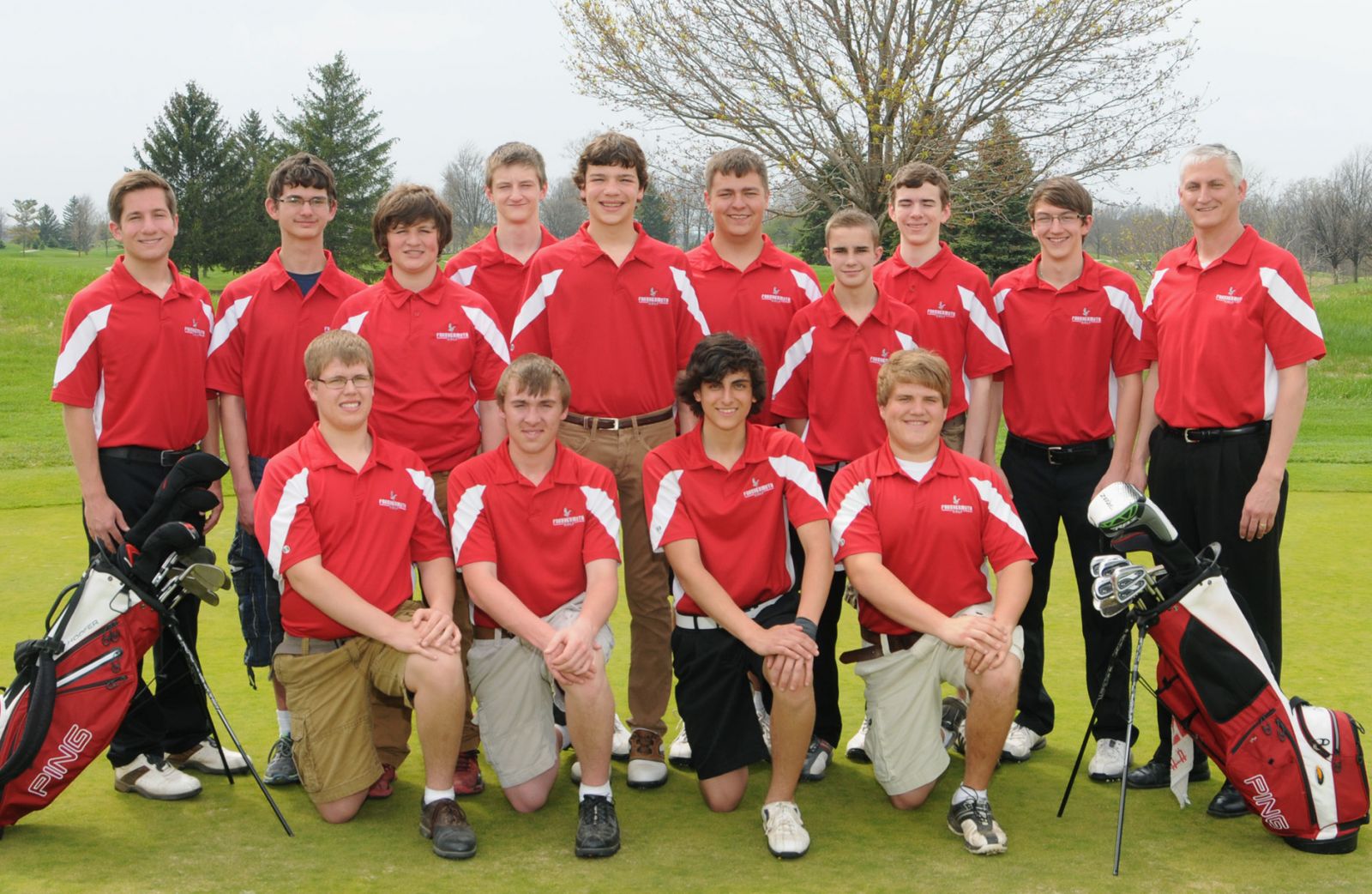 MEET THE FHS GOLF TEAM: The Frankenmuth varsity boys' golf team has been busy this spring, playing in several TVC East Jamborees and invitationals across mid-Michigan – when the weather has been cooperating. The team members are, front row (l-r): Nick Worley, Sam Struble, Daniel Wagner and Nate Maroun. Back: Tony Sulfaro, Michael Hauck, Nathaniel Lambeth, Chase Singer, Ben Barrett, Jared Hudson, Josh Easterly, Ethan Holland, Clayton Singer and Coach Dan Wagner. (Photo courtesy/Rummel Studio)
Eagle golfers trying to keep pace with Garber for TVC East crown
The Frankenmuth varsity boys' golf team is in the midst of its 2014 season, battling to stay near the top of the Tri-Valley Conference East Division standings.
On Friday, May 2, the team traveled to the Washakie Golf Course for a TVC East Jamboree hosted by North Branch.
The Eagles played the front nine and tied Essexville-Garber for first place with a 162 score. The host Broncos were third at 171.
FHS golfer Nate Maroun was medalist with an even-par 36 Maroun finished strong, with birdies on holes 8 and 9. Dan Wagner came in with a 39, also carding a birdie on No. 8.
Jared Hudson came in with a 42, Sam Struble and Chase Singer each shot 45s, and Clayton Singer carded a 46.
On Saturday, May 3, FHS traveled to the Bay City Western Invitational, held at the Bay City Country Club.
"There were many Division 1 schools there yet we shot our best so far this season," FHS Coach Dan Wagner said.
'Muth shot a 330 to take seventh place out of 20 teams. Daniel Wagner, the coach's son, was the lower shooter with a seven-over-par 79, with birdies on No. 15 and No. 16. Struble fired a career-best 82, Maroun came in the clubhouse with an 82 and Chase Singer recorded an 87.
On Tuesday, May 6, the team traveled to Millington's Willow Springs Golf Course, with Otisville-LakeVille the host for the TVC East Jamboree. The teams played the back nine.
The Dukes led the way with a 170, followed by Millington with a 182. FHS was third at 187 and Birch Run was a stroke behind at 188.
"We fell apart at the seems with our worst showing of the season. Too many risks taken resulting in bogies, doubles, triples. . . even quads," Wagner stated. 𠇌ourse management improvements are necessary."
Wagner led the Eagles with a 46 while Maroun, Chase Singer and Clayton Singer each shot 47.
Through four of seven scheduled Jamborees, the Dukes have a total of 671 strokes – a 24-stroke lead over the Eagles. Birch Run is third (719), North Branch is fourth (742), Millington is fifth (794), Caro is sixth (827) and LakeVille is seventh (1,255).
Millington was to host a Jamboree on Monday, May 12, back at Willow Springs. The final Jamboree will see FHS welcome East teams to the Fortress Golf Course at 3:30pm Monday , May 19.
In other golf action, the Eagles will compete in the Ithaca Invitational on Friday, May 16, beginning at 9am.
The MHSAA postseason will begin with Division 3 District No. 29 at Bad Axe's Verona Hills Golf Course on Friday, May 23. Six of the 12 schools at this district are TVC East members.
If 'Muth qualifies, they will return to their home course, The Fortress, for the MHSAA Division 3 Regional No. 15 on Wednesday, May 28.
The Division 3 State Finals are set for Friday and Saturday, June 6-7, at Grand Valley State University's The Meadows golf Course.