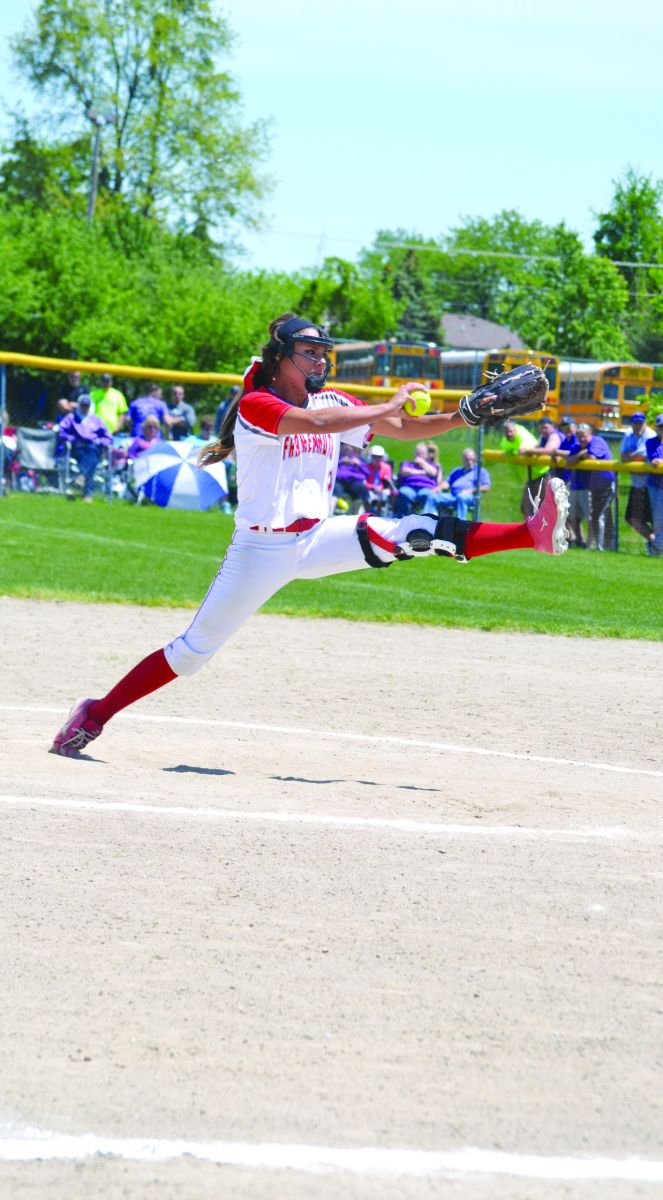 Focused Lady Eagles capture softball regional title!
The Frankenmuth varsity girls' softball team defeated a pair of Tri-Valley Conference teams to advance to the MHSAA Division 2 Quarterfinals last Saturday afternoon.
The Lady Eagles traveled to Birch Run for the Division 2 Regional, winning the semifinal 8-0 over Essexville Garber and the championship contest, 12-6, over Swan Valley.
The victories boost 10th ranked 'Muth to 35-3-1 overall.
FHS Coach Brad Walraven was pleased with his team's effort, especially against the Vikings.
"To win a regional is special, but it is especially nice beating a team like Swan Valley who is traditionally quarterfinal bound," Walraven said. "Our girls gave themselves a chance to win because they are well-prepared and focused when they step on to the field during pre-game. This has been the difference in this year's team and last year. The girls get it now; they know how to prepare themselves for these games."
In game one, the Lady Eagles defeated their TVC East Division foe earlier in the season, 6-0 and 17-1, and worried about being over confident. But a four-run second inning and adding four more in the sixth inning put the game out of reach.
Amariah Wright tossed a two-hit shutout, fanning six and walking none to earn her 14th shutout of the year.
In the second inning, Kayla Brooks, Carmen Izzo and Kaylee Aldrich all singled to load the bases for Ivy Holland, who delivered a two-RBI single. Makenzie Sipes singled a batter later to send home two more runs.
In the sixth inning, Andrea Perlberg walked and stole second base. Wright walked, with Rocky Roy pinch running for her. Perlberg and Roy worked a double steal, advancing to second and third base. Perlberg scored on an error and Brooks stepped to the plate and launched a long, three-run home run into the teeth of the wind, making the score 8-0. It was her third homer of the season.
Brooks finished with a home run, a single and three RBIs while Sipes posted two hits and two RBIs, along with a stolen base. FHS totaled seven hits and benefited from seven walks.
Frankenmuth won the title game in a non-typical slugfest. 'Muth came out swinging, scoring three runs in the first and third innings, four more in the sixth inning and two more in the seventh inning for a dozen runs.
Perlberg led off the game with a walk, advanced to second base on a ground out and with two outs, Hannah Karwat singled home Perlberg. Brooks cracked her second homer of the day, a two-run shot to right centerfield, for a 3-0 lead.
Swan Valley countered with two runs in the bottom of the second inning, tightening the lead to 3-2.
The Lady Eagles came back in the third inning. Perlberg led off with a single, stole second base and raced home on an RBI single by Wright. Long-ball hitter Brooks smacked her third homer of the day to push the FHS lead to 6-2.
Wright settled in to retire the Vikings in order in the third and fourth innings, however, in the fifth inning, Paige Churchfield's three-run blast closed the Lady Eagles' lead to 6-5.
In the sixth inning, Holland led off and reached base on the only error the Swan Valley defense committed in the contest. Perlberg singled, Sipes bunted to advance both runners and Wright collected a two-RBI single. Karwat followed with a single as did Brooks, with an RBI safety. Alyssa Jarlock's sacrifice fly ended the scoring.
A two-run double by Wright drove in Ashley Galsterer and Perlberg in the seventh inning.
Swan Valley added a single run in the bottom of the seventh inning for the 12-6 final over Coach Tom Kennelly's charges.
Wright upped her record to 22-1. She surrendered 10 hits and a walk with five strikeouts.
"Though she gave up a few more hits than normal, she did make pitches when she had to and relied on her defense to make plays. The defense did not make an error in both games," Walraven pointed out.
Offensively, the Lady Eagles pounded out 15 hits; even the outs were on hard-hit balls. Perlberg scored four runs, had four hits and stole a base while Wright had four hits (including a double) and five RBIs. Brooks registered a pair of two-run homers and a single for three hits and five RBIs and Karwat finished with two hits, two runs scored and an RBI. Jarlock and Holland had the other two hits.
"Senior leadership was at its best in this game. Andrea, Amariah and Kayla combined to go 11 for 13 at the plate with two home runs, 10 RBIs and six runs scored," Walraven said. "Make no mistake, it was a team effort to win this tournament, but these seniors did make a positive impact in the outcome."
The Frankenmuth-Escanaba winner on June 9 will advance to the MHSAA Division 2 State Semifinals against the winner of the Portland-Carleton Airport contest, which will be played June 9 at the University of Michigan. The semifinal is set for 10am Thursday, June 11, at Michigan State University. The Division 2 State Championship will be played at 10am Saturday, June 13, at MSU.