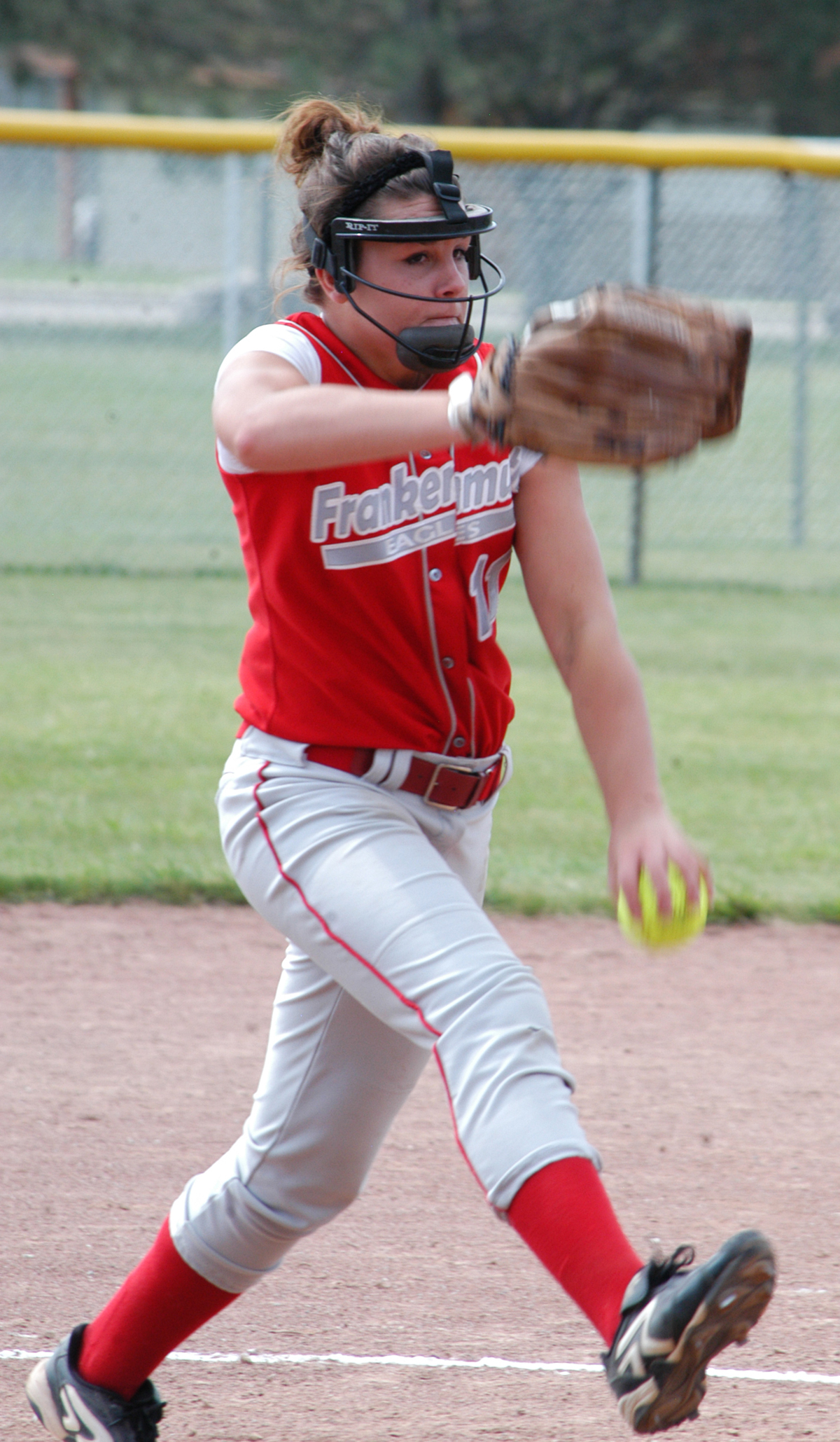 CASSIE BENDER . . . led the Frankenmuth varsity softball team with a 20-3 overall record in 138 innings of work. She fanned 186 batters and held opponents to a .173 batting average. (News photo)
Lady Eagles total 36 wins, win league and district titles
The Frankenmuth varsity softball team wrapped up a successful season last month and will unfortunately say goodbye to nine Lady Eagle seniors.
The 2012 team finished with a 36-5 mark and won the Tri-Valley Conference East Division for the fourth consecutive season.
"Though the season did not end the way everyone planned, it was still a very good season," FHS Coach Brad Walraven said. "With only five losses, we played well, including come-from-behind wins over Division 1 Swartz Creek (a MHSAA quarterfinalist) and North Farmington with walk-off home runs by Taylor Wood and Addie Loftus."
The only blemish this season was not making the quarterfinals for the fourth straight year as Lake Fenton topped 'Muth at the Reese regional.
"It was such a pleasure coaching this team and it is sad to lose so many seniors and many of those played for me the three years I have been here," Walraven said.
Walraven, who recorded his 1,000th win of his career in late May, also appreciates the effort the girls put forth in the classroom.
"Sports are tough to play because of all the practice it takes but it is tougher when you consider the high academic standards these girls keep up with," Walraven added.
Walraven made a few comments on each player, listing them in alphabetical order.
Cassie Bender earned All-TVC East and All-State honors. She tossed a great game against Reese and threw a 10-inning game against Birch Run, giving up just two hits as 'Muth clinched the East.
"Cassidy came into her own midway through the season. In her three losses, the team did not score a run," Walraven pointed out.
Kelsey Bender scored the only two runs against Clio in the season opener and then injured her knee. She was out of the line up until late in the year.
"Her role was our courtesy runner but no matter what role Kelsey has, she plays and practices hard," the coach said.
Krista Berg was the team's designated hitter and batted a solid .280.
"Krista is a great team player and contributed when called upon. She will be attending Delta College," Walraven said.
Kayla Brooks was the only freshman on the varsity and played outfield and designated hitter.
"Kayla hit her first varsity home run in a loss against Bullock Creek and had a huge game with a tying hit on a come-from-behind win against North Farmington," Walraven stated.
Lizzie Friend played a solid third base and earned All-TVC East honorable mention and All-State Academic honors.
"I think the thing Lizzie will always remember in her high school memories is not only did she play in a lot of winning games, but she broke up the no hitter in the state final game in 2011 and nearly tied it up with a grand slam only five feet below the top of the fence. She was the school salutatorian and will attend the University of Michigan," Walraven said.
Tiffany Gentner played part-time outfield but was valuable with her speed on the base paths.
"Tiffany's track skills came out when in a thing of beauty she would score from first base on a ball hit up the leftfield gap. We were not blessed with a lot of team speed so to see someone be able to do that was a beautiful thing," Walraven said.
Gentner was an All-State Academic player and will attend Grand Valley State University.
Jamie Hawkins played solid defense and batted No. 2 in the line up, leading the team in sacrifices. She landed on the first teams for All-TVC and All-Regional.
"One play that did stand out was in the regional when a ball hit to Jamie with a runner on first and she fired to second to start a 4-6-3 double play. Those plays are rare at the high school level," Walraven said.
Hawkins is attending Delta College and then Central Michigan University.
Olivia Laux settled in as the starting left fielder, winning the position past the mid-way point of the season.
"Though Olivia's batting average was down a bit, she worked her way on base, drawing 12 walks," Walraven pointed out.
Laux is attending Alma College this fall.
Addie Loftus started her three-year varsity career batting clean up but for the past two seasons, she has been penciled in third in the line up. She was very consistent in that role with 10 home runs and over 70 RBIs the past two years.
Loftus also had 16 wins on the mound and her win over Birch Run in game one of a doubleheader guaranteed 'Muth at least a share of the title.
"Addie is someone that nobody will outwork. She prides herself on being the best she can be and was second on the team in batting average and second in on-base percentage," Walraven said.
Loftus' honors include first-team All-TVC, All-State Academic, All-District and she was chosen the scholar-athlete from FHS by the Detroit Free Press. She will play softball and volleyball at Alma College.
Kacee Myczkowiak came on later in the year to contribute with the bat, including becoming one of the team's better bunters.
"Kacee came off the bench against Swartz Creek in the last inning of the game. With runners on first and second and trailing by two runs, she got the bunt down with two strikes to move up the runners and they eventually scored," Walraven recalled.
Jordan Skiba "put it all together this year, both offensively and defensively. She would alter the other team's running game because of her arm," the coach said.
Skiba picked off 14 runners and threw out 11 runners in 18 stealing attempts. She batted in the fifth position and led the Lady Eagles in batting average and was second in RBIs.
Skiba was a first-team All-TVC choice and All-State, and made The Saginaw News "Dream Team." She will play softball for Saginaw Valley State University.
Taylor Wood had a big season highlight when she belted a two-out, walk-off home run over Swartz Creek.
"When Taylor got on base, she usually scored as is evidenced by the 56 runs scored – 19 more than the next highest total," Walraven said. "We did not steal much but Taylor led the team with 14 stolen bases."
Wood was named to the second-team All-TVC and District teams and was an All-State Academic player. Wood was the valedictorian and will attend the University of Michigan.
Rae Zink "had an incredible two years of the long-ball, hitting 17 home runs and accumulating 113 RBIs in those two years while batting fourth in the line up," Walraven pointed out.
Zink played third base, first base, shortstop, catcher, right field and left field over Walraven's three years here. Zink landed on the All-TVC first team, All-State and All-State Academic teams. She will play basketball and softball at Alma College.
"I had a lot of enjoyment with this senior class and this team over the past three years. It was nice to see the improvement when these seniors were sophomores and playing in competitive games then and how they have gotten better to the point of competing for a state championship," Walraven concluded.
Cortney McMeans played right field and batted .268 in limited action at the plate. Next season, she will likely move into the infield and bat most of the time.
"We are expecting big things from her next year as she all of a sudden becomes one of the older girls on the team," Walraven said.