Home
We hope you enjoy this abbreviated version of the
Frankenmuth News
Serving Frankenmuth Since 1906
Vol. 116 No. 10 - In our 116th year!
Wednesday, September 15, 2021
------------------------------------------------------------------------------------------------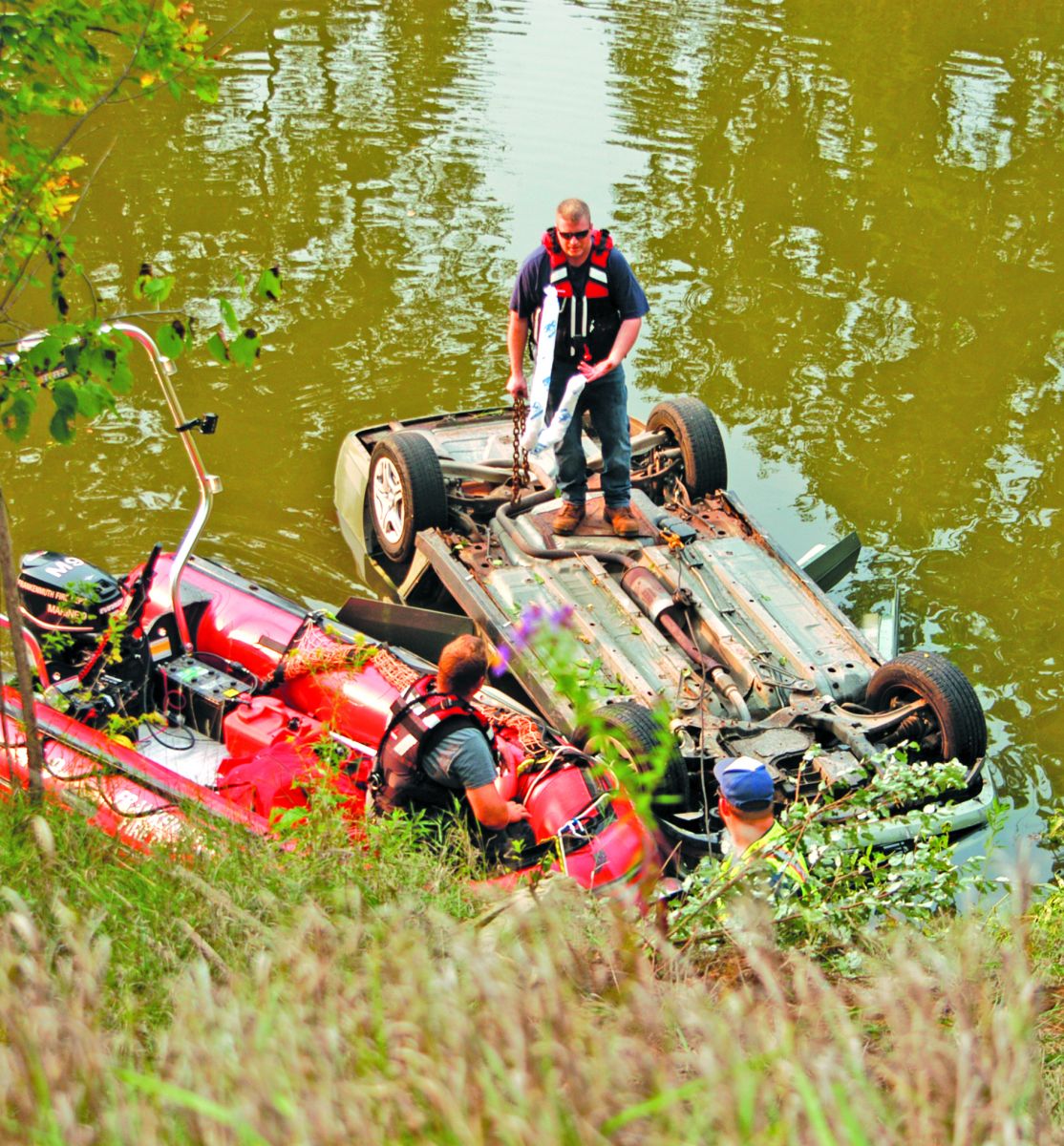 SUBMERGED: The Frankenmuth Fire Department was activated at 4:58pm Saturday, September 11, for a vehicle that left the roadway on Ormes Road, just east of Lewis Road, and tumbled into the Cass River. Above, FFD personnel Brandon Schmitzer and Doug VanWormer operated Marine-9 to assist Reinert & Bender Auto Repair and Towing in removing the vehicle from the water. A 20-year-old Fairgrove woman was pulled from her car by passersby. (New photo)
Local citizen helps save life in river rollover car crash
A 20-year-old Fairgrove female is fortunate to be alive, thanks to a Frankenmuth resident and a few fast-thinking passersby.
The incident took place at 4:58pm Saturday, September 11, on Ormes Road, just east of Lewis Road, in Tuscola Township.
Haley Nicole Wilson, age 20 of Fairgrove, was eastbound on Ormes Road, had passed the small fisherman's parking lot and passed Lewis Road when she failed to negotiate the sharp curve, went into the south lane, overcorrected, left the roadway and rolled her 2005 Chevrolet Malibu down a very steep embankment and into the Cass River. Her car ended up on its roof, halfway submerged into the water.
Frankenmuth resident Trevor Weirauch was one of at least three to four persons who stopped to lend aid to the driver.
"First of all, I just want to say that most of the events that happened are nothing short of a miracle . . . all glory to God," Weirauch said.
"I was traveling west on Ormes and saw a truck pulling off the road, who was traveling east," Weirauch said. "He started frantically waving his hands out the window, I stopped and asked what's up. He said someone just drove off the road and into the river."
That location along the Cass is one of the lone areas where the banks are not tree lined. The vehicle had nearly a free-fall into the river.
"I jumped out, looked for the vehicle and saw the car upside down in the river. I told him to call 911 and I started down the bank, into the water. At that time, another man who stopped was with me. We forced the door open and could only see her backside as the car was filled with water. We tried the seat belt and we could not unbuckle it. I yelled for a knife and at that time, Scott Long (from Millington) had just got down (to the riverbank) and he had a knife and cut the seat belt."
With the door and belt freed up, the next line of action was getting her out of the vehicle.
"I and another man (who I do not know) got her out and carried her to the bank. We laid her down and before we could start (chest) compressions, her eyes opened. We sat her up and comforted her, asking questions like her name, where she is from, and if she was the only one in the car. It took her some time before she could answer, but she said her name was Haley, was from Fairgrove and she was alone," Weirauch recalled.
With the Frankenmuth Auto Fest congesting most of the city, the Frankenmuth Fire Department relied on mutual aid, some already in Frankenmuth. The FFD put in Marine 9 at the Memorial Park boat launch and cruised upstream, carrying FFD personnel Doug VanWormer and Brandon Schmitzer.
MMR Ambulance Service arrived and St. Mary's FlightCare was on standby. The Michigan State Police - Caro Post handled the investigation, with one trooper accompanying MMR to Covenant HealthCare – Cooper in Saginaw. Other first responders assisting FFD were Millington Arbela Fire Rescue, Bridgeport Fire Rescue, and Tuscola County Sheriff's Department deputies.
FFD Chief Phil Kerns called the actions of the passersby nothing less than heroic in that they placed themselves in harm's way to come to the aid of a person in distress.
"While we thank and applaud bystanders for their efforts, we want to remind the public that they should use extreme caution while putting themselves in danger. However, I praise their selfless actions as well as the many others who came to assist the victim," Kerns stated.
Squad 4, Brush 7 and Marine 9 responded, with 17 firefighters reporting to the station.
Weirauch is still going over the details of that Saturday afternoon.
"It was unbelievable. I'd say she was easily under water for at least three minutes and she just opened her eyes. I've been thinking about that constantly and can only come up with one of God's miracles at work with strangers meeting on a road, working together, saving this girl's life," Weirauch said.
Weirauch has been in contact with her parents, Jami and Troy Mcintosh. "She is not out of the woods yet, but better news comes each day," Weirauch added.
2312168