Home
We hope you enjoy this abbreviated version of the
Frankenmuth News
Serving Frankenmuth Since 1906
Vol. 116 No. 50 - In our 116th year!
Wednesday, June 22, 2022
------------------------------------------------------------------------------------------------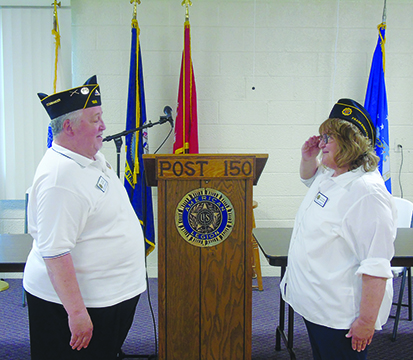 KAREN UEBLER ... is inducted as the Frankenmuth American Legion Post #150 commander for the 2022-23 year. She takes over for Commander Dave Coon. Post #150 was formed in 1919 and has never had a female commander until Uebler, a span of 103 years.
Uebler named first female commander of Frankenmuth American Legion Post #150
History was made on Flag Day, June 14, at the monthly Frankenmuth American Legion Post #150 on Flint Street.
Frankenmuth Township resident Karen Uebler was named the first female commander of the post, which was founded in 1919, the same year the America Legion was organized.
For the past 103 years, a male has been the head of the local post. Uebler takes over Commander Dave Coon, who served in that capacity for two years and led the organization through unprecedented times with the COVID 19 pandemic.
More history was made as the next two officer positions behind Uebler are women. Ruthann Evans was named the senior vice commander and Katie Snell the junior vice commander.
Other new officers installed at the meeting were Adjutant Jeff Still, Service Officer Ruthann Evans, Historian Derek Snell, Sergeant at Arms Art Diffin, Finance Officer Cliff Nauss, Chaplain Leland Sims, Past Commander Dave Coon and Board of Directors Bob Farris, Don Hemming, Rich Warnick, Jim Zoellner, Bob Boquette and John Nuechterlein.
Adding to the evening was recognizing five post members with 50 consecutive years of membership in the American Legion. They are Marcus Bierlein, Bruce Daenzer, Michael Laux, Daniel Schiefer and Eddie Knoll.
The post also awarded scholarships to four Frankenmuth High School Class of 2022 graduates as they pursue a degree in higher education. They are Jacob Andrews, Adam Boensch, Michael Hecht and Ashley Walz.
----------------------------------------------------------
We're glad you took the time to check out the abbreviated version of our paper. To read more, you can find The Frankenmuth News at local news stands or click on the "subscribe" tab.
2970591