Home
Article Name
We hope you enjoy this abbreviated version of the
Frankenmuth News
Serving Frankenmuth Since 1906
Vol. 112 No. 20 In our 112th year!
Wednesday, December 06, 2017
-----------------------------------------------------------------------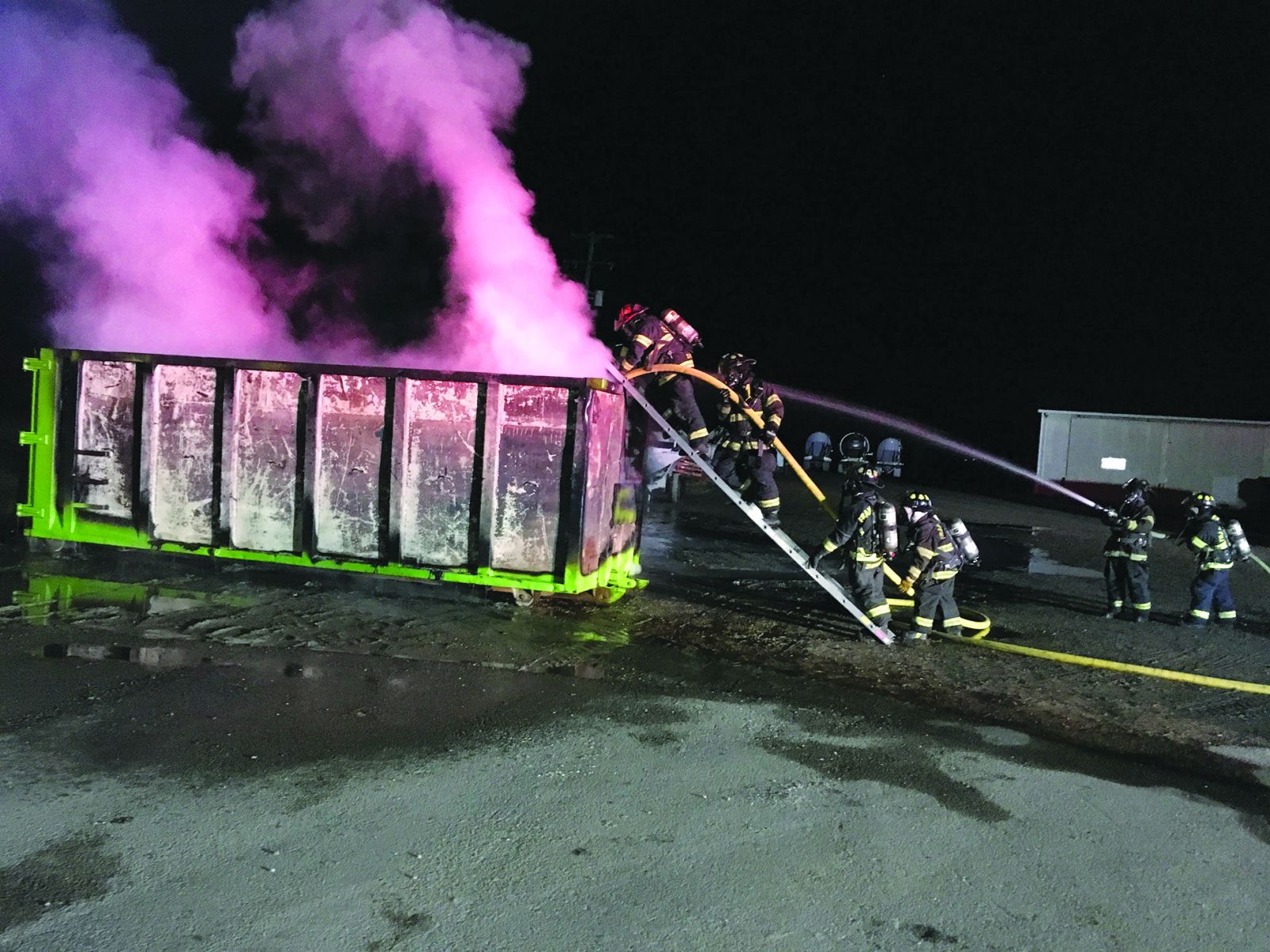 SPONTANEOUS COMBUSTION . . . is believed to be the cause of a fire in a large, 40-yard dumpster located at the Star of the West Milling Company's east side plant. Waste materials placed in the dumpster self-combusted around 8:45pm, on thursday, November 30, sending a large purple-hued blaze into the sky. In other Frankenmuth Fire Department, news, a private investigator has ruled the cause of the hart Road pole barn fire as unknown.
Dumpster fire lights up Star Gera Plant
Frankenmuth Fire Department personnel had three more calls for service last week, including two mutual aid runs with the Bridgeport Fire Department.
At 8:44pm Thursday, November 30, the FFD responded to a large dumpster fire at the Star of the West Milling Company's Gera Plant, located on the east side of M-83 and north of the railroad tracks. Multiple cellphone calls were made to Saginaw County Central Dispatch, alerting the FFD.
FFD Captain Dan Schneirla was the first to arrive at the scene and advised that the 40-yard dumpster was fully involved and exposures of above-ground diesel fuel tanks and other dumpsters were nearby.
Engine 1, Engine 2 and Tender 5, along with 14 firefighters contained the fire, which was later learned to be waste materials from a subcontractor working at Star facilities. It is believed that the materials may have self-combusted.
Overhaul took some time to clean equipment and the units cleared the scene at 11:45pm. FFD Chief Phil Kerns said Star officials remained on the scene for fire watch. Overall, 21 firefighters reported to the station.
Two days earlier, on Tuesday, November 28, Frankenmuth was called at 3:08pm to assist Bridgeport on a five-acre woods fire at the corner of Blackmar and Curtis roads. Eight fire personnel were sent for mutual aid. A burn pile that got out of hand was the cause of the blaze.
The units cleared shortly after 4pm, with 17 personnel responding to the station.
Shortly after 6pm on Sunday, December 3, Frankenmuth responded to 7234 Moorish Road in Bridgeport for a two-story detached building fire.
𠇋ridgeport had another call and requested personnel to this large building that had heavy smoke conditions," Kerns said.
Engine 1 and five firefighters arrived on the scene just as the fire was under control and they were cleared 30 minutes later. A total of 20 fire personnel reported to the station.
977742