Business News
Police Report
2013 City Yard Waste Program
2014 ACF Hot Food Competition
Business News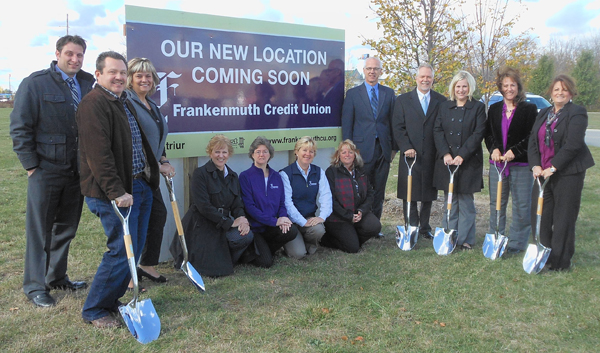 Frankenmuth Credit Union breaks ground for their new building at Meijers in Birch Run. Pictured (l-r): FCU representatives; Greg Dietrich, Marketing Coordinator, Scott Ireland, Building and Maintenance Project Manager, Vickie Schmitzer, CEO, Victoria DeGrace, Credit Solutions & Recovery Manager, Donna Haubenstricker, VP of Finance, Ruthie Elbers, Member Investments Representative, Deb Bauer, Lending Manager, Jim Bickel, VP of Business Loans, Mike Fassezke, Board Member, Carrie Bryce- Birch Run Meijer Branch Manager, Jenny Bickel, Marketing Manager, and Dana Reif, Operations Manager.
New Frankenmuth Credit Union rises near Meijers, Birch Run
A groundbreaking recently took place for the Frankenmuth Credit Union's newest branch office.
The Wolgast Corporation of Saginaw is erecting the new building in Birch Run, near the intersection of Birch Run Road and Dixie Highway. Specifically, it is being built on the Meijer Store out lot, immediately west of the Meijer gas station.
The new branch is expected to be open in January, 2014.
The recent development resulted from Meijer's decision to grant Huntington Bank exclusivity to be the sole financial, in-store tenant. The Frankenmuth Credit Union received notice of this decision earlier this year that the change would be effective January 1, 2014. The FCU also had a branch inside the Essexville Pine Road Meijer Store at one time.
FCU CEO Vickie Schmitzer stressed the importance of remaining convenient and accessible to the Birch Run community.
"Members can still do their shopping and do business with us including, but limited to, mortgages, investments and business loans by appointment at this location," Schmitzer said.
The new building will have a drive-through, coin counting machine and walk-up, 24-hour ATM. Office hours will be Monday, 9am-7pm; Tuesday, Wednesday and Thursday, 10am-7pm; Friday, 9am-7pm; and Saturday and Sunday, 9am-4pm.
The drive-through service will be available beginning at 8am Monday, Tuesday, Wednesday and Friday.
This is the second branch office the FCU has in Birch Run. The other branch is located west of the Prime Outlet Mall, at 8131 Main Street.
In addition to this new development, expansion by the credit union has occurred at Birch Run High School with the opening of the Panther Credit Union, a student-operated branch powered by the FCU during the school's lunch hours.
Frankenmuth High School has operated its Eagle Credit Union in the same manner for many years.
"We have had some great success with financial education and real world business experience for students at our other school branches so we are excited to work with high school students in Birch Run," Schmitzer stated.
The FCU also has school branches at Reese High School as well as Juniata Christian School in Vassar.
Schmitzer pointed out Essexville members can still access their accounts and financial needs by visiting the Essexville FCU branch on Center Avenue.
Additional branch offices include the main building in Frankenmuth as well as offices in Richville, Reese, Saginaw, Millington, Vassar, Independence Village of Frankenmuth, and Otisville.
4730