Sports Camp
'Muth Youth
FHS Boys Track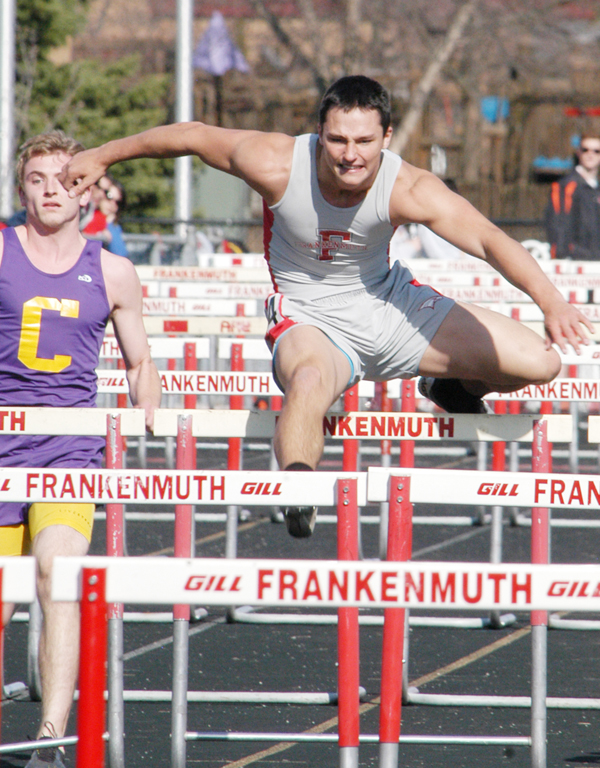 JUNIOR BRIAN STEARNS . . . will be counted on in the 110m and 300m hurdles this spring for the Frankenmuth varsity boys' track and field team. The Eagles won their season opener over North Branch and took third place at last Monday's Marco Marcet Invitational. (News photo)
Eagle tracksters top Broncos
The Frankenmuth varsity boys' track and field season finally got under way last week with a trip to North Branch.
The Eagles defeated their Tri-Valley Conference East Division foe, 86-51, winning 10 events and using their depth to earn the victory.
FHS Coach Jerry Drake was pleased with the results, especially after the challenging spring weather and limited practice.
Senior Alex Helpap grabbed two first-place finishes in the weight events, winning the shot put with a 48-feet, 6-inch effort and the discus at 140-7.
The Eagles actually swept the weight events, as Michael Frahm was second in the shot put (45-3) and Alex Mawer was third (42-11). In the discus, Jesse Micho was second (125-8) and Frahm was third (117-5).
Relay winners included the foursome in the 800m relay of DJ Bonkowski, Jack Veitengruber, Ian Fischer and Jake Reinbold (1:38.12). The 3200m relay team of Josh Pendleton, Josh Fitch, Kyle Schmitzer and Jake Hall won with a time of 9:09.63.
Hall was also a double winner in 400m dash (:52.28) and the 1600m run (4:44.21). Fitch also claimed two top times in the 800m run (2:23) and 3200m run (11:34.08).
Other first-place Eagles include Brian Stearns in the 300m hurdles (:42.99), and Reinbold in the 200m dash (:25.06). The 1600m relay team also won, however, no time or team members were given.
Eight second-place marks added points to the final total. In addition to the two shot and discus runner-up spots, Bonkowski was second in the pole vault (9-6) and the 100m dash (:12.20); Stearns in the 110m hurdles (:16.64), Fitch in the 1600m run (5:21.78), the 400m relay team of Bonkowski, Elia Brunner, Reinbold and Fischer (:47.35), and Schmitzer in the 800m run (2:24.58).
Ten, third-place finishes were also recorded, in addition to the shot and discus sweeps. They were Colin Worden in the pole vault (9-0), Reinbold and Stearns in the long jump (17-6), Mike Benson in the 110m hurdles (:19.02), Pendleton in the 1600m run (5:23.58), the 800m run (2:28.49) and the 3200m run (12:12.62); Veitengruber in the 400m dash (:58.85), and Christian Lambeth in the 300m hurdles (:48.37).
Frankenmuth travels to Bridgeport today (April 24) for a 4pm TVC East meet and then hosts Caro and Millington at 4pm Wednesday, May 1, for a TVC East triangular meet. On Friday, May 3, the Eagle thinclads will compete in the Bay City Western Invitational.
1903